Adam Levine had a nasty welcome at a US TV studio yesterday when he was sugar bombed after getting out of his car.
The Maroon 5 frontman – who ironically had a hit with the song 'Sugar' - was attacked as he arrived for an interview on
Jimmy Kimmel Live
on Wednesday night (6 May).
Poor Adam.
This picture was snapped by Maroon 5 fan Kristal Klune, who was outside the studio.
The singer wasn't hurt in the attack but was left absolutely covered in white sugar, according to the Los Angeles Police Department.
TMZ
says he'd been chatting with fans and signing autographs outside the studio when the unidentified suspect attacked.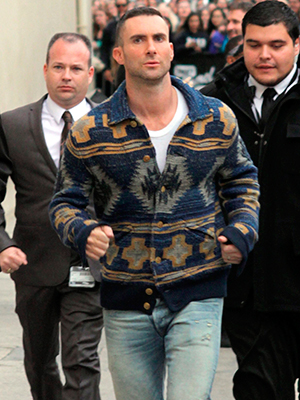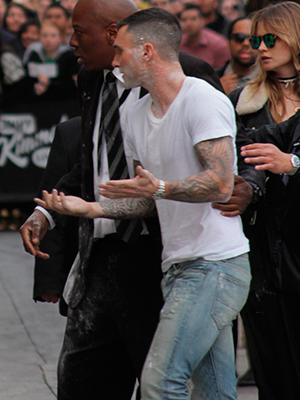 No motive for the sugar bombing has been given yet but a suspect was arrested at the scene on suspicion of battery.
Adam seemed calm and collected when he appeared on
Jimmy Kimmel Live
later on, with no trace of sugar left on his jacket.
Interestingly, he did talk about being "attacked" by fans after host Jimmy Kimmel showed a video of a female fan jumping on stage while he was singing.
Asked if he was scared, Adam said: "Absolutely. Was she a 90lb harmless girl, definitely? Because it was so jarring, in the moment and my eyes were closed and I was attacked by somebody did it feel like a sumo wrestler? Yes. No matter how confident you are in your ability to beat someone up who may be threatening your life, if you close your eyes and somebody ran into you, it would be absolutely terrifying."