Geordie Shore star Nathan Henry has hit back after being criticised for his sexuality on the MTV reality show.
Nathan, 23,
is the first ever bisexual housemate to enter the Geordie Shore house
and in scenes aired during last night's episode of the new series, he was seen bringing a boy back with him to the house after kissing him on a night out.
As the episode aired, Nathan found himself the subject of negative comments online and after suffering abuse from trolls, the reality star was forced to defend himself on social media.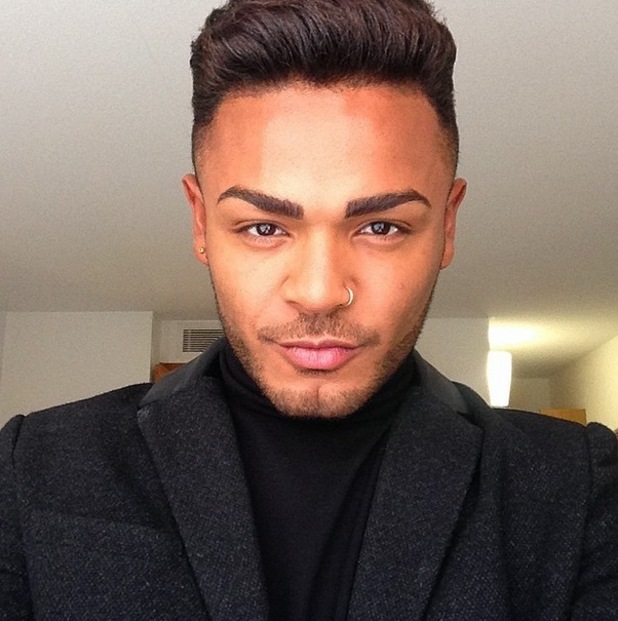 Taking to Twitter, Nathan told his followers he wasn't ashamed of his sexuality. He tweeted: "I'm not ashamed at all of what you have all seen, #GeordieShore is a reality TV show, & guess what b***hes s**t like that happens in reality."
He then hit back again on Instagram, posting a screenshot of a lengthy message he had shared to his Facebook page.
It read: "To all those who have a problem with what happened on last night's show, YES it may have been a bit OTT and not everyone's cup of tea, but Geordie Shore is a reality TV show, what's purpose is to portray reality. Not only that, but I made reality TV history last night, how many of you haters can [say] you have done that? NONE.
"Last night I provided a stepping stone for things like that to be shown in aspects of the media because like it or not the LGBT community DOES EXSIST and we have no intention of going anywhere. Therefore I'm proud of what I did and who I am as [I've achieved] something, have you?"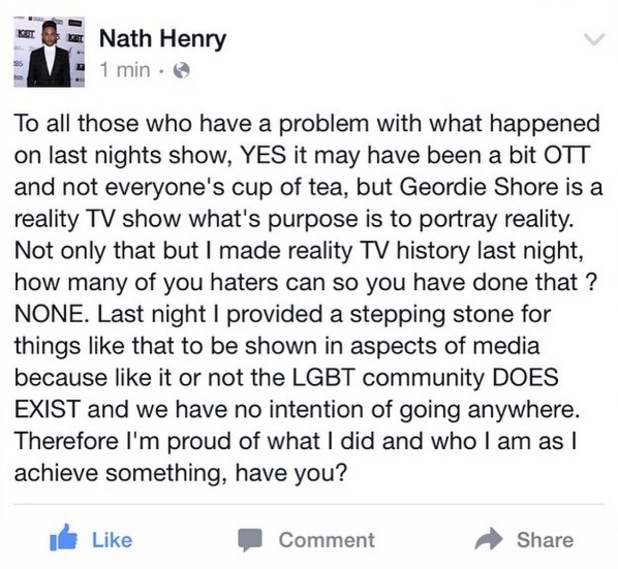 Geordie Shore
is notorious for documenting housemates' nights out and their bedroom antics, and ahead of Nathan's debut on the show, he had openly spoke of being bisexual,
telling Reveal he had found it "so scary" going into the Geordie Shore house
.
Despite not wanting to let on about his sexuality to his co-stars straight away, Nathan revealed they found out pretty quickly and wasted no time in reassuring him that it didn't bother them in any way.
He told us: "Gary [Beadle] took us to the side straight away and said 'I want you to enjoy yourself, be you, do you, you've got this for a reason and we don't want to see anything different'. Scott [Timlin] then made a joke saying if I brought all my fit girl mates to the house, he'd bring all his fit lads and I could crack on with them. They were not bothered. They have gay and bisexual friends, so in a way I think it makes it more realistic as they have a friend like that in the house now."
Following Nathan's response to the backlash he had received, his co-star Holly Hagan made sure to show him her support, telling her fans she was "extremely proud" of her pal for coming on the show.
She said: "Extremely proud of @nathanhgshore to have come into the house knowing that this had never been done before and to be so openly comfortable with his sexuality is to be admired! Love holds no bounds and small minded people should f*** off back to the 1900s!"
Geordie Shore continues Tuesday 12 May at 10pm on MTV.For exclusive competitions and amazing prizes visit Reveal's Facebook page NOW!
Geordie Shore's biggest bust ups: