Geordie Shore star Holly Hagan has lost over three stone using her very own fitness guide, The Body Bible, and armed with her 12-week get-fit weapon, I put it to the test…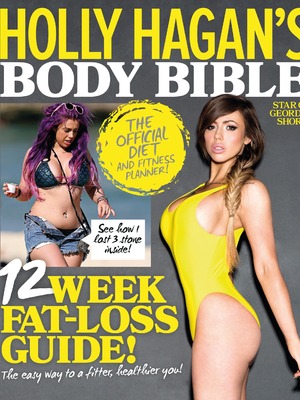 Ok. I 'fess up... I went slightly off piste.
I knew the Bank Holiday was going to be a struggle and all things considered I still think I did pretty well.
On Friday night it was my brother's birthday, on Saturday night I had my cousin's hen party and on Sunday I was out with my friends for the evening. It was the first night in a while all my girl pals could get together so obviously, I didn't want to be sitting at home with a severe case of FOMO (that's 'Fear Of Missing Out' for those of you who aren't familiar).
And while I was out being a social butterfly for four days on the trot over the weekend, I did try and stick as best as I could to Holly's
Body Bible
. I still did all the exercise plans I needed to and where I could I stuck to the diet plan as rigorously as I could.
What I have found though, is that I'm not so keen on some of the ingredients that Holly uses in the recipes given in her fitness guide. So in this case, I've switched a few foods in for others to make my meals a bit more enjoyable for me... don't worry I resisted the inclusion of chocolate and crisps. As much as I would love for them to fit in with the plan, sadly, they're now the enemy!
So picking up from where I left off, here's how I found Day 5 - Day 9...
DAY FIVE.
Knowing I had plans in the evening after work, I got up at early doors and got my workout in first thing. Again it was nice and quick and was over before I knew it, so I had plenty of time to sit down, fit in breakfast and prepare my lunch. I'm getting good at this 'being organised' malarky now!
For lunch, I finished off the chicken in the fridge with another (yep, you've guessed it!) salad, snacking on an apple to get me through my busy afternoon. Back home, I had a quick turnover before heading out for my big brother's birthday meal and within an hour I was showered, glammed up and ready to go... I even made it in time for a glass of prosecco or two before we left.
Now I know alcohol probably isn't advised during Holly's 12-week plan, but I wasn't going to not toast to my brother reaching a quarter of a century - you only live once and all that. I did, however, try to be sensible with how many glasses I had, although I didn't exactly refuse too much when my dad was topping up my glass for dinner.
Giving into a few drinks, I tried to not make myself feel even more guilty by falling off my diet plan too. So when the waiter came I asked for a steak, refused the chips (that was a big deal for me!) and asked for salad instead - y'know because my body hasn't had its fill of leaves just yet. Being a mediterranean restaurant, they soon brought out a host of dips and pitta and while I resisted for a good while, I did sneak one slither of pitta. I know it was no carb day, but I do not regret that slither. Not. At. All.
And I may have had two teeny slices of birthday cake too... please don't judge.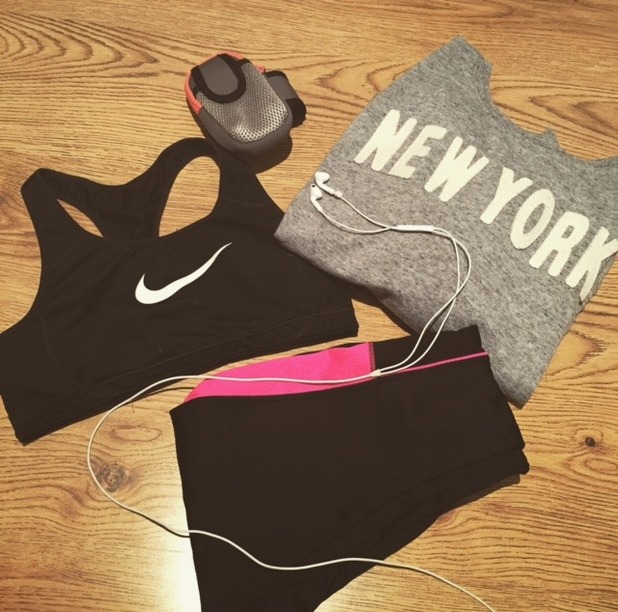 DAY SIX.
After my little diet mishap on Friday evening, I was determined to start Saturday off right and knowing I was out that evening for yet another meal, I wanted to be as good as I could up until then. Getting up at 8am (call me crazy), I went for a run. Saturdays are cardio day according to
The Body Bible
, so I had to do two 20 minute intervals of some form of cardio training. I decided to run. So, after digging out my gym gear and my trainers I headed out. After warming up, I ran for 35 minutes, jogging for 5 at the end to cool down. And while I won't be signing up for any marathons any time soon, I didn't mind it.
Back from my run, I dug out my copy of Holly's book as I wanted to try a new breakfast idea. I settled for porridge with banana on top, but it turns out I'm not the biggest porridge fan. After a few spoonfuls I gave up on it and cooked my trusty scrambled egg instead. The thought was there, at least I gave it a go, right?
Later that evening, I headed up to town with my mum for my cousin's hen do. We were off to a Greek restaurant near Oxford Street and the food was so so so good. As soon as we arrived the drinks started flowing and again I wasn't planning on staying sober, but instead of choosing my usual fave a vodka, lemonade and lime or a glass of Pinot, I opted for a gin and tonic. Yes, it's not that much better, but gin is less calorific and the tonic was slimline so every little helps, no?
The food arrived and like Friday, I couldn't say no to one teeny piece of bread to have with dip, I did refrain from eating the rice that came with my mixed grill kebab. The portions were huge (as you can see from the picture) so I piled half of the meat onto my mum's plate, along with the rice, and stuck with the rest for myself. Not exactly
Body Bible
worthy, but better than giving in!
As you can imagine, things got a little boozy and after our dinner I ended up whisking my mum and my aunties off clubbing - at their request! The highlight from the night, my mum turning to me, with pure shock across her face, saying: "I just had my bum pinched!"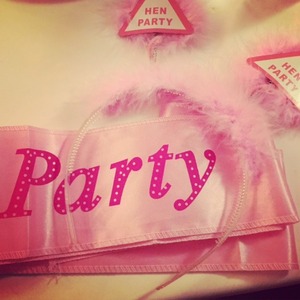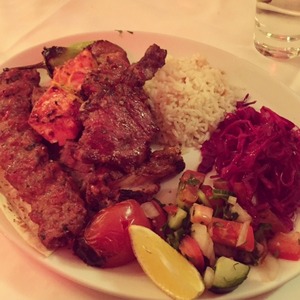 DAY SEVEN.
Getting in at 5am after our night out meant I was one happy girl when I realised Sunday is rest day. No exercise for me!
I had plans to meet my friends for the Bank Holiday and we kicked things off in a Mexican restaurant Cafe Pacifico right near Covent Garden (the food is in-credible, I'd highly recommend). As Sundays are high carb days I got my fill with fajitas, washing it down with a couple of cocktails.
Looking back, maybe I was taking rest day a little
too
literally...
We then moved on to a few different bars around town and again I stuck to gin and tonics instead of my usual drinks. It probably made no difference at all, but in my head it made me feel a little bit better. Although, I've realised gin does make me
really
sleepy, but on the plus side, hangover free!
While I did indulge in fajitas and alcohol, I did refrain from the 2am KFC my friends devoured. Usually I'm the first in line for post-night out fast food, so sitting and watching them eat was slightly painful. Still, I thanked myself for it in the morning.
DAY EIGHT.
More eating out. I would never eat out four days on the trot, but Bank Holiday got me this time round! Staying over at my friend's in London Bridge we decided to head out for brunch and chose a cute place to eat called
The Garrison on Bermondsey Street
. Luckily for me, there were plenty of healthy options on the menu, so I could enjoy my breakfast guilt-free. Hurrah! Food's just not as fun when your conscience is nagging away at you...
To start my day I had a berry smoothie and poached eggs with a slice of wholemeal toast (It was a high carb day, so obvs I had to get my fill). It was super-filling and super-tasty, so I left feeling oh-so-happy with a satisfied tum. Taking advantage of the London sunshine we then headed down by the river and bagged ourselves some seats to enjoy the pretty views at Tower Bridge. I did have one cocktail while sitting there, but after that I opted for a water and ordering my lunch - a fish finger wrap - I did pass again on the chips.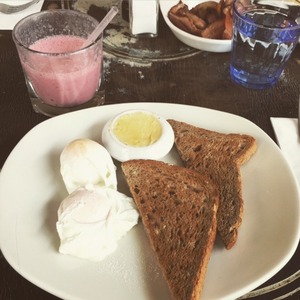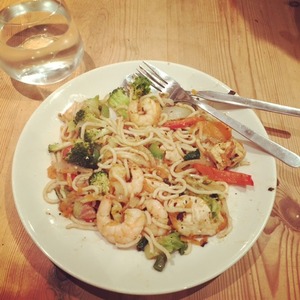 Back home that evening I was actually looking forward to my workout, after my heavy weekend. Monday's workout is the hardest by far. Instead of five or six exercises, there are eleven and they are intense. Squats, lunges, jumping squats, jumping lunges, my poor legs did get a bit of a shock. It was great for working up a sweat though and I could feel all those bad toxins from my slight four-day blowout coming out of me. For dinner, I then made sure to stock up on my vegetables, cooking a chicken and prawn stir fry with carrot, pepper, courgette, asparagus, onion and kale.
DAY NINE.
No carbs... how, I haven't missed you. Tuesday means no carbs and while I wasn't excited at the thought, I was less winey as I knew exactly what to expect. My lack of sleep for the weekend had caught up on me and getting up slightly late, I didn't have time to sit down and eat breakfast (I promise I am good most of the time), so I grabbed a portion of raspberries and strawberries to eat on my commute. I did make sure I put together a lunch, though, making myself a chicken salad with cucumber and red pepper.
My workout that night was back to just five exercises and giving my legs a slight rest, this time it focused more on my arms and abs. Think press-ups, planks and sit-ups. For dinner, fish was on the menu so I cooked myself a swordfish steak, teaming it with greens, babycorn and mushrooms and I actually really enjoyed it. People that know me won't believe I've just said that as I'm known for my awful diet, but actually, it was quite nice to have a whole lot of health on my plate.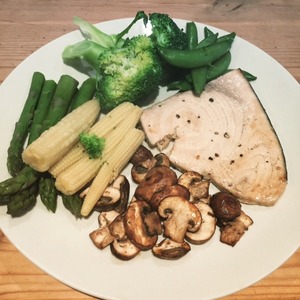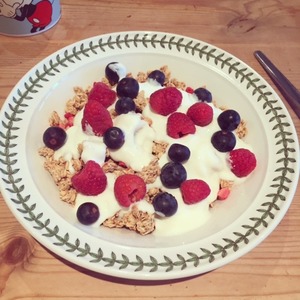 DAY TEN.
So today I'm on Day Ten of
The Body Bible
and I'm actually feeling really good. Yes, I didn't have the best weekend, but I'm finding the training so much easier as I go and I'm starting to really like the much healthier options on my plate. While I don't think I'm starting to feel less tired just yet (my weekend plans definitely impacted that), I do think my skin has got a lot clearer and my body is starting to shape up a little.
After my porridge disaster, I was better prepared for breakfast this morning and opted for granola with natural yogurt, blueberries and raspberries. My verdict - really yummy.
Definitely a good way to start my day!
Read more on my Holly Hagan: The Body Bible blog:
-
Day Two to Day Four: No carb blues and plenty more squatting
-
Day One: Why I'm putting The Body Bible to the test
For exclusive competitions and amazing prizes visit Reveal's Facebook page NOW!