Geordie Shore star Holly Hagan has lost over three stone using her very own fitness guide, The Body Bible, and armed with her 12-week get-fit weapon, I put it to the test…
It's official! Holly Hagan deserves a medal for going without carbs for 12 weeks and probably longer. I've been doing it for not even seven days and I'm already on the verge of crying.
I'm hungry. I'm cranky. And I'm tired - although that's probably down to my body aching from training every day. Really, I'm just bitter I can't have bread.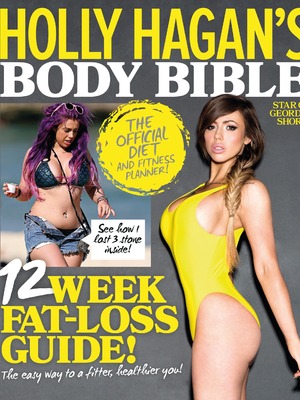 Following Holly's diet plan I am only allowed to eat carbs on a Monday and Sunday, only for breakfast on Wednesday, Thursday, Friday and none, absolutely zilch, on Tuesday and Friday.
Whoever made 'no carb day' a Friday is just plain cruel!
While I've been finding Holly's diet quite tough (
although it has improved since the blandest dinner ever on Day One!
), I am actually finding the exercising part of the
Body Bible
alright.
Sure, it's a bit of a shock training six times a week, but they're short and quick and you find yourself half way through your workout before you've barely begun - now that's my kind of training! The exercises are simple but do NOT underestimate them, they're surprisingly intense. I've found myself sweating like a trooper and running out of breath on more than one occasion.
Fingers crossed that means they're working!
I haven't yet noticed any major changes to my bod so far (slow and steady wins the race), but I will be monitoring my progress throughout the next four weeks and I forgot to mention in my first blog, but I have made a note of my weight before I started and I have done a Holly and taken selfies.
Opening up about her own get-fit mission,
Holly told me the best thing that motivated her was a good ol' selfie
. So I jumped on the bandwagon and took a few "before" shots and while I immediately wanted to throw my phone across the room and delete them, I've kept them for 'motivational' purposes. Even if it does make me cringe to look at them.
Here's hoping my "after" shots will make me feel like a goddess. Maybe then I might be brave enough to share them with you all.
Anyway, here's how I've been getting on this week...
DAY TWO.
So, Tuesday was my first no carb day and being the carb fiend that I am (I'm sure you've gathered), it was a bit of a killer.
Wanting to get my workout in early, I braved the 5.45 alarm to fit in all my exercises before heading off to work. And because of that, I didn't really have time to figure out what to have for breakfast when toast, cereal, porridge and everything you could think of is off the table.
Instead, I opted for fruit and had a healthy sized portion of apple, blueberries and strawberries to start my day. Tuesday's training plan was surprisingly quick and a lot shorter than Monday's, so that made it a lot easier to cope with so early on.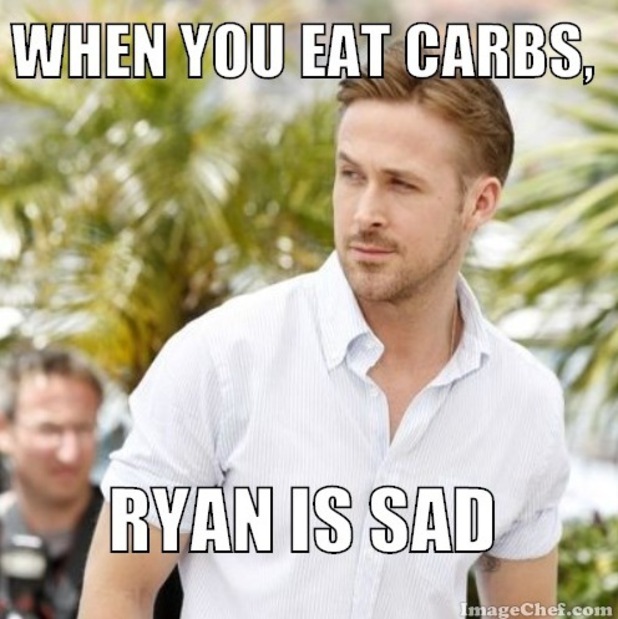 From a few ab exercises, to press-ups and a plank to finish, I actually quite enjoyed myself. Aside from the burpees, that is - those I'd swap for squats any day.
Luchtime came around and I wanted to make sure I was better prepared, so arming myself with a lot of salad leaves, chargrilled chicken and a touch of lemon sauce to prevent Monday's blandness happening all over again, I put together quite a hearty salad. And it actually was quite tasty.
For dinner, I gave a carb free curry a go, filling my plate with spiced chicken, vegetable curry and salad and sadly passing the rice that would go with it.
And while I have been moaning about not getting my fill of the stodgy foods I love, I did notice a difference. I could eat until I was full and not feel uncomfortable. That feeling when you're dying to open the top button on your jeans after a good dinner - that never came, and as much as I don't want to admit it, I enjoyed that.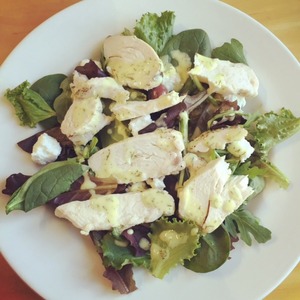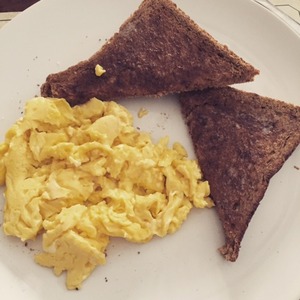 DAY THREE.
Surviving no carb day, I woke up on day three feeling like I could take on the world. That and slightly happier knowing I could have a slice of wholemeal toast with my scrambled egg.
That carb-loving hasn't disappeared just yet!
While lunch was another salad, I did spice things up a bit by adding a little salsa and it made all the difference. Eating healthier you definitely do need to be a bit more adventurous with your flavours, otherwise it does become pretty boring, pretty quick.
Dinner was steak and roasted vegetables and I absolutely wolfed it down after my workout. Wednesday's training plan - although just ten minutes long - was seriously intense. Squats, after squats, after lunges and then a few jumping squats just to get you going.
I was definitely ready to hit the deck after that.
DAY FOUR.
Thursday was another low carb day and I just couldn't resist another round of scrambled eggs with yep you guessed it, a slice of toast. I don't think I've ever eaten a bit of bread more slowly - you've got to savour these things you see.
Lunch again was a salad, but dinner was a lot more exciting. I whipped myself up a prawn stir fry, with spinach, peppers, courgettes and carrots - just call me Jamie Oliver. And after the longest journey home because of train delays (thank you power failure) it was actually quite comforting.
My workout, on the other hand, was not. Getting in two and a half hours after leaving work is SO not ideal. Not just because your evening is practically over, but the last thing I wanted to do was train. Doing this blog though was kind of a godsend as it made me get on my feet and do it.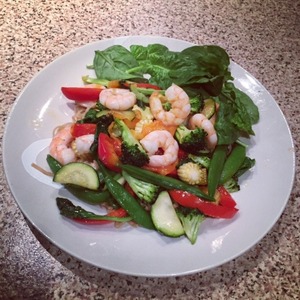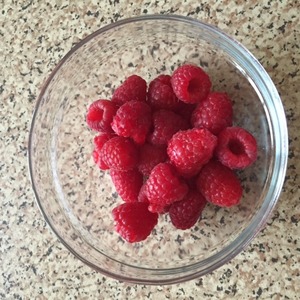 Like Wednesday, squats seemed to be the favourite and I'm really starting to feel it in my quads now, so that made things slightly more difficult. Still I powered on through and felt oh-so-chuffed with myself for not skipping out on training, despite trying to convince myself to all the way home.
I then slept like a baby until my 5.45 alarm for day five's workout. And for someone who never sleeps the whole night through, this regular exercise has had me out for the count! Bonus.
DAY FIVE.
So, I'm now on day five and my second no carb day of the week. Now I know what I'm getting myself in for, I've handled the thought of going carb-free a lot better this time round.
Looking back on my week, although it has been tough at times, in the grand scheme of things it has been more than do-able. Although, I am slightly worried my successful few days may all be for nothing now the weekend has arrived.
This weekend it's bank holiday and having plans all three nights could be my downfall. After all, I'm not so sure a bottle or three of Pinot is strictly allowed...
For exclusive competitions and amazing prizes visit Reveal's Facebook page NOW!