She's married to one of the best known footballers in the country and Coleen Rooney says, despite his antics on the pitch for Manchester United and England, her husband Wayne is a pussycat behind closed doors.
"He's a lot softer than anyone thinks," she says. "Because people only see him on the football pitch and the players are usually shouting at each other and trying to tackle each other, they get a certain impression of him. But anyone that knows him knows he's got a softer side."
Coleen, 29, met Wayne, also 29, when she was a 12-year-old schoolgirl - his mum Jeanette was a cleaner at her secondary school - and began dating the footballer at 16.
They married in Italy in 2008 and now live in a mansion in Prestbury, Cheshire, with their two sons, Kai, five and Klay, who turns two in June.
Coleen says her young lads are already following in their famous father's footsteps.
"It's mad because before Klay could even walk, he was standing up against the coach kicking a ball. He absolutely loves it. I think it's Klay that got Kai more into it.
"Kai now plays after school one or two days a week. I think they'll get more involved as they get older."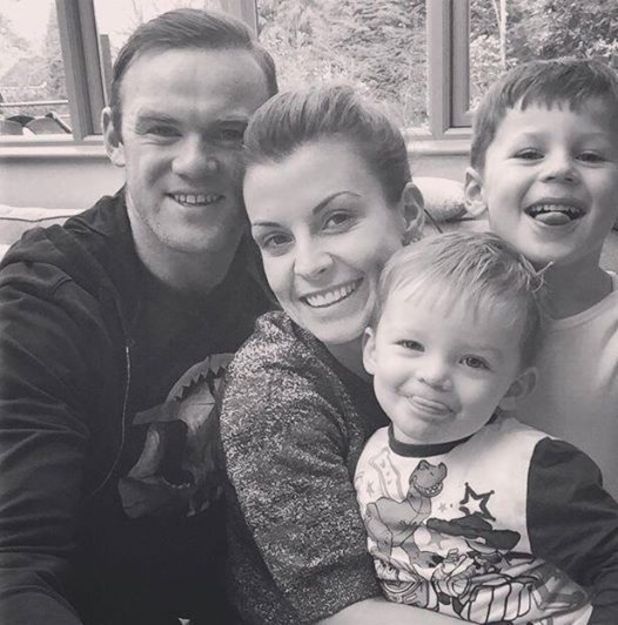 She adds: "They're starting to realise how well known their dad is. Sometimes it can be pretty hard if Wayne comes along on a family outing, because everyone wants a piece of him.
"It can be quite tough on the boys constantly stopping but, at the end of the day, that's part of his job. He's got fans that want to take pictures."
Coleen, who recently launched the search for McDonalds Football Mum of the Year, remembers how hands on Wayne's own mum was when he was a kid.
"Jeanette didn't drive, so she'd have to get two or three buses to get him to the matches. It's about time we recognised the mum's in football, because they're the ones taking the kids, washing their kits and supporting them.
"McDonalds have supported grassroots football for the past 13 years and they thought it was about time we recognised the mums.
"I thought it would be perfect for me to come on board as a mum of two boys who love the sport."
Football is a big part of Coleen's household, but she admits it can get annoying. "At the minute there are just footballs flying all over the house and breaking things," she says.
"But the thing that's hardest is the time Wayne spends away from home. He never knows when he's going to get a day off, so it's difficult trying to plan things around that.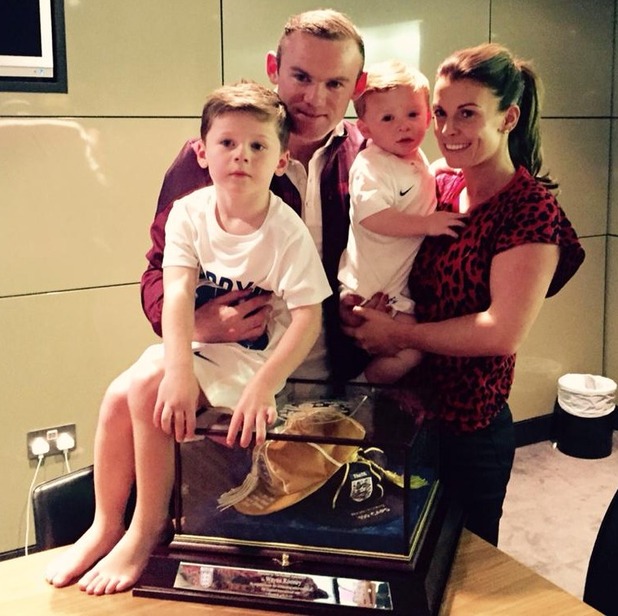 "But being a footballer is a short career, so we'll have plenty of time in together in the future. That's the way you've got to think."
Asked what it means to her to be a loving mum, Coleen says, "It's a fantastic achievement to create a life and to bring them up the best you can. It has its ups and downs, obviously it can be hard at times, but it's so rewarding as well.
"I want my kids to be able to talk to me about anything. I think that's really important and I've always had that openness with my own mum."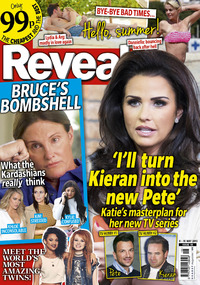 And the pretty Liverpudlian says her daily routine isn't as glamourous as people may think.
"I'm up at 6:40am and have 20 minutes to get myself ready before I get the boys up, then I'm getting them ready for school.
"We're out the door at 8:10am, then I go to the gym, head home and do whatever I've got planned that day, then I'm back out to pick up the boys.
"We'll go to the park, soft play or home to play in the garden, then it's teatime, bath and bed."
Coleen is calling for nominations for the McDonald's Football Mum of the Year Awards. To nominate go to www.mcdonalds.co.uk/mumoftheyear.To read about Coleen's baby plans, pick up a copy of the magazine, OUT NOW!
For exclusive competitions and amazing prizes visit Reveal's Facebook page NOW!