Katie Price has hit back at Jodie Marsh in a lengthy message posted to Twitter, saying: "You'll never be me but keep trying."
Outspoken Katie took objection to a recent interview Jodie gave to Zoo magazine where she described Katie as "the one who's famous for having loads of different kids with different dads." She also declared she would be getting her implants removed in the future and added: "I don't care about
Katie Price
!"
But Katie thinks differently, and has hit back at Jodie with a long Twitter message, accusing her of using Katie's name to get publicity.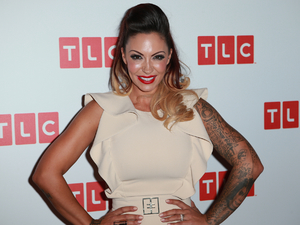 Katie wrote: "Jodie gone quiet, digging my name up for a headline! For someone who used to say, 'I'm natural', followed me having boob jobs (vile ones), now wanting them out like me! Your nose done (like a builder's elbow!) not like mine!
"You joke who is she? Oh yeah, she's the one with kids and different dads! Don't knock mothers like me. There's lots of us! Didn't you go out with my ex's names written over your body marking them out of ten after you shagged them (classy.)
"Well you have shagged nearly all my leftovers and not one of them wanted you (gutted) and you're celibate because no man actually wants you unless… what did u quote before… you're looking to pay for sex yuk!
"I don't know any celebrity or man who finds you attractive. You're the most vile thing I've ever seen. You're no model. Just look like a man in drag, maybe you and Alex Reid would suit!
"Wind your beak in and get back in your box. You'll never be me but keep trying."
So far Jodie has yet to respond.
Things appeared to be amicable between
Jodie and Katie back in 2013 when Katie offered to help Jodie rehouse ponies
that had been abandoned in her garden.
After Jodie sent a tweet saying four ponies had been left behind, animal lover Katie replied: "If you ever need help with saving horses I have 52 acres I can help as I'm sure you no I'm a horse lover too."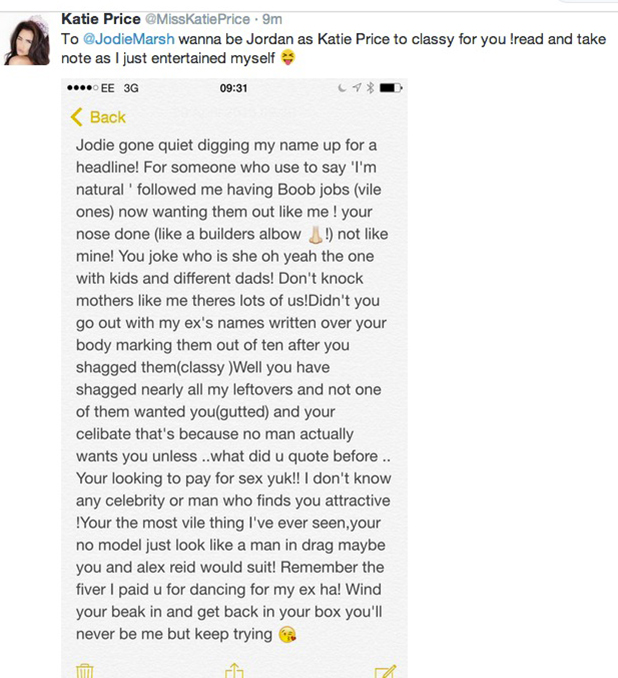 For exclusive competitions and amazing prizes visit Reveal's Facebook page NOW!