Geordie Shore star Holly Hagan has lost over three stone using her very own fitness guide, The Body Bible, and armed with her 12-week get-fit weapon, I put it to the test…
Lately it seems all of our reality faves are embarking on their own weight loss missions. Scrolling through Twitter and Instagram, it's hard to miss another 'before and after' collage, all those glamorous gym selfies (how?! I NEVER look that good at the gym) and healthy dinner plates that really should make you swap your crisps for carrot sticks.
Sadly, I never do. I'm much more of a 'oh wow look at her stomach, I wish I had abs like that – said while eating my second chocolate bar of the day' kind of girl.
BUT, if all goes to plan, I won't be much longer!
Earlier this month,
Holly revealed she had been working on her very own easy to follow fitness guide
and after chatting to the reality star about how much it has changed her life, I've decided to give it a go.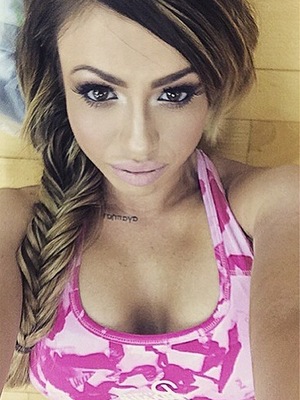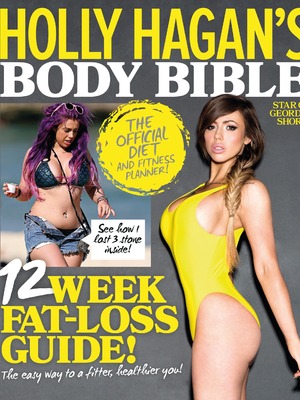 The Body Bible
is a 12-week-plan that gives you a lifestyle overhaul, upping your training regime and sorting out your diet.
Sharing the exact plan she followed, Holly insists her book is filled with easy-to-make recipes and simple exercises that will get you on your way to a new and improved, healthier you.
Sounds do-able right?!
Why I'm putting it to the test.
So for the next four weeks, I'm going to put Holly's guide to the test. I'm not someone who particularly enjoys working out and I am someone who LOVES their food, so I've got a funny feeling I'm going to find the next month pretty tough. But, with a holiday planned for exactly four weeks time, I figured Holly's
Body Bible
, if it works, is the perfect way to get me feeling bikini confident.
I'm a size 10-12, so I'm not exactly too fussed about losing weight, but like every girl I do have certain areas of my body I wish looked a little bit better.
My biggest bugbear, my stomach. I've never had a fabulous taut tum, my belly is prone to bloating and as a result I've always got this little pouch going on that won't seem to shift. Not ideal when crop tops are all the rage, right now.
My bum – it's non-existent! I do not have one. You know when you wear jeans and they sag because there's nothing to fill it? Yup, that. Please, please give me some junk in my trunk.
And finally my arms – Bingo wings are never fun and when I put on weight, like my face, the top of my arms seem to swell. Trim triceps, would be fab!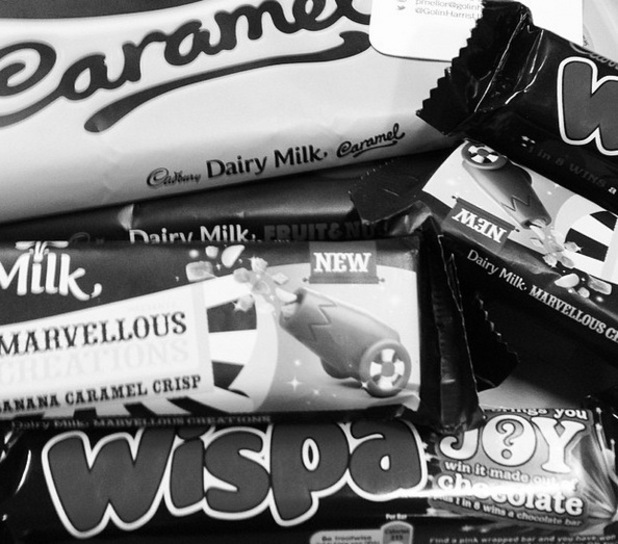 Not only would I like to shape up my bod a bit, but I am very guilty when it comes to my diet. I have a mega sweet tooth and ALWAYS pick the bad option over the healthier one. By following the
Body Bible's
diet guide, I'm hoping it will open my eyes and my tastebuds to tasty guilt-free treats that don't clog up my skin and make me want to snooze.
Also, healthy food takes prepping and there's nothing I need more than to become a bit more organised when it comes to eating. If 5 more minutes in bed means skipping breakfast and getting a muffin on the way to work, so be it. The same goes for making lunch, I'd rather hit snooze because let's face it a Boots meal deal or a Sainsburys pasta pot always tastes better. It's about time I break my bad habits!
Problems.
While I'm hoping to try and stick to Holly's guide for the next few weeks, I can already see where it's likely to go wrong…
I live at home still. While getting your dinners cooked for you every night is great (I'm so going to miss that when I move out), I don't make the decisions on what my family is going to eat, so trying to stick to a diet can be tricky
Work. I leave my house at half 7 in the morning and get back at 7 every evening. Commuting makes you tired and it makes you hungry. Not the best state to be in when you're supposed to be training and watching what you eat.
Have I mentioned I have a sweet tooth? I struggle to cope without my daily chocolate fix and it can be oh-so-tempting to indulge – especially at weekends. This will be a massive test on my willpower. Wish me luck!
The Plan.
Here's what my week will like:
Monday: Train – I can eat HIGH CARBS
Tuesday: Train – I can eat NO CARBS
Wednesday: Train – I can eat LOW CARBS
Thursday: Train – I can eat LOW CARBS
Friday: Train – I can eat NO CARBS
Saturday: Train – I can eat LOW CARBS
Sunday: Rest – I can eat HIGH CARBS
So without further adieu…
DAY ONE.
So yesterday, I officially started
The Body Bible
and I have to say, it wasn't actually too bad – but to be fair, I think that's because I could still eat carbs…
I started off with a bowl of oats and natural yogurt for breakfast, then for lunch I had a 'skinny' chicken and salad sandwich on wholemeal bread, snacking on fruit a little later in the afternoon.
I didn't feel hungry and the fruit softened the pain of not having a Dairy Milk, so I was quite content when I headed back home from work.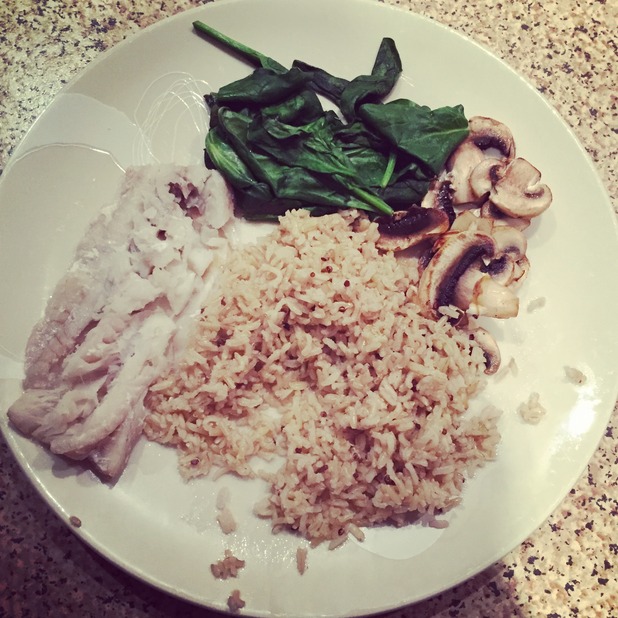 My dinner, however, was another story. I think it was the healthiest I have EVER seen my plate. I had white fish, spinach, mushrooms and brown rice. And while it was kind of bland and did make me question why I was depriving myself of tasty food, it did settle those pangs of post-workout hunger eventually.
So how about that workout?
Monday's exercise consisted of a LOT of squats ( fingers crossed that bum of mine will be here in no time!) and plenty of lunges.
And while at first I thought I was breezing through it, it's safe to say I was knackered and – very sweaty – by the end.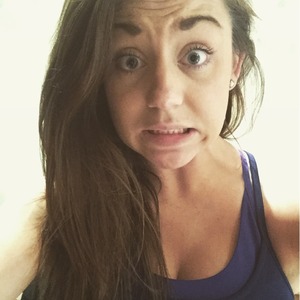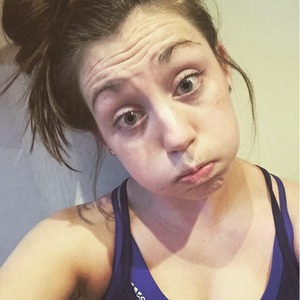 Overall it took me about 35 minutes to do, but that's with a warm-up and cool down included, as well as a bit of faffing in between exercises with my timer.
It didn't take up too much of my evening and I still managed to cook my dinner, put a wash on, hoover the house, shower and get into bed ready for
Made In Chelsea
on E4 plus one.
How productive is that?!
Let's hope today's dreaded 'no carb' day doesn't dampen the mood…
For exclusive competitions and amazing prizes visit Reveal's Facebook page NOW!