The first image from Fifty Shades Darker is here!
Ah! Exciting!!
To celebrate the impending DVD release of
Fifty Shades of Grey
, a brand new never-before-seen picture from its sequel
Fifty Shades Darker
has been revealed.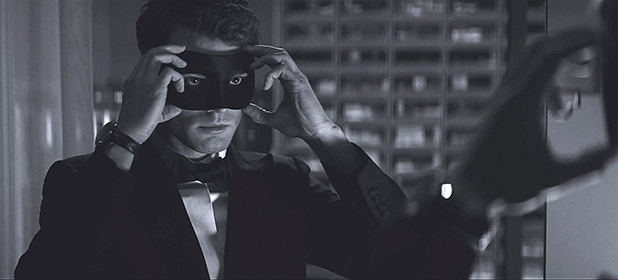 In the snap, the brooding billionaire Christian Grey – played by Jamie Dornan – can be seen securing a masquerade ball mask while staring into a mirror.
Ooh!
And fans who buy the
Fifty Shades of Grey
DVD or Blu-ray will also get to watch a never-before-seen
Fifty Shades< Darker
tease within the bonus features. The Digital HD is available from 8 June and on DVD / Blu-ray from 22 June and can be pre-ordered now.
Fifty Shades of Grey
was a worldwide phenomenon on its release back in February, breaking box office records and raking in more than $500 million at the box office.
It follows the seduction of naïve student Ana Steele by the billionaire Christian Grey – a seduction that includes an introduction to his Red Room of Pain and love of BDSM.
This week, it was confirmed that author
E.L. James' husband Niall Leonard will adapt her Fifty Shades Darker book for the big screen.
It's also been confirmed that director Sam Taylor-Johnson will not helm the sequel.