Move over Prince George, there's a new Royal Baby in down! Actually, George, stay just where you are - there's DEFINITELY room for two royal cuties in our world!
Kate Middleton's pregnancy was announced back in September - and it feels like the months have just flown by since then! Here's our definitive look at the second Royal baby story!
Monday, 8 September 2014
Kate and William announce the pregnancy! A statement issued by Kensington Palace confirms that
Kate is expecting the couple's second child
. Once again, she is suffering from hyperemesis gravidarium, a severe form of pregnancy sickness. With Prince George, she was hospitalised briefly for treatment but this time around she is treated by doctors at Kensington Palace. The Queen, David Cameron and both families are among those who send congratulatory messages.
The same day, dad-to-be
William has a public engagement in Oxford, where he tells reporters
: "Kate is feeling okay. It's been a tricky few days, week or so. But we're immensely thrilled. It's great news. Early days. Hopefully things settle down and she feels a bit better."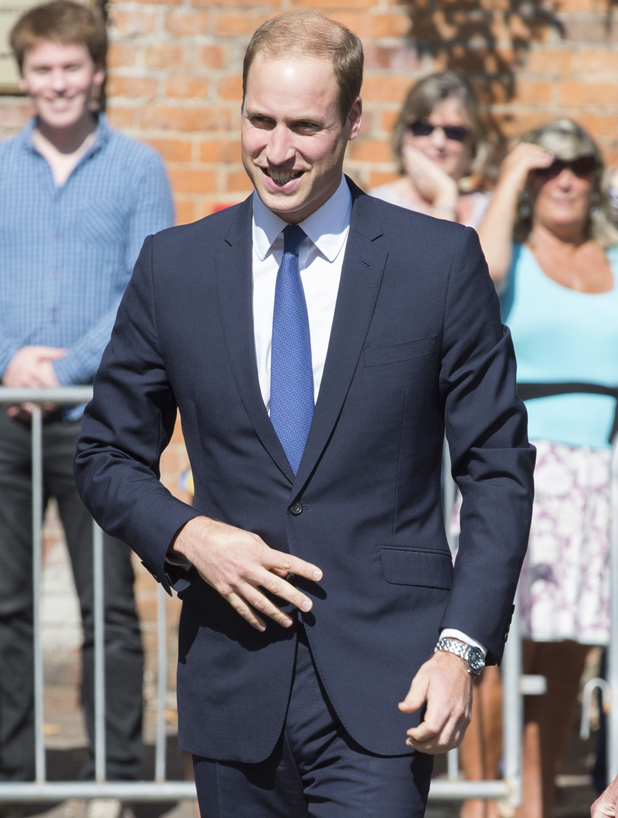 Wednesday, 10 September 2014
As she's still suffering sickness, the
duchess pulls out of a planned appearance at the Invictus Games Opening Ceremony
. Meanwhile, Prince Charles tells well wishers that he's
looking forward to being a grandfather again and quite hopes the new arrival will be a girl.
Elsewhere,
David Beckham offers words of advice to the royal couple
: "Get some sleep because jumping from one child to two is a big step!"
Thursday, 18 September 2014
Kate's sickness continues and she is
forced to cancel a trip to Malta
that would have marked her first royal solo overseas engagement. Instead, her husband will travel to the island in her place. Four days later,
William arrives in Malta where he tells onlookers that Kate is feeling "so so"
but he's hopeful she'll be on the mend soon.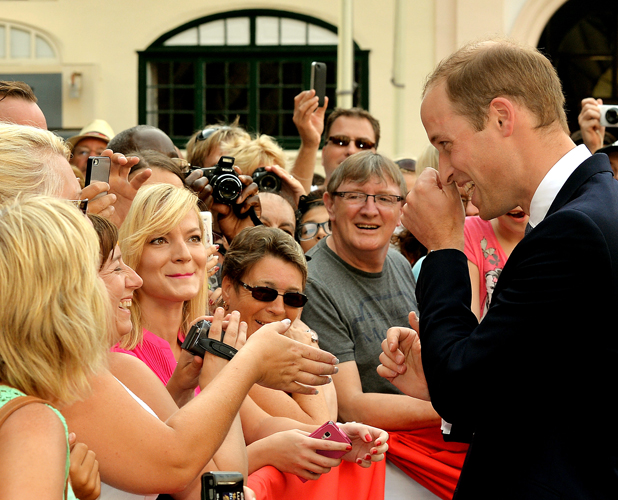 Thursday, 2 October 201.
Another engagement is cancelled, this time a visit to The Art Room in Oxford. An upset Kate sends a letter instead, saying she is "truly sorry" not to be there.
Monday, 20 October 2014
Kensington Palace releases a statement saying that Kate's condition is "steadily improving" and announces the baby is due in April.
Tuesday, 21 October 2014
Kate finally makes her first public appearance since the pregnancy news was announced. Feeling better and
looking radiant in Alexander McQueen, she joins William at a ceremony to mark the arrival of Singapore's President Tony Tan
to the UK. Later that night, she also steps out at the Natural History Museum in London, supporting
The Wildlife Photographer of the Year Awards.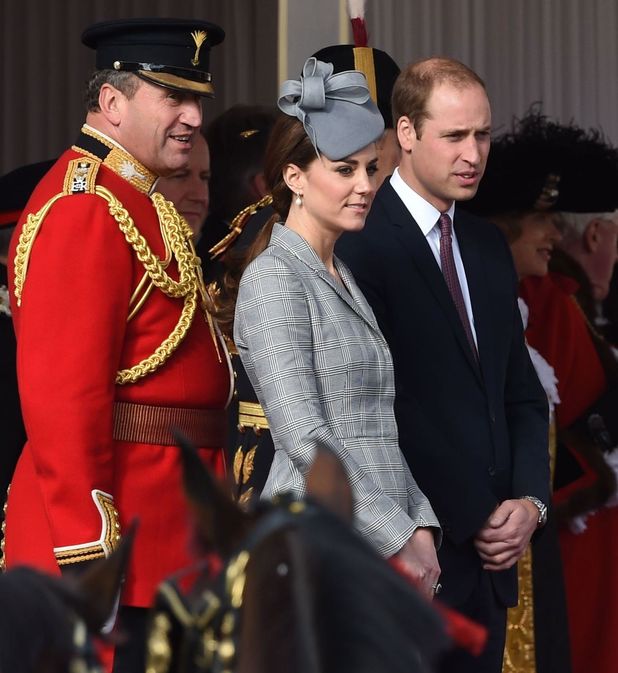 Thursday, 23 October 2014
Continuing to feel better, the
duchess attends the Action on Addiction Autumn Gala,
wearing a Temperley London dress.
Sunday, 9 November 2014
Kate joins The Duchess of Cornwall and Sophie, Countess of Wessex on the balcony outside
The Cenotaph to mark Remembrance Day
. She wears a black coat with a red poppy pinned on the lapel.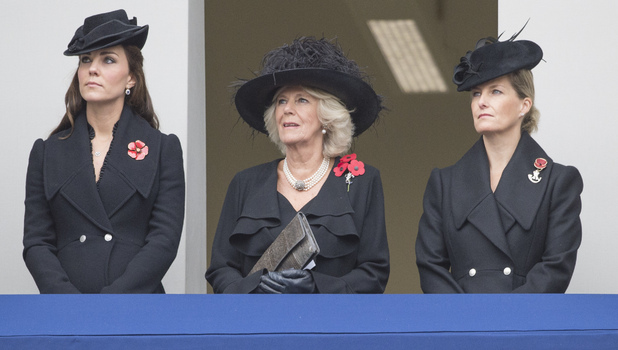 Thursday, 13 November 2014
Kate is pictured
laughing and joking as she attends a SportsAid workshop
. The duchess is known to be very active and a huge sports fan although her pregnancy means the only activity she can take part in is a memory reaction test.
Wednesday, 19 November 2014
Kate gives us a glimpse of baby bump at the
Place2Be Wellbeing Schools Awards in London
, where she dresses in a black spotty peplum top from Hobbs, teamed with a Jenny Packham skirt.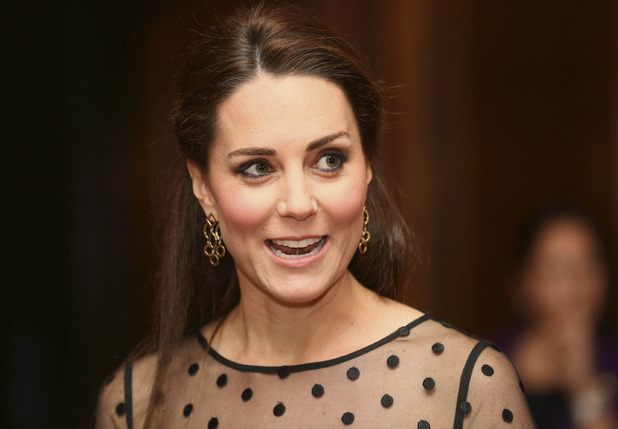 Tuesday, 25 November 2014
Looking resplendent in a red Catherine Walker dress, the
duchess spends a day at the Norfolk Showgrounds
to launch a charity appeal for East Anglia's Children's Hospices.
Sunday, 7 December 2014
Kate and William
arrive in New York for a fleeting visit to the US
. They receive an A-list reception with fans camping outside their Manhattan hotel. They leave Prince George behind in the UK with Kate's parents. The royal couple have a busy schedule in NYC that includes watching a basketball game, visiting charity projects and
even rubbing shoulders with Beyonce and Jay Z!
William also travels to Washington DC for an afternoon to meet with President Obama.
Their New York visit ends with a
gala dinner to mark the 600th anniversary of St Andrews University in Scotland,
the place where they first met. Kate looks every inch the princess in a navy blue Jenny Packham dress. The couple have a rare moment of public intimacy holding hands as they leave the event.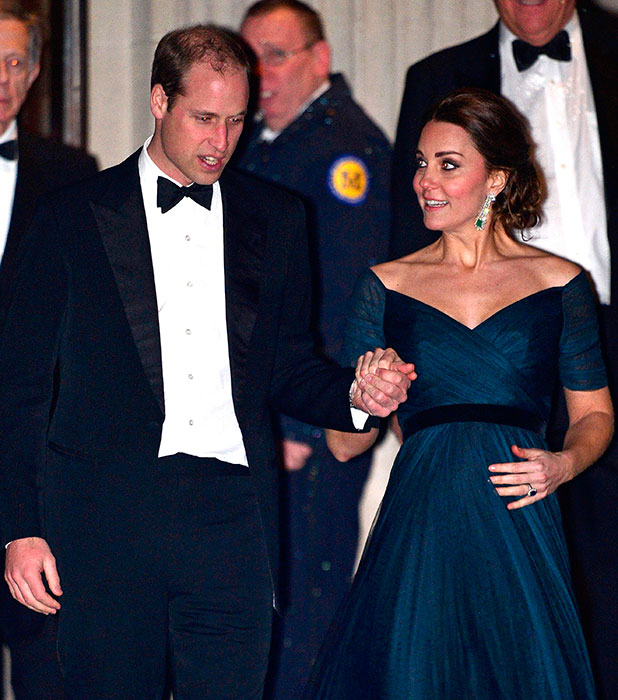 Tuesday, 16 December 2014
Back in the UK, Kate makes a surprise visit to a Beaver Scouts pack in London. Dressed in a hoodie, she joined the youngsters as they learned about living with disabilities.
Wednesday, 17 December 2014
Kate, William and Prince George
attend the annual Buckingham Palace pre-Christmas lunch.
Wills is seen driving his wife and son into the palace grounds. A few days later, on Christmas morning, the couple attend the church service at Sandringham, where Kate stops to speak with royal fans who have been waiting outside in the cold.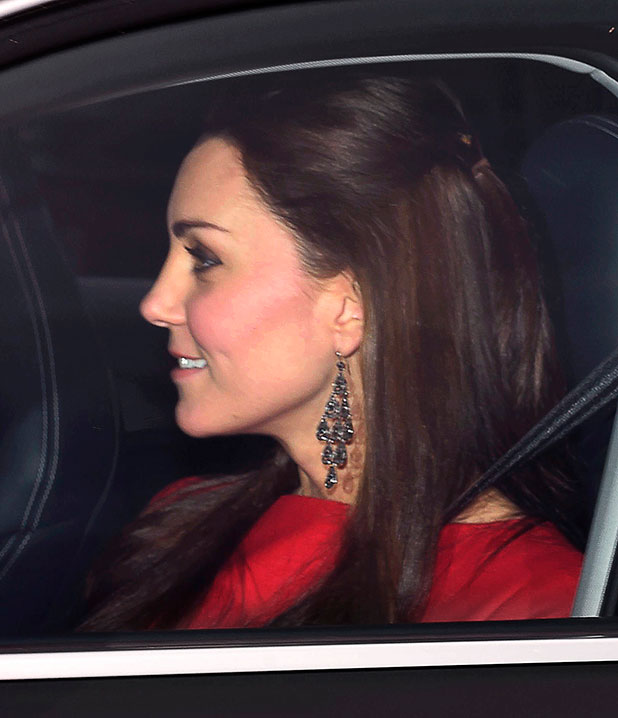 Thursday, 15 January 2015
Kate's first engagement of the year is a
visit to Ladbroke Grove in London, where she tours the Clore Art Room.
The following day, she makes an appearance at The Fostering Network in Highbury, London,
showing off her baby bump in a wraparound brown shirt dress from Hobbs.
Monday, 19 January 2015
Another week, more public engagements.
First up is a visit to the Kensington Aldridge Academy in London,
which Kate officially opens while looking beautiful in a pale blue cashmere coat from Seraphine. While there, she tells a student she can feel her baby "kicking all the time". She also confirms the royal couple have not learned the sex of their second child.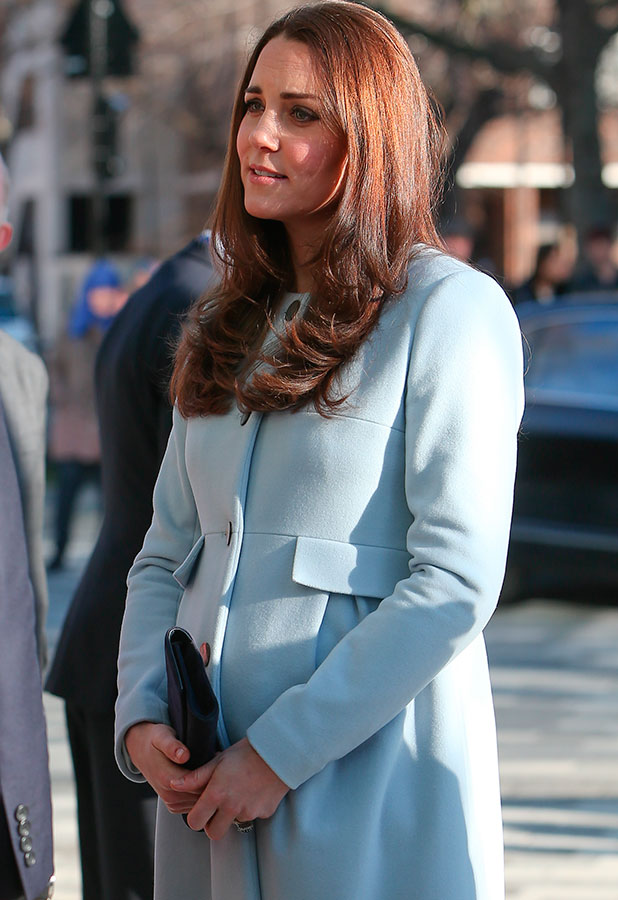 February 2015
Kate, William and George jet off to the Caribbean island of Mustique to celebrate Kate's mother Carole's 60th birthday. As it's a private island, there are no pictures, but reports suggest the family had fun on the beach, snorkeling and dining together.
Thursday, 12 February 2015
Kate shows off her holiday tan at an appearance in Portsmouth.
She dons a chic Max Mara white coat to attend the Ben Ainslie Racing and 1851 Trust Project. It also emerges she quietly visited a children's hospital in Beckenham, Kent earlier in the week, but the palace didn't publicise it and no photos were released. It's claimed she spent an hour speaking with staff and patients and one child even tried to teach her how to play the ukulele.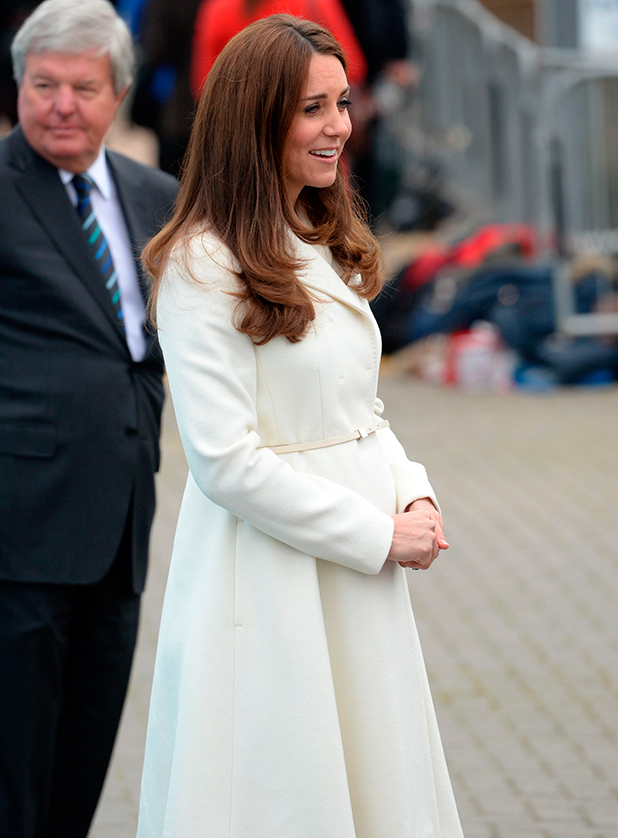 Monday, 16 February 2015
The pregnant duchess records a rare video message in support of children's mental health charity Place 2Be.
Wednesday, 18 February 2015
Kate travels to
Stoke-on-Trent to visit the Emma Bridgewater pottery factory,
which has launched a special mug in partnership with East Anglia Children's Hospices, for which Kate is a patron. She also visits a children's centre in Smethwick, where she is surrounded by young admirers.
Monday, 9 March 2015
Looking pretty in pink, the duchess joins the royal family at the
Commonwealth Observance Day at Westminster Abbey,
which no doubt brings back memories of her own spectacular wedding there in April 2011.
Wednesday, 11 March 2015
Thrifty Kate recycles her fabulous Dalmatian-print coat to visit Margate. She
tours the Turner Contemporary art gallery
and wears her hair up in a ponytail! Usually she prefers the loose and wavy style.
Thursday, 12 March 2015
Kate chooses a
pretty cream coat for a special visit to the Downton Abbey set at Ealing Studios
. A big fan of the show, she's thrilled to tour the sets and watch a scene being filmed in the servants' quarters. She also meets with cast members and the show's creator Julian Fellowes.
Friday, 13 March 2015
The duchess (and bump!)
joins The Queen and other members of the royal family at St. Paul's Cathedral
for a ceremony commemorating the end of British involvement in Afghanistan.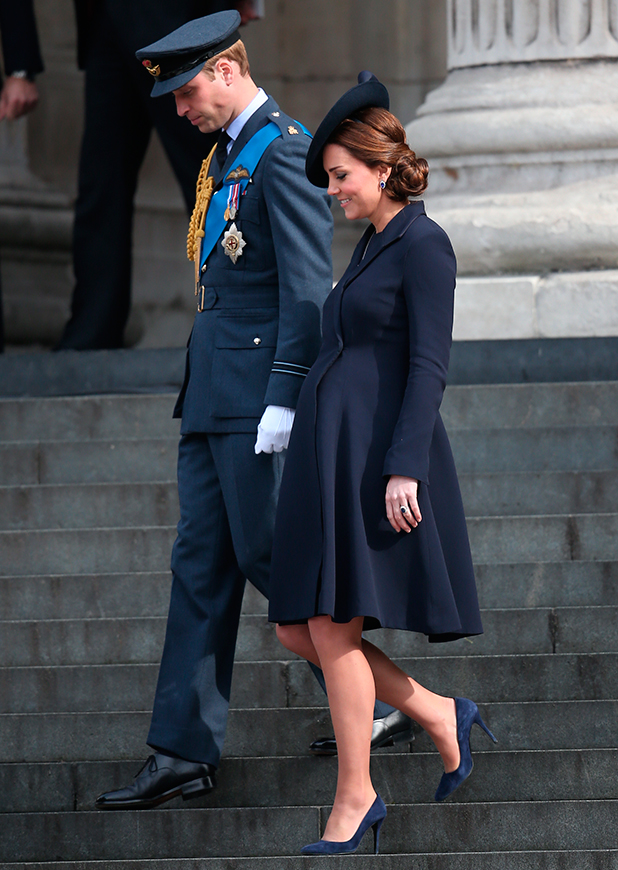 Tuesday, 17 March 2015
As is tradition,
Kate hands out sprigs of shamrock to the Irish Guards on St. Patrick's Day
. Thankfully this time around she doesn't get her heel stuck in a grate!
Wednesday, 18 March 2015
The following morning, she visits the
Brookhill Children's Centre in Woolwich to meet families
who have been helped by the Home-Start Charity.
Her £35 polka dot dress from ASOS sells out instantly.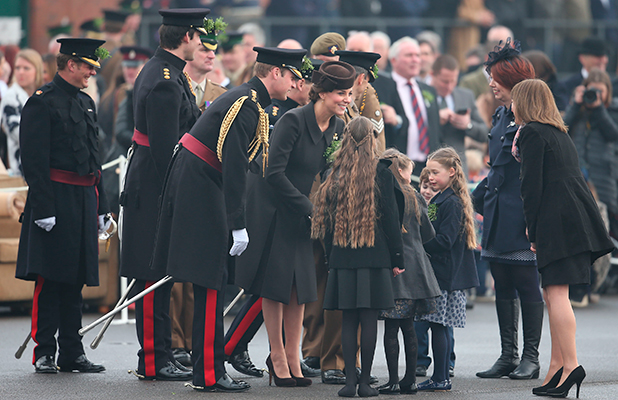 Friday, 27 March 2015
Kate's final day of work before her
maternity leave begins in London with a visit to the Stephen Lawrence Centre
alongside husband Prince William. She looks beautiful in a hot pink coat.
Friday, 10 April 2015
Kensington Palace confirms that K
ate will once again give birth at the Lindo Wing at St. Mary's Hospital in Paddington.
It's the same place where she delivered Prince George in July 2013. Reports suggest hospitals in Reading have also been put on standby in case Kate goes into labour while visiting her family.
As the rumoured due date of 25 April creeps closer,
police start erecting barriers outside the Lindo Wing to keep the media and fans at bay
. Royal enthusiasts start to arrive, some of whom are holding handmade barriers ready to welcome either a prince or princess to the world.
Tuesday, 21 April 2015
William starts what is rumoured to be six weeks of paternity leave after finishing the latest stage of his air ambulance training earlier than expected.
Tuesday, 28 April 2015
Believed to be several days overdue, Kate is seen driving Prince George to a swimming lesson at Buckingham Palace. She and William also send hot drinks and pastries to royal fans waiting outside the Lindo Wing.
Wednesday, 29 April
Parking restrictions outside the Lindo Wing are extended. They were scheduled to expire on 30 April, but with no royal baby in sight, they are extended until May.
For exclusive competitions and amazing prizes visit Reveal's Facebook page NOW!