Khloe Kardashian brought reading material to the gym yesterday as she arrived for her daily workout.
The
Keeping Up With The Kardashians
star kept a low profile as she walked into the gym wearing a baseball hat and sunglasses, carrying a magazine and fluffy purse.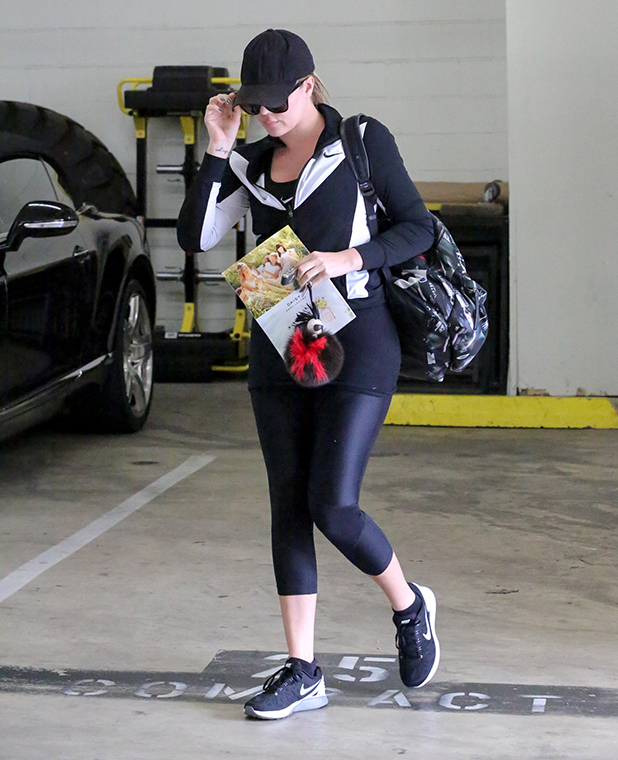 Khloe, 30, is pretty much snapped outside her gym every day – that's some determination! We need to know how she does it!
As well as flashing her gym-honed body yesterday, the reality star showed fans she still has the tattoo on her hand dedicated to estranged husband Lamar Odom.
Khloe shared an image of her hand holding her car's gear stick (as you do) and the Lamar inking was very much visible.
A sign that she's thinking of her ex?
Or did she simply just want to show off her flashy new car?!
Khloe and Lamar married in September 2009 after a whirlwind romance of just one month. Their relationship was documented in E! reality show
Khloe & Lamar
. But in 2013, they split amid rumours that Lamar had been unfaithful and was battling substance abuse problems.
However, Khloe has often spoken about her ex-husband since then, saying how much she loved him and that he will always be a special part of her life.
She
told E! News earlier this month
: "I will never ever not love Lamar. I was so obsessed with him in a healthy way. He was my husband, and I still wish he was, and I don't think there's anything wrong with that," she said.
"There's nothing I can do. Lamar has to do things in order to change in that aspect, but yeah, if I had my way I'd be married to Lamar in two seconds."