Kris Jenner has subtly shot down speculation of a rift between herself and son Rob Kardashian, by thanking him for making sure she looks stylish in the gym.
As always with the Kardashian clan, there have been numerous rumours lately about Rob's relationship with his family, including one claim that he's going to sue Kris and everyone else for a whopping $50 million…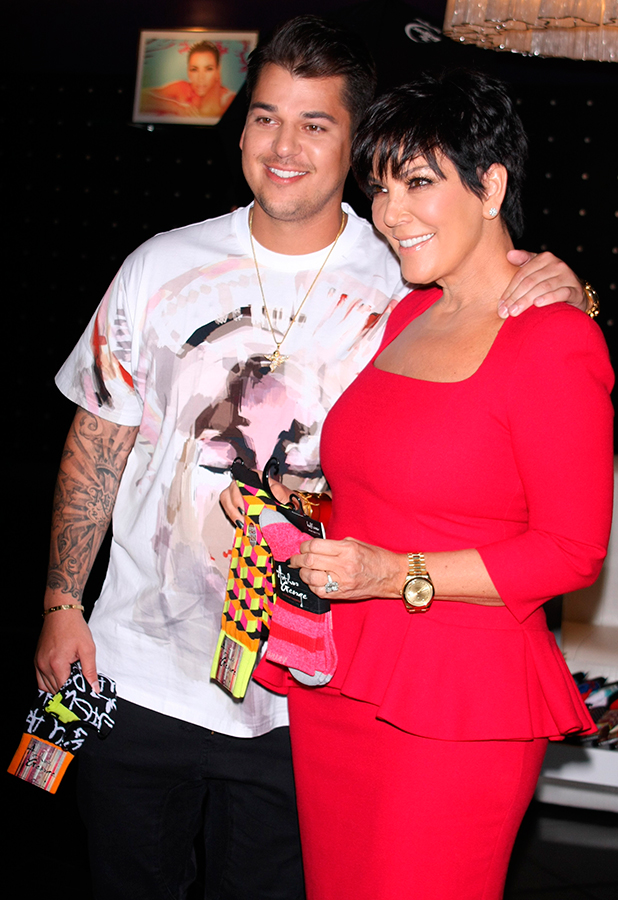 Well, if Kris' latest Instagram post is anything to go by, that's just not true. In fact, it seems Rob and Kris are on great terms.
Kris shared an image of her fancy new trainers alongside a caption thanking Rob for ensuring she looked good in the gym.
"Nuthin like a new pair of shoes @aplrunning to motivate me on a Monday morning in the gym with@gunnarfitness ... thanks @ryangoldston@adamgoldston for the shoes and especially @robkardashian for making sure your Mum has her s**t and style together in the gym!!!!! Love you guys!!!!!#whyisGunnarsoperkyonmondays? #blackandwhite#getitdone."
Now, if you were going to sue your mum you wouldn't be buying her shoes, would you?!
It is true, though, that Rob has been shying away from the limelight over the past year, ever since he left sister Kim's wedding to Kanye West early in May 2014.
On a recent episode of
Keeping Up With The Kardashians
,
Rob's mum and sister acknowledged there was a problem with their once active and vivacious Rob.
We heard how he's gained 100lbs and has been hiding away inside Khloe's home, where he's been living for years. Kris admitted she cried herself to sleep at night worrying about her son. An attempted intervention was even shown on the programme but Rob appeared to reject it.
All you need to know about Kris Jenner in less than two minutes!