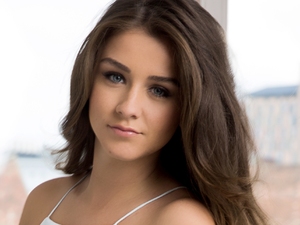 Brooke Vincent exclusively shares her fashion favourites, beauty and style picks and celebrity highlights with Reveal.
Hello everybody,
I hope you're all having a nice start to the week!
As I said last week, I've been very busy with work, so I haven't really had much time to do anything else apart from that. Our night shoots have finished now and, to be honest, I quite liked doing them, they weren't as bad as we all thought they were going to be. Plus, we had Mike, Joe and Alan (Kevin, Tim and Tyrone) keeping us all entertained, and the fact I could sleep all day was just amazing; not that anybody in my house was extra quiet for me.
I had a lovely weekend though and we even got a teeny bit of sun didn't we?! These little sunny days seem to be coming and going though... I would be happier if they just stayed!
Run, run as fast as you can
So on Saturday night I did a 5k charity run for
The Royal Manchester Children's Hospital
. 5k…I was so impressed with myself, the only thing I run for is a sale in a shop, apart from that I don't run at all. In my old gym there used to be a window, and out of it I could see my favourite fast food restaurant, so I used to pretend I was running to it, only to get frustrated, leave the gym and drive there anyway! So this was a pretty big deal for me. Also, before the run, I had a little chat with my friend Charlotte. I met her a few weeks before when I was showing her around my work!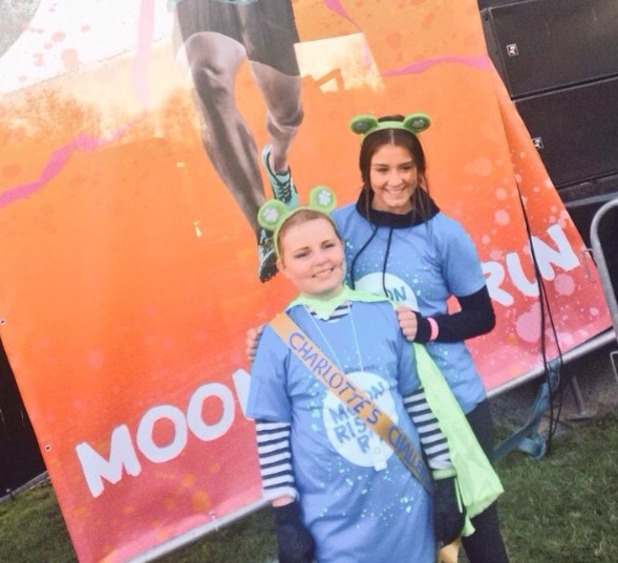 We were introduced through the children's hospital. Charlotte's an amazing girl and she is so caring; she's a right little chatty thing she is, so we got on well! It was nice to see her again.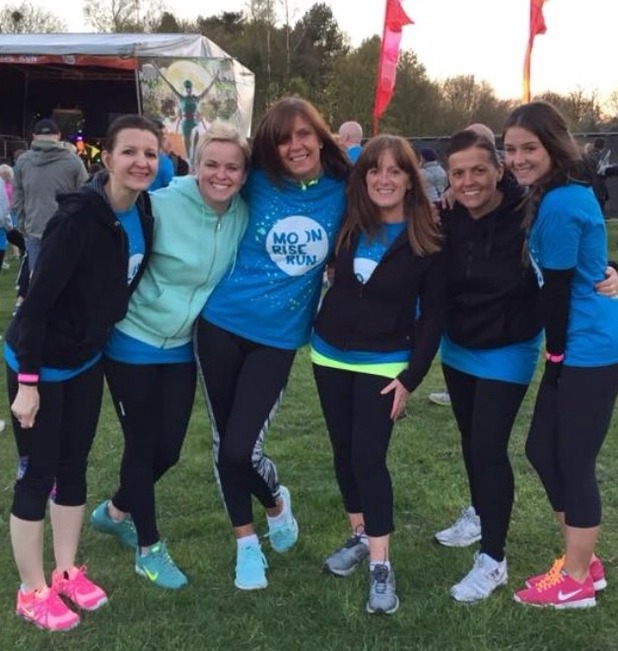 My mum and her friends roped me into doing the run. I moaned to mum about volunteering my services a good few times before this race and Saturday was no different. My friends were all hitting the town and I was going to be late because it was an evening run, so I told them all to be extra speedy or they wouldn't be getting a lift home. Afterwards though there was a great sense of achievement because I have never done a 5k run before! My mum, bless her, stayed with me all the way round and, even though it was hard to talk whilst running, we still managed to.
Auntie Brookey
So on Sunday, even though I was tired from the night before, I went with my friend Catherine and little Dollie to the petting farm near to where we live. I was quite surprised to find it was a nice way to spend my Sunday afternoon. Although when it came to feeding the animals I really got a bit scared. I've never noticed how freaky sheep's eyes are and how big their teeth are too! Dollie wasn't scared at all, but me? I couldn't even put my hand out, I thought they might bite it off, ha ha. To top the day off, Dollie said my name for the first time! I got her on video saying it too, I was so impressed!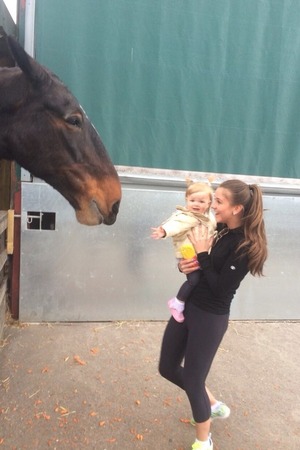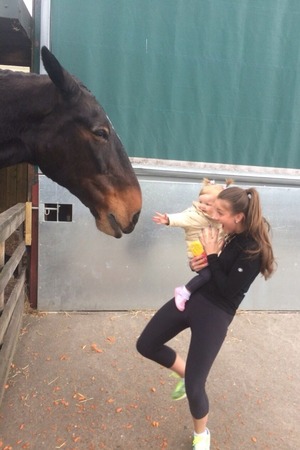 Here we are with a horse, who was very very big, so I think that's why I look so scared. And below is a sheep and a llama.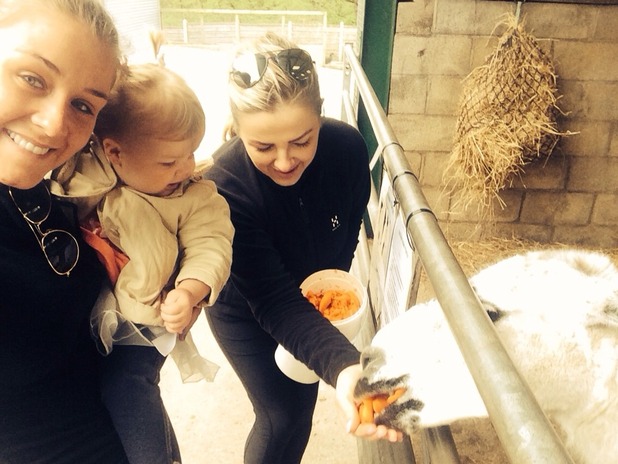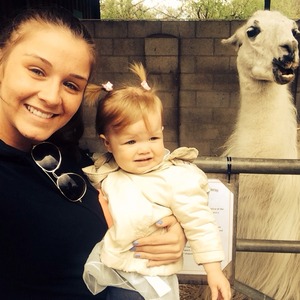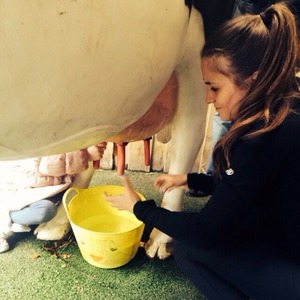 I even milked a fake cow too. I would make a good farm owner if I stopped being so scared of the animals! Ha!
Sophie Webster's wardrobe
So as you can all probably tell, Sophie Webster and I have different wardrobes and very different tastes! So when I get the chance to go shopping to help Alex out (one of our costume supervisors and one of my favourite people at work) I jump at the chance. Not spending my own money on clothes all for me to wear, it's a belting deal.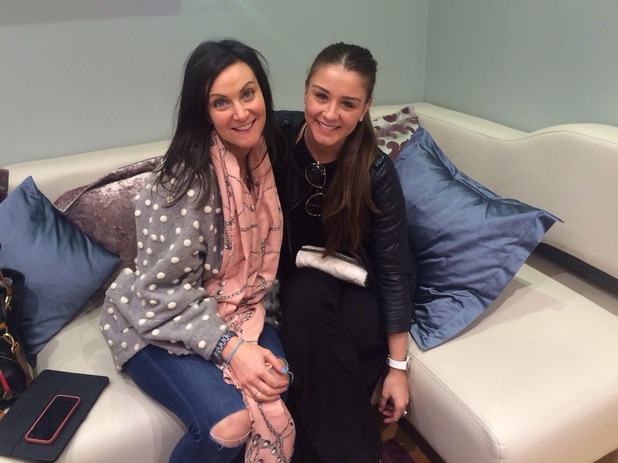 We normally go for some lunch too, but this day because I'd been so busy at work we were literally 10 minutes in and out. Normally we go shopping for general day to day things like, jeans, tops, and jumpers. But sometimes when a character has a special occasion (for example a wedding or party), then the wardrobe department likes to buy us something new.
The outfit we bought (which I can't show you just yet because it hasn't been on screen) is very much a 'Brooke' outfit, which basically means I would definitely wear it myself. If I've put on weight I can always tell because Sophie's clothes are a bit tight. Whereas back home I would change into my 'fat day jeans', I can't get away with it when I'm being Sophie!
BAFTAs
I've been invited to the BAFTAs! I am so excited!!! Who knows who I will see! I love people-watching and that is going to be one hell of a place to do it. It's my first time going and I love how dressed up you can get. One thing I don't often need to look is classy. I'm more of a dress down rather than dress up kind of person. I would go in jeans if I could, but I am really going to make an effort because I might not get to go again. I will of course be reporting back to you all about my favourite outfits on the night! As I was looking for dresses it crossed my mind about some people's proms are coming up, and with events like the BAFTAs and the National Television Awards, it's hard trying to pick a dress that you love. I've put a few styles together to help you out whilst I'm looking for mine...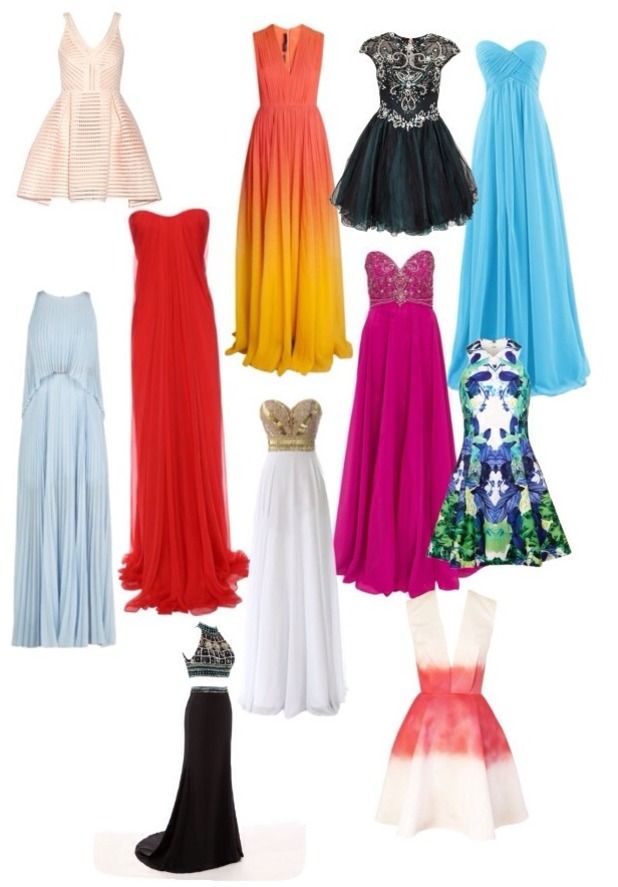 I love long dresses, personally I don't like my legs (that's just my thing), so as long as they are covered I don't mind. I do tend to wear a lot of long dresses for awards because sometimes it is nice to dress up. For my prom I wore a short dress that I had worn for some awards a few months before.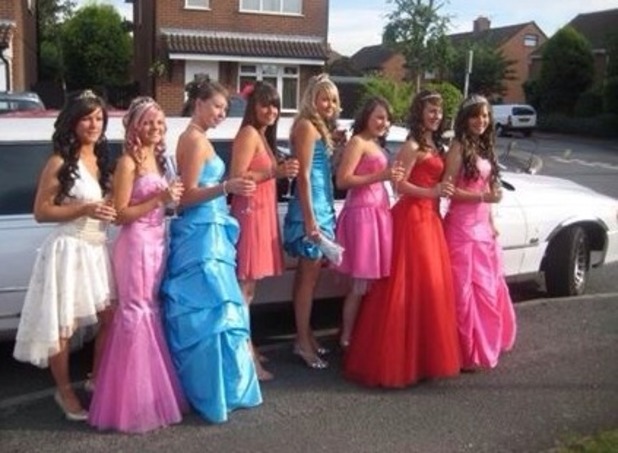 I actually still have this dress, not that I would probably wear it or even fit into it now, but it's nice to look at. These are me and my friends on our prom day. Some people went long and some went short - a sea of colour!
Outfit of the Week
So yet again I've been having a nosey at people while I've been out and about and I came across this girl who was in one of my favourite restauraunts in Manchester on Saturday night. Yet again, my friends told me off and said how embarrassing I was for going up and asking for a picture, but I didn't care! I thought she looked lovely. So here is Amy Bruce, the lighting isn't that good but I couldn't start faffing about moving her to a better light, so I just went with this one.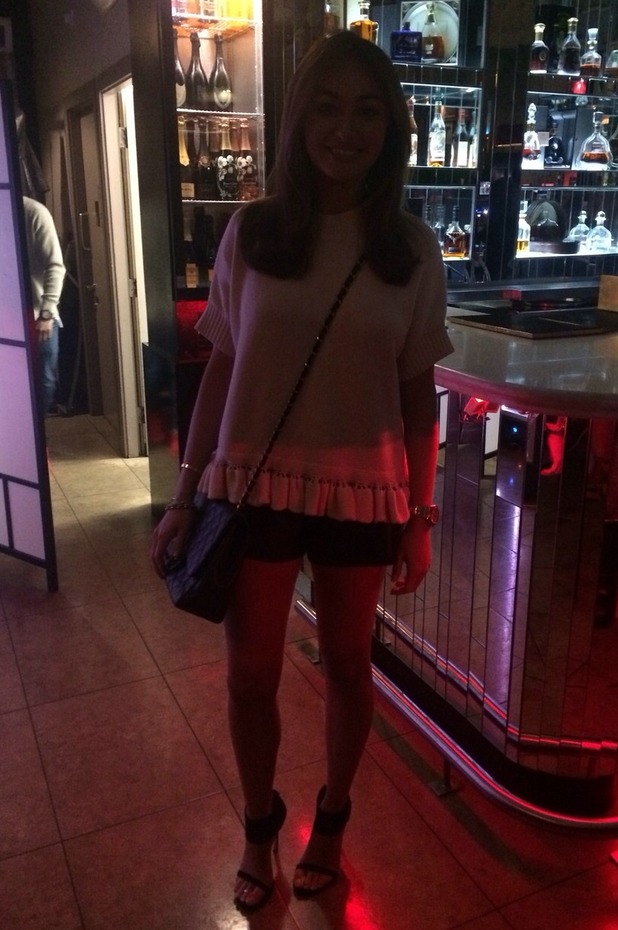 Her cream top was kind of like a jumper material, which I loved because it wasn't that warm on Saturday night and it was a nice length over her black leather shorts, which she teamed with some strappy sandals. Like I said my thing is legs and I don't like mine, so I dont know if i would wear this outfit, but Amy you looked amazing so thank you for helping me out.
Have a nice week everybody!
Peace Up Reveal.
Brooke xx
For exclusive competitions and amazing prizes visit Reveal's Facebook page NOW!