Kendall and Kylie Jenner were back at Coachella this weekend… but this time around they brought big sister Khloe Kardashian along for the ride.
The teenage siblings – who were everywhere during last weekend's first leg of Coachella - were joined by their elder sister at the Regroupd Retreat Pool Party on Sunday, 19 April.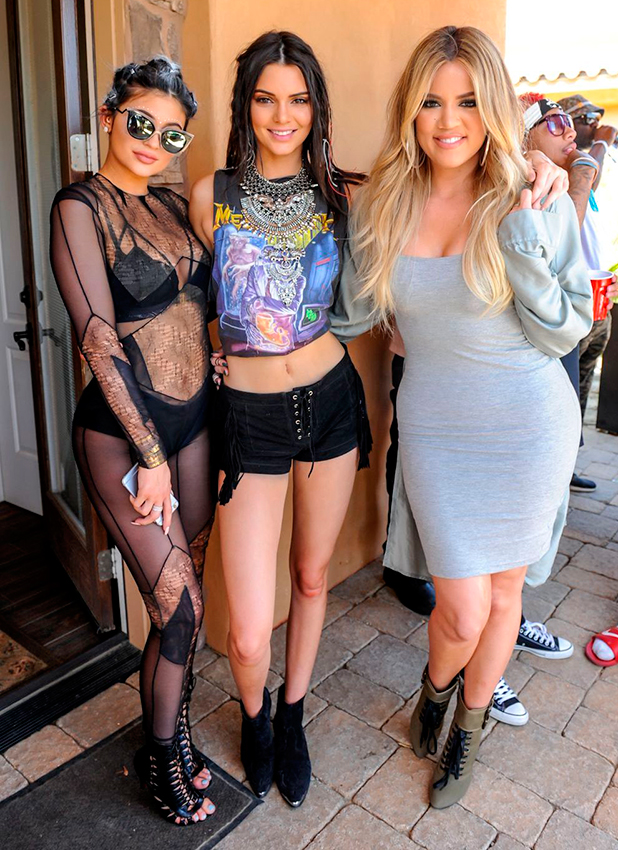 Kendall went for a rock chick in black shorts and a T-shirt emblazoned with the logo of thrash metal group Megadeath. We wonder if she's really a fan?! Who knew?!
Kylie, meanwhile… well, we're not 100 per cent sure how to describe what the youngest
Keeping Up With The Kardashians
star is wearing! Let's just say it's sheer, unusual and well, we probably won't be wearing it around the pool when we're on our hols…
Khloe wore a simple grey T-shirt dress.
The 30-year-old
arrived back in LA last week
following a
visit to Armenia to explore the ancestry of her late father Robert Kardashian
. She travelled with sister Kim, brother-in-law Kanye and niece North West.
Their other sister
Kourtney was unable to join them as she was too nervous to fly long haul
with three young children, including
son Reign who was born in December 2014.
Kylie and Kendall's father is
Olympian Bruce Jenner, who will give a two-hour tell-all interview on US television
on Friday night. It's been widely speculated that Bruce will finally address rumours that he is transitioning into a woman, although that has not been confirmed.