If TOWIE did netball teams, this is what they would look like…
We all know
TOWIE
starlet
Ferne McCann
is a massive netball fan. She plays for a team herself and follows what's happening in the professional leagues. We've even seen netball popping up on
TOWIE
!
So we were rather intrigued when Sky Sports asked Ferne which
TOWIE
castmembers would make her unisex netball team…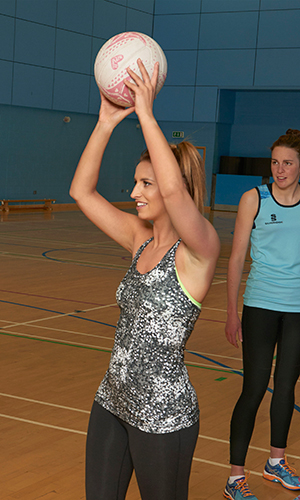 Obvs, Ferne is captain!
GS: James Lock
GA: Chloe Sims
WA: Arg
C: Ferne McCann
WD: Lauren Pope
GD: Danni Armstrong
GK: Gemma Collins
Sorry Jessica, Mario, Ricky, Chloe L, Billie, Fran and Georgia!
Ferne had clearly put some thought into her team as well, and had reasons for why each of her co-stars would be good in the allotted place. Clearly Ferne needed to be captain as she is the one who understands the game and rules! "I feel like centre is just going to tie the team together and set the pace," she said. "It's kind of teeing up the goals and stopping the opponents goals going in. I will put myself centre as I don't think anybody else in the
TOWIE
cast can do the job!"
She said Lockie was a firm choice for goal shooter because he's tall. She noted: "He's quite stocky though so I don't think he would be a good goal attack. I want him to stay put and put the goals in."
Chloe Sims, however, would be a good goal attack, reasoned Ferne. "She's fairly tall, she's quite fit and she's slender." Over on WA, meanwhile, would be James 'Arg' Argent thanks to his new healthy lifestyle.
"Argent has lost a considerable amount of weight so he will be quick," sai Ferne. "And he's training really hard so I might stick him as wing attack. He has a bit of speed. He can help me with attacking and getting the goals!"
Stopping the goals, meanwhile, would be Gemma Collins. "She's quite tall," said Ferne. "And you don't want to cross her so she would be great!"
Lauren Pope was placed in wing defence just because Ferne thought she'd be good, while Danni Armstrong finished the team in goal defence: "She would be a great defender as she has a bit of a mouth on her. You wouldn't want to cross her either! She has attitude!"
Oh
TOWIE
bosses, PLEASE make this happen!
Watch Ferne going through her choices below!
Netball fan Ferne travelled to Surrey Sports Park last week to meet members of the Surrey Storm netball team, who were preparing for the end of the Netball Superleague Season
It's such a great sport to keep strong and healthy," she told us. "If you go on a treadmill for twenty minutes it's like 'oh my god how boring. I'm forcing myself." With netball it's never forced. I don't want to let my team down so I'm always there."
Netball fan and regular player, Ferne McCann, has teamed up with Sky Sports to promote the end of the Netball Superleague Season, part of the channel's biggest ever year of women's sport.