Khloe Kardashian looked happy to be home yesterday as she jetted into Los Angeles.
The
Keeping Up With The Kardashians
star flew into California from Israel, where she'd attended the baptism of her niece North West. Prior to that, she'd spent a week in Armenia learning about her late father's ancestors.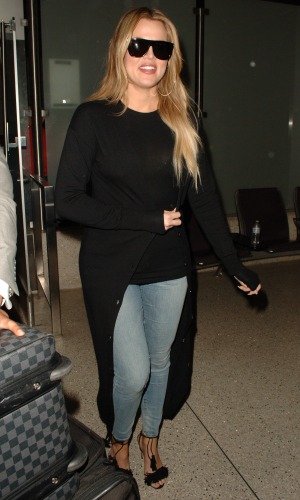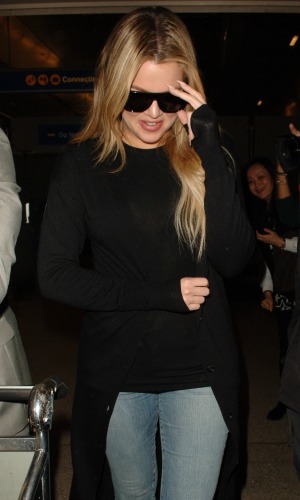 Khloe was pictured with a smile on her face as she walked through the arrivals terminal at LAX on Tuesday, 14 April. She was dressed down after her long haul flight, wearing jeans and a simple black T-shirt and cardigan.
The 30-year-old left Los Angeles last week with sister
Kim, brother-in-law Kanye West and niece North to travel to Armenia's
capital of Yerevan.
They were tracing the roots of their late father, who has Armenian heritage.
During their stay in Armenia, the
sisters visited several landmarks
and paid their respects at the
memorial to victims of the Armenian Genocide
. They also met with the country's prime minister to discuss raising awareness of Armenia, while Kanye played an impromptu free concert in the capital.
After that, the group flew to Israel where
North was baptised in a 13th century Armenian church in Jerusalem.
Khloe then headed home to LA, while
Kim, Kanye and North flew to Paris.