Kim Kardashian West wore a scarlet jumpsuit to pay her respects at the Armenian Genocide memorial over the weekend.
The
Keeping Up With The Kardashians
star was joined by younger sister Khloe as they visited the memorial in the country's capital Yerevan on Friday, 10 April.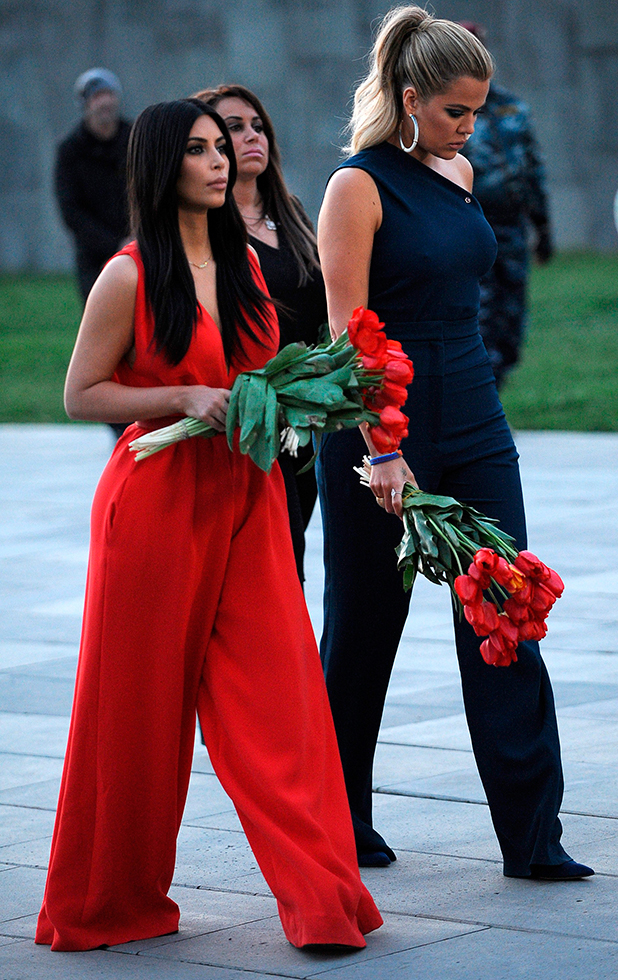 Kim wore a sleeveless red jumpsuit with plunging neckline and wide legs, while Khloe opted for an off the shoulder, figure-hugging blue number.
The sisters were pictured carrying flowers to the memorial, which was built in 1967 to remember the estimated 1.5 million victims of the Armenian Genocide.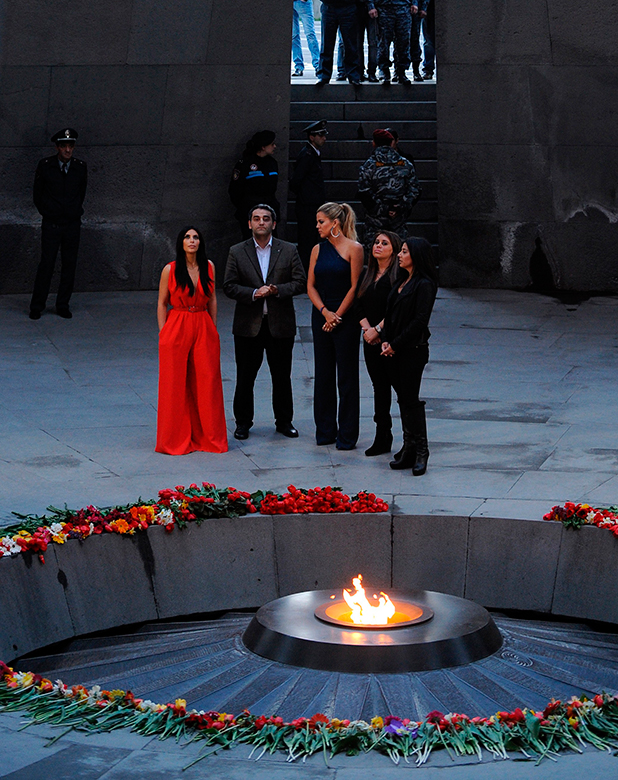 Kim and Khloe have been in Armenia since last week with their
cousins Kara and Kourtni Kardashian
to explore their ancestors' roots. The sisters' late father Robert Kardashian was descended from Armenians.
Their sister
Kourtney was unable to make the trip because she was nervous about flying
with her three young children.
Kim was joined, however, by her rapper husband Kanye West and their daughter North, one.
Kanye held an impromptu concert in Yerevan last night
which was eventually broken up by police after fans took his lead and jumped into a lake after him.
According to Kim, she was completely in the dark about his plans.
"What a crazy night! Kanye wakes me up & says he's doing a free concert in Yerevan, Armenia! I throw on sweats & we head out! Thousands of people were there! Kanye jumped in swan lake to be closer to the crowd on the other side & so many people jumped in too! It was such an exciting crazy night! So happy I got to rock out with everyone in Armenia on our last night here!!!!"
Kim and Khloe have also met with Armenia's prime minister on their visit, who apparently told them he was proud of them for raising awareness of Armenia and the Armenian Genocide.