Total Diva stars The Bella Twins may be all American girls, but they admit they're addicted to British TV show Downtown Abbey!
Who would have thought it, eh?!
Nikki and Brie Bella make up the famous Bella Twins from E! reality show
Total Divas
. For those who aren't familiar, the show gives viewers an insight into the lives of a group of female WWE wrestlers and of course all the glamour and drama that being a WWE Diva seems to bring.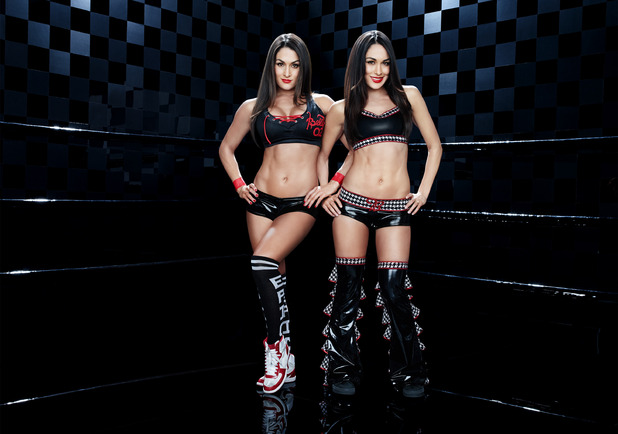 The Bella Twins are identical in looks and just as fierce when it comes to fighting in the ring. Both are currently loved-up too with Brie married to fellow WWE star Daniel Bryan and Nikki with wrestler John Cena.
Reveal
caught up with the fiery pair to find out how they've coped with putting their lives onscreen, what they might be doing if they hadn't got the wrestling bug and why, just like us, they can't miss an episode of Downton Abbey....
So Total Divas is now three seasons in with a fourth on the way, are you still enjoying being on the show just as much?
B: We love it. Nikki and I have so much fun being a part of Total Divas. It's been quite a journey, but it's been a fun one.
Your lives must have changed a lot since Total Divas started?
B: Oh my gosh. We don't really realise it, but sometimes we'll go out and in some places we'll get mobbed, so you're like 'woah, yeah I am on TV.'
On the show we get to see you outside of the ring as well as in it, what has it been like having cameras follow you around 24/7?
N: It was only weird for the first few weeks. We almost got embarrassed walking into places with this whole entourage and cameras and lights, but you definitely get used to it. Now it's just like walking around your family and that's why you get the cry moments, and the fights with the boyfriend. You forget!
You've shared some very personal moments too! Brie you even had your wedding filmed...
B: It's something I personally thought I would never do. The show brought it up to Bryan and I and we were like oh my gosh absolutely not. But, at the same time I feel like the younger generation these days need role models. So if I open up my heart and my life, if people can learn something and relate to that, then why not? With our wedding. I was like there is going to be NO drama here. Don't ask my grandmother to punch me in the face! Hopefully it helped people realise true love does exist.
N: I agree. Our biggest thing is to be role models. There are times that as role models we make mistakes, but if my audience and the girls that look up to me can learn from my mistakes, then mission accomplished. I truly enjoy now putting my life out there, don't get me wrong it can be hard at times, you're putting yourself out there to be judged. But, if you realise that then it's ok.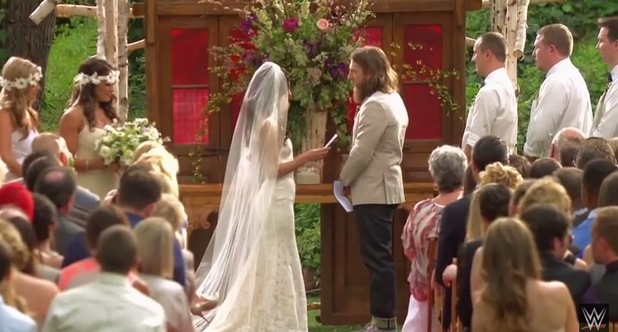 Has your relationship changed as sisters since starring in Total Divas? Are you closer, do you bicker more?
N: Yeah it has brought us closer. We get so busy we don't fully open up to each other, but reality TV has forced me to get into moments where I open up to Brie about my dad, or John [Cena] or what's going on in my life. You can see how weird we are when we hug – we don't do that!
B: It's especially weird now with Nikki's new boobies!
N: Brie! They're a few years old now, so it's not that!
We get to see you fight together on the show, but who would you say is the most competitive out of the two of you?
B: Oh it's definitely Nicole.
N: Yes I am. Which I think is a good thing but it can be to a fault.
And if you weren't a Total Diva, what do you think you would be doing instead?
B: I think I would work for the peace call. I'm very passionate about the idea that living on this planet has to be for something more than being a professional wrestler. You have to help people and help the world. If you can't work together, how can you expect the planet to keep on going.
N: Me, I would be selling ocean front property in San Diego, hanging out with my best friends and family.
B: She would be the queen of happy hour!
N: Oh, I'm definitely good for that… but I have a true passion for real estate. I couldn't imagine not being a Total Diva, but if I wasn't I'd be the best damn person in real estate anyone has ever seen.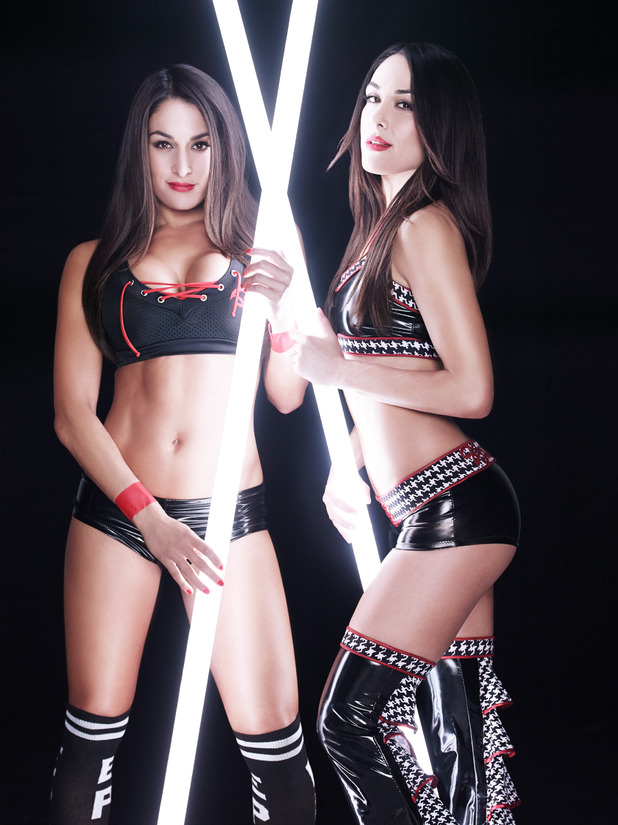 Following our catch up with the girls we asked them a few quickfire questions to get to know them a little better...
Favourite moment from Total Divas?
B: Mine would have to definitely be my wedding.
N: Mine was when John wanted me to meet him on the pier. Seeing him standing on the pier I grew up on in a handsome suit and holding roses, that was just perfect.
Favourite Diva (asides from each other, of course)?
B: I would have to say Paige. She's bough a lot to season three and right now she's my favourite.
N: I would say Paige or Nattie. Nattie, I just feel so bad for her all the time. I want to console her constantly.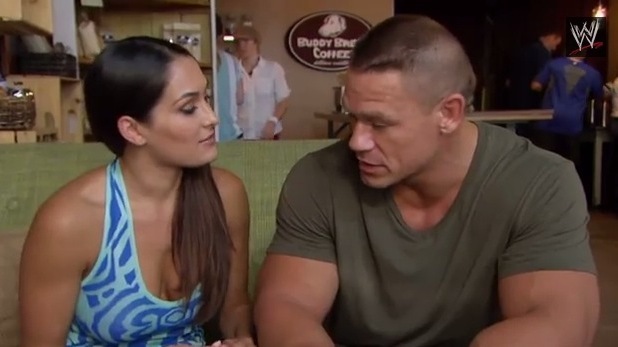 Favourite outfit you've worn on the show?
Both: Ooooooooooo, good question.
N: Definitely not my outfit from Brie's wedding, I hated that dress.
B: Oh wow, thanks. That was a bridesmaid dress!
N: I have to say when I was walking to John on the pier, I was wearing this fur vest but it was vintage. It was my grandmother's when she first got married. It had sleeves that zip on and off, it's beautiful.
B: I would have to say my wedding dress because you only wear it once, it's the only time you'll ever wear it.
Favourite holiday?
Both: Napa Valley!
N: It's like heaven on earth!
Favourite sweet treat?
B: I'm addicted to doughnuts! It's so bad. So is Nicole.
Favourite TV show (asides from Total Diva, obvs)
N: Downtown Abbey! I'm addicted. It's definitely in my top three.
B: Lady Mary is such a bad ass.
N: I'm actually taking Brie to tea this week just because of Downtown Abbey. We're gonna do tea time and wear hats and gloves, all of it!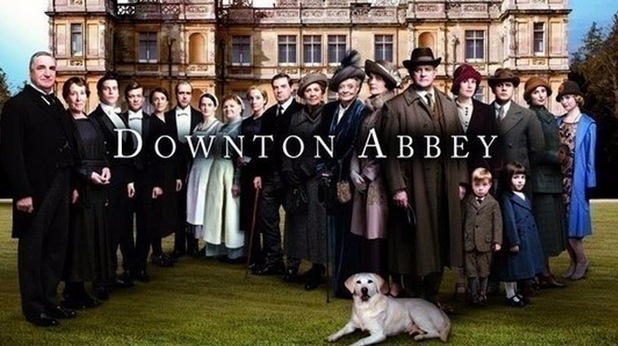 What can't you live without?
B: Probably my dog, she loves me.
N: Well I can't say my Bentley. It has red leather and a convertible top... No probably John.
B: I would probably say my husband too.
N: No you said your dog first, you're a bad wife.
And when you're not in the ring wrestling, what would be your ideal day?
B: In my garden with Bryan and my dog, planting, seeing stuff grow and making jam.
N: Getting a workout in with John, having a nice massage and a Jacuzzi. Then, going on a dinner date with him for a nice steak and wine.
Total Divas airs every Sunday at 6pm on E!.For exclusive competitions and amazing prizes visit Reveal's Facebook page NOW!