She's All That is reportedly being remade.
Yes. Really.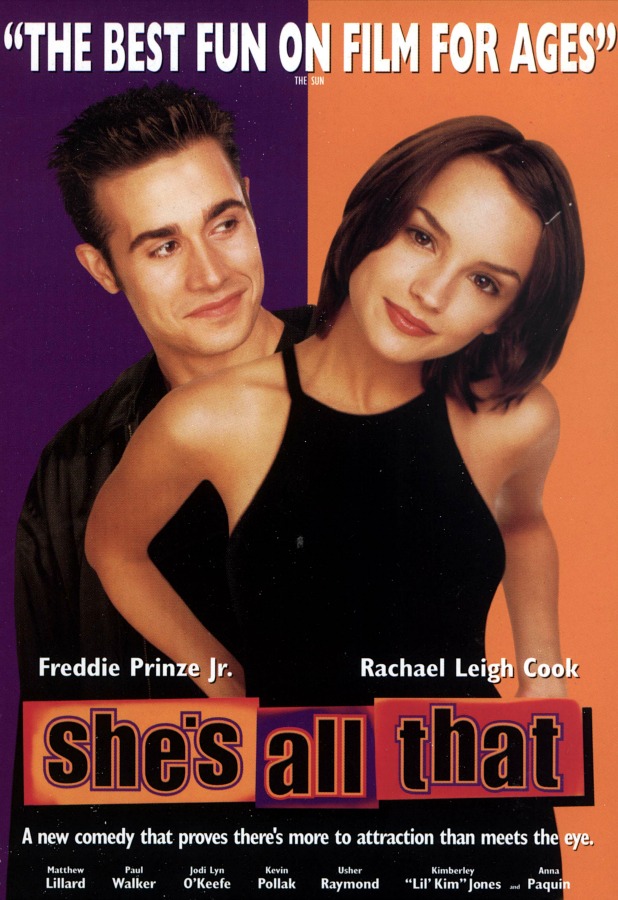 According to The Wrap, work is underway at Miramax Studios on a new version of the Freddie Prinze Jr and Rachael Leigh Cook's romcom classic (to us, anyway).
You remember the story inspired by
My Fair Lady
... Paul Walker's gorgeous, smooth talking character bets Freddie's school jock with a heart character that he can't turn the school ugly duckling into a Prom Queen-worthy beauty.
Duh. Of course he can! Especially when she's already a total knockout and actually not that uncool at all (hello! She's an artist! With cool arty friends!). Also when she lets her hair loose and takes off her glasses to reveal a stunner underneath. Easy makeover.
(Plus the movie poster TOTALLY gave it away by showing Rachael looking all sorts of beautiful and confident while Freddie stared loving at her...)
Now, we're not really sure about this remake for a number of reasons.
1.
It makes us feel OLD! The original only came out in 1999. That wasn't so long ago!
2.
Freddie, Paul and Rachael were PERFECT in their roles. So was Jodi Lyn O'Keefe who played the resident Mean Girl Taylor Vaughan. Hands up who really wanted to be her friend and steal her style even though she was a total bi-atch...
And who remembers Usher as the school radio DJ? Or creepy reality sleaze Brock Hudson (Matthew Lillard)? Or scary art student Misty? (Cleo Duvall).
Or the cameo by Sarah Michelle Gellar, who was dating Freddie at the time. (They're now married and she made her cameo because
Buffy The Vampire Slayer
was filmed at the same high school). Oh! There were also appearances by Kieran Culkin and a pre-
True Blood
Anna Paquin. Basically, this cast was perfect.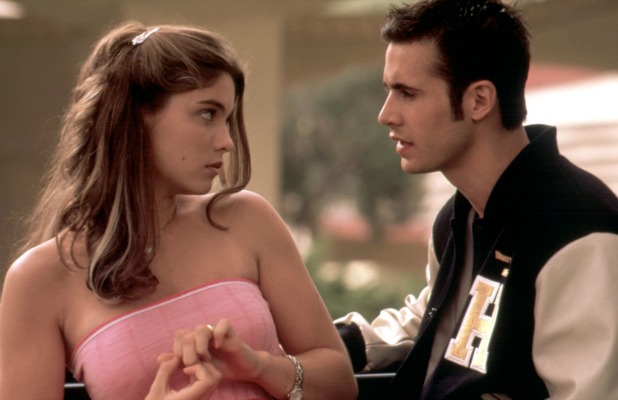 3.
We already have this on DVD! Bring us another romcom! We don't need
She's All That
part two. What's next? Remaking
Clueless
?
Never Been Kissed
? Or, dare we say it,
Mean Girls
? Nuh uh, we don't think so!
4.
If they remake it, do they include all the original quotes in the script? Or will it have a new script? "You didn't think you became popular for real, did you? Oh, you did? That's so sweet." We NEED lines like this!
5.
No one, and we mean absolutely no one can say "Am I a bet? Am I a F***ING bet?" quite like Rachael did. Laney Boggs really was
all that
.
6.
Who on earth would pull off those seriously offensive dance moves by Brock at the house party. That scene always warrants a rewind, or two...
7.
We don't want to watch the pubic hair-laced pizza scene again. At least with the DVD, we know when it's coming up so we can fast forward...