Katie Price's son Harvey joined her for a sweet and informative interview on This Morning today.
The former glamour model held her 12-year-old boy's hand throughout the chat with Eamonn Holmes and Ruth Langsford, while her mother Amy – Harvey's grandmother – sat on his other side.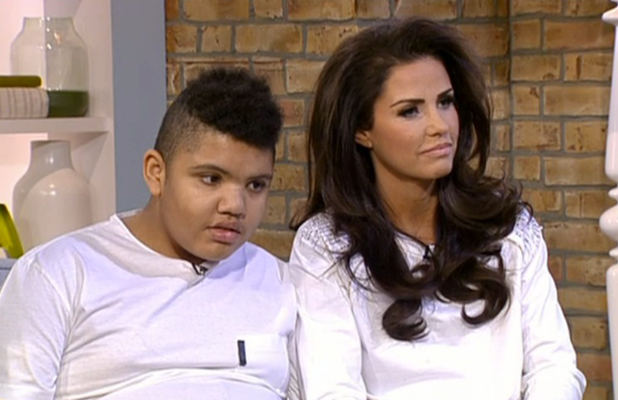 Katie was on the show to speak about the struggles and joys of raising her eldest son, who has multiple disabilities including Prader-Willi Syndome and autism.
"To other people, they say, 'Oh my God, how do you cope?' But I don't know any different," she. "It is hard work."
Turning to Harvey, she added: "You do play up to mummy sometimes, don't you?"
Harvey replied: "Yeah, babe!"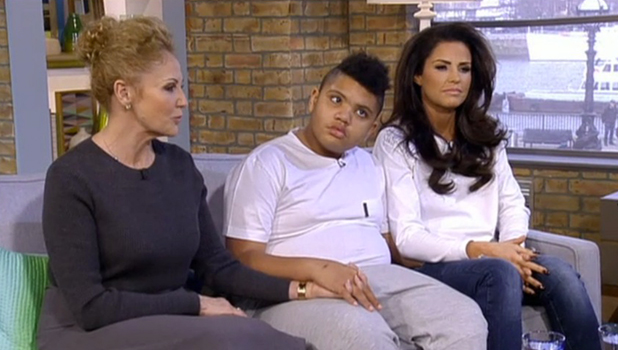 The 12-year-old was so well behaved, sweet and charming throughout the interview, answering questions for Eamonn and Ruth while his mother and grandmother held his hands.
He revealed his favourite song is 'Skyfall' by Adele, and he loves playing the drums and piano and tambourine. He's excited about Monday because Katie and Amy will be watching him perform in the orchestra.
Harvey spoke about how he loves drawing frogs, and brought a frog painting to the studio for Eamonn and Ruth.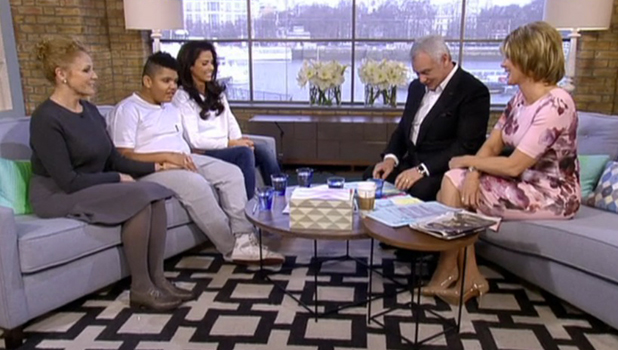 Katie said: "He's patient for you guys. Even you interviewing us, you have to be patient because he's unpredictable and you have to go along with what we're doing."
While Harvey was looking happy and excited today, both Katie and her mum Amy spoke about the difficulties raising a son with disabilities.
Amy said he takes medication five to six times a day because his life depends on it, as well as a hormone injection every night.
The whole family's schedules have to be in sync so as to keep Harvey's routine the same every day, meaning they all attend appointments about his medical treatment and education.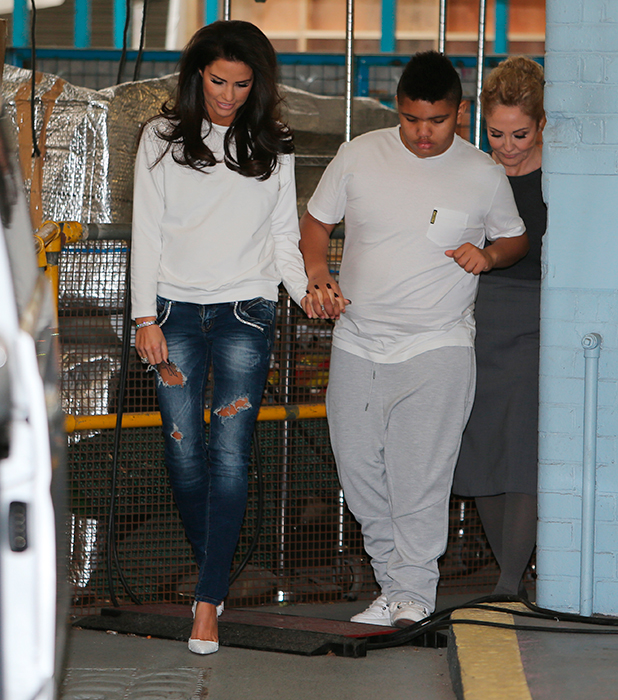 Katie said Amy had travelled with Harvey for eleven years but now she was encouraging her mother to remember she has her own life as well. Katie said her husband Kieran is fantastic at taking over that role and looking after Harvey.
Talking about her son's multiple conditions, she said Prader-Willi is the worst: "He just wants to eat, eat, eat. And if you're not looking he will steal food when mummy isn't looking. Obviously he's a big boy as well with his thyroid and the Prader-Willi does affect his behaviour because everything is about the food."
Both Katie and Amy spoke about how far Harvey has come with his sight. It was once feared he'd be blind for life but now he's got vision and can even read.
The interview became a much-discussed topic on Twitter, with viewers complimenting Katie on her mothering skills and how well Harvey is doing.
I haven't always been Katie Price's biggest fan but watching her with Harvey I have a ridiculous amount of respect for her as a mum.

— nuala (@nualaloves) March 13, 2015
I'm not a fan of Katie Price but I can only commend her for how brilliantly she's done with Harvey, she should be so proud #ThisMorning

— Kim (@_KimAllen) March 13, 2015
The way Katie Price looks at Harvey, should be the way that every parent looks at their child! Unconditional love #thismorning

— Katie (@KatieHayy) March 13, 2015
katie price has done a fantastic job bringing up 5 children, harvey seems like an amazing little lad, inspirational mother! @itvthismorning

— grace (@cottoneyedjoe_) March 13, 2015
Harvey is just the cutest little boy ever, katie price must be very proud

— Jade Stevenson (@jadestevenson16) March 13, 2015
All you need to know about Katie Price!
For exclusive competitions and amazing prizes visit Reveal's Facebook page NOW!