EastEnders' Jo Joyner may star in new BBC One drama Ordinary Lies, but she admits she's not that great at lying in real life.
Well, that's a good thing, right?!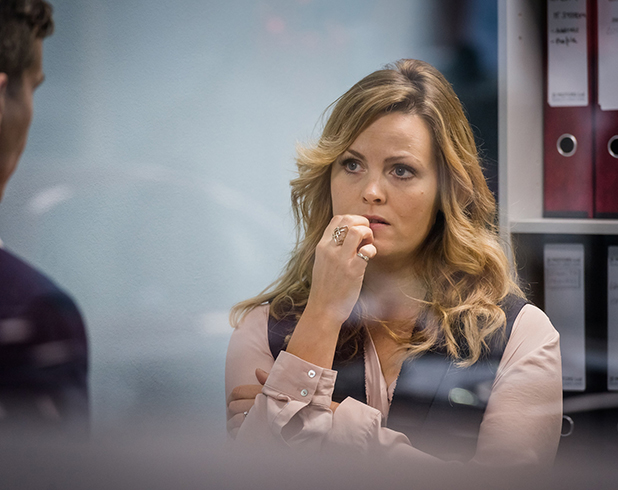 The actress
stars alongside Jason Manford, Sally Lindsay and Michelle Keegan in the new series
, which examines how everyday little white lies can soon spin out of control and have serious consequences.
"I'm not very good at lying – it makes me feel very panicky and it's the only big rule we ever had growing up, you would always be in worse trouble for lying than if you'd 'fessed up!" said Jo.
"I once told my parents that I hadn't hit my brother in a row when I was 6. My mum took him next door and majorly told him off for lying. My dad was in the other room with me and kind of smirked at me. I felt wracked with guilt because my brother was getting this telling off and my dad seemed to find it funny.
"I vowed I'd never lie again. I later found out that my mum and brother were giggling behind the door and pretending to be told off so that I'd think twice about lying, hence my dad trying not to laugh at my huge guilt-ridden eyes! Complex, but it worked!"
Jo stars as head of admin Beth in
Ordinary Lies
, a character she describes as a "good, honest, hard working local girl" who has done well for herself at JS Motors, the car salesroom where the series is set.
But behind closed doors, it's not all perfect for the mum-of-two... Her husband Dave mysteriously vanished a year ago after going to the shops and never coming back.
Discussing her research, she said: "I didn't meet with anyone in person to discuss the subject matter, but I did read many stories and listen to an incredible documentary on the radio that was specifically from the angle of wives and children whose fathers or husbands suffer from mental illness and are prone to disappear.
"For the majority of the show, Beth is in this awful place of limbo whereby she doesn't know if Dave has been killed, died in a tragic accident or has indeed abandoned them due to some kind of breakdown.
"Danny Brocklehurst's writing is so rich and truthful that despite all the research, just returning to the text offered a wealth of an emotional journey, from anger, fear, sadness, guilt and hope."
Ordinary Lies airs on BBC One later this month.
For exclusive competitions and amazing prizes visit Reveal's Facebook page NOW!