Ed Sheeran has revealed he went for a fried chicken and ice cream dinner with Beyoncé and Jay Z!
The 'Lego House' singer told Capital FM's Max in an interview to air Sunday that he dined with the superstar couple after performing with Bey at the recent Stevie Wonder tribute.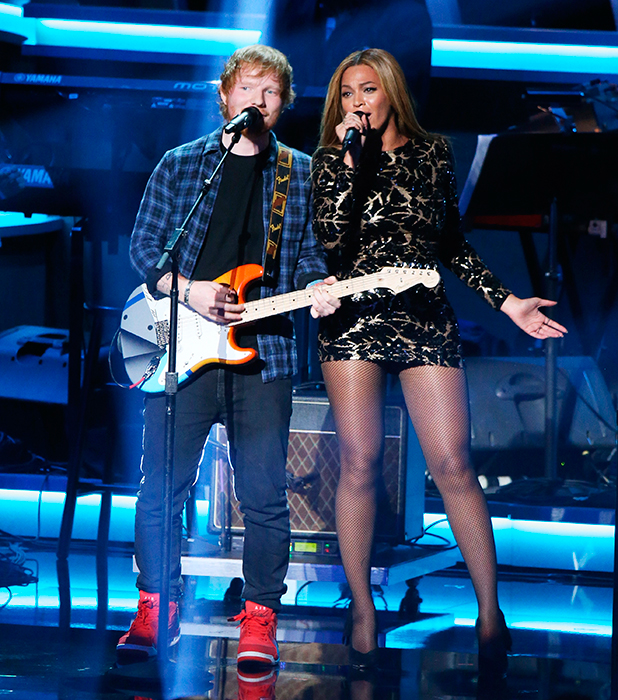 "I went for dinner with her and Jay Z afterwards, to just a really small place. The thing I really like about it was, we ordered a bunch of fried chicken and ice cream, and it was all gone by the end of it," said Ed.
"No-one was just ordering to say they were ordering it, and then like eating a grape kind of thing!
And when Max asked if Beyoncé indulged in a little fried chicken too, Ed said: "And ice cream! She can eat! And I love that. Because you never know how people stay in shape, and she's obviously… she dances a lot and exercises or whatever."
Ed and Beyoncé dueted at
Stevie Wonder: Songs in the Key of Life – an all-star Grammy Salute
earlier this month.
In that situation, you're like, 'what do I do'? Do I look back at her and make eye contact, do I just continue playing? I just didn't really know what to do," said Ed.
"Not, however, because he was starstruck as he said he feels equally awkward when on stage with close friend Taylor Swift.
"I'm always on stage on my own, so whenever you interact with someone it's a bit like, ermm, do we… so it's not just Beyoncé, whenever I perform with Taylor I get awkward as well. "
It seems at the end of the day Ed has struck up quite the friendship with Bey and Jay as he said: "I got a text from both of them on my birthday which was really cool. I woke up on my birthday and saw it, and was like 'ahhh'!"
Pals with Beyonce, Jay Z and Taylor Swift. Living in Courteney Cox's beach house, hanging out with Jennifer Aniston… has Ed got the coolest friends ever?!
For the full interview, tune in to Max on Capital Sunday from 7pm
.
For exclusive competitions and amazing prizes visit Reveal's Facebook page NOW!