Ant & Dec have insisted Madonna's fall at the BRIT Awards wasn't a stunt.
The legendary singer made headlines around the world when she
tumbled backwards off the stage at the start of her performance
on Wednesday night (25 February).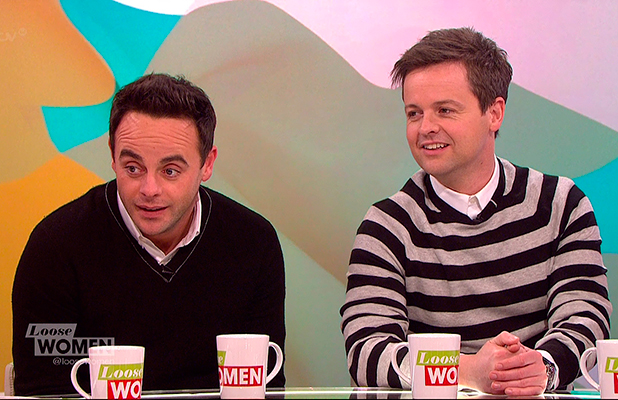 Madonna claimed her Armani cape didn't loosen fast enough and when the dancers tried to whip it off, they ended up pulling her away with it.
Some cynics, however, wondered if it was a PR stunt to promote her new single..
NO, say
Ant & Dec
, who were hosting the event.
Appearing on ITV's
Loose Women
today, Dec said: "We saw the performance in dress rehearsals and it all went swimmingly, it went brilliantly.
"In rehearsals she was having a bit of trouble with the tie but it came off perfectly in the dress rehearsal so everything was great.
"We did our bit, we got to the end, introduced Madonna, hit the time as we were supposed to. Bang on cue, 'here's Madonna', we turned round to each other and gave each other a little high five and…."
Ant continued: "Someone handed us a glass of champagne and we were like 'brilliant' and as we turned back all we could see was...boom. It's a hell of a fall, that's no stunt."
After tumbling, Madonna picked herself back up and carried on with the performance, prompting scores of viewers and colleagues to congratulate her on her professionalism.
She was closing the show with new song 'Living For Love'.
Speaking afterwards to Jonathan Ross during a special recording of
The Jonathan Ross Show
, Madonna explained: "Everyone was worried my cape was going to slide off so they tied it really tight.
"My two lovely Japanese dancers, they basically strangled me off the stage. I could either be strangled or fall, and I chose to fall."
She added: "I didn't hurt my butt but I hurt my head. I had a little bit of whiplash, I smacked the back of my head. I had a man standing over me with a flashlight until about 3am to make sure I was compos mentos."
For exclusive competitions and amazing prizes visit Reveal's Facebook page NOW!