Madonna has spoken out after falling off the stage at the Brit Awards and admitted that the accident gave her whiplash.
Queen of Pop
Madonna took a nasty tumble while performing at London's O2 Arena
on Wednesday night and she says it was either that or "being strangled".
Madge was wearing an elaborate cape, made by designer Armani, and she was pulled backwards by two dancers after failing to untie it in time.
Speaking to Jonathan Ross during a special recording of
The Jonathan Ross Show
,
Madonna
explained: "Everyone was worried my cape was going to slide off so they tied it really tight.
"My two lovely Japanese dancers, they basically strangled me off the stage. I could either be strangled or fall, and I chose to fall."
She added: "I didn't hurt my butt but I hurt my head. I had a little bit of whiplash, I smacked the back of my head. I had a man standing over me with a flashlight until about 3am to make sure I was compos mentos."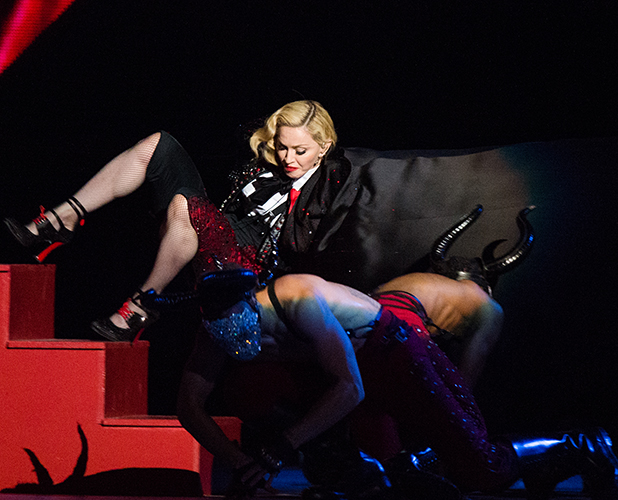 During the recording, Jonathan apparently tried to show a clip of the moment she fell, but Madonna insisted that she didn't want to see it.
She also vowed never to wear a cape again, described the incident as a "nightmare" and assured Jonathan and the studio audience that it wasn't a stunt to gain publicity.
Poor Madge!
Following her fall, which happened as
Madonna closed the ceremony with her song 'Living For Love', she took to Instagram and told worried fans that she was "fine"
.
The iconic singer said: "Armani hooked me up! My beautiful cape was tied too tight! But nothing can stop me and love really lifted me up! Thanks for your good wishes! I'm fine! #livingforlove."
Madonna's interview with Jonathan Ross is due to air on ITV1 on Saturday 14 March.
Watch poor Madonna's tumble: