Fifty Shades of Grey actress Dakota Johnson looked gorgeous yesterday as she arrived at The Late Show with David Letterman.
The starlet was on the US late night show to talk about the phenomenal success of
Fifty Shades
, which
has raked in more than $266 million worldwide so far
... and it was only released at the weekend!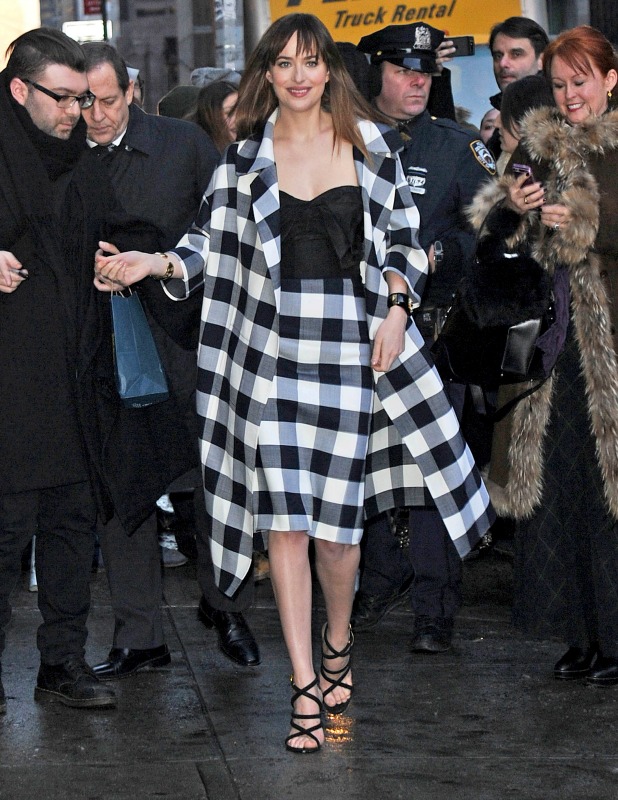 During the interview, Letterman quizzed Dakota, 25, on her audition process which sounded quite intense. She said it took two months for her to get the role, then another month before they found co-star Jamie Dornan.
Of course, Jamie wasn't the first choice... Charlie Hunnam was cast and then dropped out.
"That was a confusing moment. I think his schedule conflicted."
Letterman wasn't so convinced. "Really? He had to pick up drycleaning? I don't want to open up an old wound but the guy's schedule prevents him being in a movie that opens up with a quarter of a million dollars?"
Dakota laughed, replying: "Whoops!"
Letterman also quizzed Dakota on the origins of her unusual name. "My parents stole the name from their friends who were also going to have a baby," confessed Dakota. "I was supposed to be named Ruby. But my dad thought Ruby Johnson sounded like a stripper's name.. But, I mean, look at my career, it could have worked out!"
Dakota's dad is the actor Don Johnson and her mum is actress Melanie Griffith.