Jamie Dornan and wife Amelia Warner arrived holding hands at last night's Fifty Shades of Grey movie premiere after party.
The beautiful couple joined Jamie's co-stars at Aqua Bar in central London on Thursday evening (12 February) shortly after walking the red carpet in London's Leicester Square.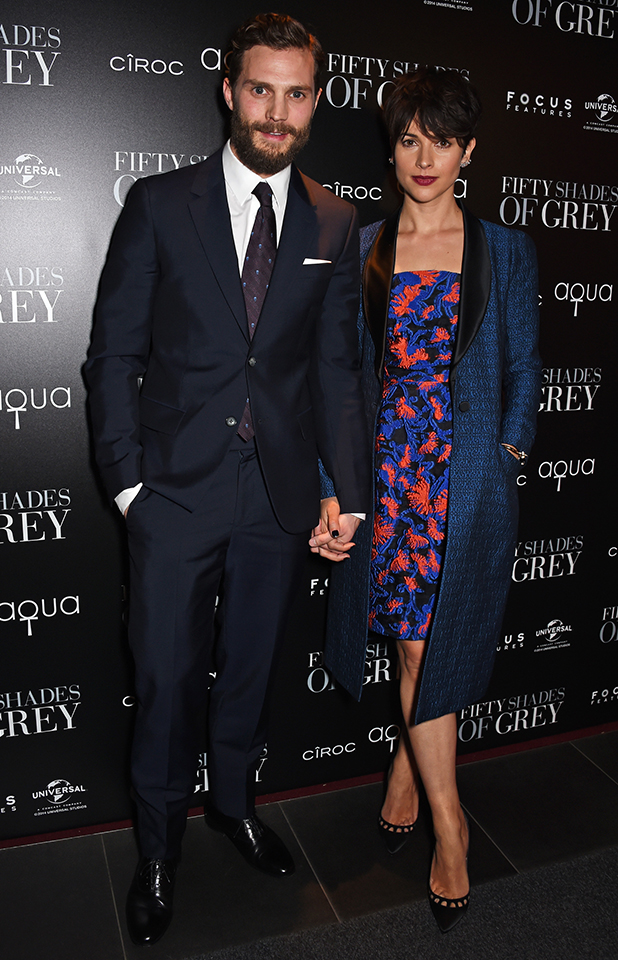 No doubt they were pleased to be posing for pictures INSIDE the bar after a
very chilly night of being photographed on the freezing cold red carpet
. Or, should we say, pale grey carpet in honour of the movie's title!
While Amelia was a supportive wife and accompanied Jamie to the premiere, he has said she probably won't be watching the movie, which contains several sizzling love scenes between himself and actress Dakota Johnson.
FIFTY SHADES OF GREY REVIEW: THE PROS AND CONS OF NEW MOVIE
Jamie said: "She hasn't seen the film and I don't think she will, to be honest. I'd understand if she didn't want to."
The Northern Irish actor was cast as Christian Grey, the dominant, troubled businessman, after first choice Charlie Hunnam pulled out.
But it seems like director Sam Taylor-Johnson got exactly what she wanted from Jamie.
At last night's premiere, she said: "It's very hard to cast someone who is written as physically perfect, charismatic, stylish, all of those things and can act. Jamie had all those things but the attribute that made me want him is that he's a very soulful person and I hope at comes through."
Fifty Shades
is in cinemas now.
Fifty Shades of Grey the movie: looking forward to it or not?
YES! I can't wait!!
71.18%
NO WAY. I absolutely won't be watching this
11.08%