'N Sync star Lance Bass has spilled the beans on his recent wedding to his now-husband Michael Turchin.
Last year,
Lance found himself with an early Christmas present - a husband! - as he tied the knot with partner Michael
in a gorgeous ceremony in LA over the festive period.
Following the legalisation of gay marriage in some US states, Lance wed his beau, and luckily for us, the 35-year-old made sure to film his big day for us all to see (YES!).
Ahead of his wedding special set to air on E! this Valentine's Day, Lance told
Reveal
all about his nuptials and his plans to start a family, as well as sharing his excitement over the news bandmate Justin Timberlake is set to be a daddy. Aw!
Firstly, a big congratulations is in order! How did you find your big day?
"Thank you! We couldn't have asked for a better wedding day. Truly. From the heartfelt ceremony to the amazing party that followed, it was really a magical night."
Getting married is such an important and very personal moment in your life, what made you want to put it all on camera?
"Well, our initial response was no! We didn't want to be another reality TV statistic and/or open ourselves up to public criticism. But after talking it over, we came to the realisation that this special would be way bigger than just 'us'. It would be a way to show the world a happy thriving and above all normal couple who just happens to also be gay. Hopefully [our show] can help change a lot of minds to ultimately support equality and give hope to other gay people out there who feel like they're alone in this world. The power of visibility is huge."
Did you find the cameras following you 24/7 made it more stressful when it came to planning the wedding?
"Surprisingly, no. The cameras were way less of a hindrance than we had initially anticipated. We lucked out with such an amazing crew that it never felt like work. Also [Michael and I] are both such procrastinators, so having the cameras film the entire planning process forced us to make decisions quickly and keep one another in check!"
When it came to planning your wedding, it seemed as if Michael's choices for the ceremony were a little more sensible than yours! How did you come up with a compromise?
"Luckily Michael is game for most of my crazy ideas, but when I seem to get too carried away he doesn't hesitate to pull me back down to earth. Fortunately our ideas were similar enough the majority of the time, but I definitely pushed for the grander and more over the top elements. I'm a dreamer!"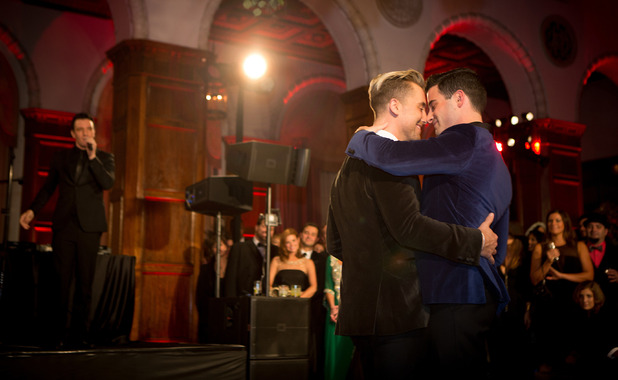 Was there any thing you wished you had at your wedding that Michael wouldn't give in to?
"Actually yes! Instead of having your usual flower girls during the beginning of the procession, we thought it would be fun to have four of our girlfriends - who happen to be supermodels - open up the ceremony. I had always envisioned the girls wearing dresses made out of flowers and they would pluck petals from the dress itself as they strutted up the aisle! It would've been amazing! While Michael loved the idea he wasn't so keen on having the dresses made of flowers and ultimately he and the dress designer won! The dresses ended up being beautiful nonetheless but I still affirm that they would've been even better made entirely out of flowers..."
He does credit himself as the voice of reason in your relationship. Do you think that's why you and him work so well together – opposites attract?
"It's a perfect combination really. Michael and I do tend to see eye to eye on most things which is great. I still definitely have my crazy ideas I like to spring on him and he's a great sport. While we're so similar we really do balance each other out. We bring out the best in one another and truly are best friends."
That's sweet. What was your favourite part of tying the knot, then?
"The best part was probably being able to solidify our relationship in front of so many friends and family who have always shown us their love and support. Gazing over the crowd of overwhelmingly joyful faces really was a magical moment and it was a feeling we'll never forget."
No doubt all your former 'N Sync bandmates would have been on the guestlist. Did they all make it to the ceremony?
"Unfortunately Justin was performing one of his last tour dates on the night of our wedding so he wasn't able to attend. I didn't realise he had concert dates so close to the holidays! While I wish he could have made it, the rest of the guys were still all there and I couldn't have been happier."
Justin recently confirmed he's going to be a dad! What do you make of his baby news? Is children something you and Michael would like too in the future?
"I know! I'm so excited for the both of them and [Justin and Jessica] are going to be amazing parents. I can't wait to be a new guncle - gay uncle! Michael and I definitely cannot wait to start our own family soon. One of the reasons marriage was so important to us was because we both wanted to start our own family in the near future. We have no plans just yet, but hopefully we can start the process in a few years."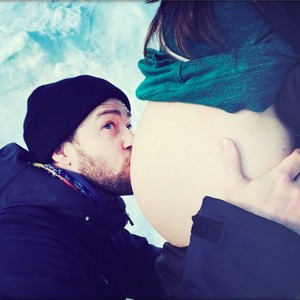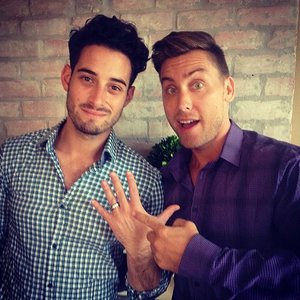 Exciting! It must seem like forever ago that you proposed. How nervous were you getting down on one knee?
"Surprisingly I wasn't too nervous. It was all pretty spontaneous and I knew it was the perfect time to ask. We had just finished performing at the VMAs a few days prior and a large group of my LA and Mississippi friends were all together for a fun weekend in New Orleans - my favourite city. I decided that day to propose and later that night I went for it! It was perfect."
It's really lovely to hear how accepting your family and friends are of your marriage to Michael. You had a tough time when you were younger and have openly spoken of the pressure put on you to come out as gay, what was that like?
"It was definitely a very difficult time in my life as you can imagine. I had always known I was gay since childhood, but I never thought it would be a life that I'd be able to live. When the rumours started appearing during my years in 'N Sync it made things even more difficult and I had four other bandmates' careers to think about too. So many people counted on me and it was a very difficult secret to have to hide."
You seem extremely happy now, did you ever think back then you'd be happily married with a husband?
"I can honestly say I am now at the happiest place in my life. When I was a kid in Mississippi and then a teen in 'N Sync I never thought that someday soon I'd be happily married and to the guy of my dreams! I didn't even think it was a possibility a few short years ago until different States started passing laws in favour of marriage equality. That's why this wedding special is ultimately so important. Marriage equality and the acceptance of the LGBT community is such an important issue in the US and throughout the world right now, and hopefully this will show people that our love and life is no different than any other loving committed couple."
LANCE LOVES MICHAEL: THE LANCE BASS WEDDING airs this Saturday 14 February on E! at 7pm.
Reveal is now on Google Plus! Join us here for the latest pictures, fashion and celebrity news!