Dakota Johnson and Jamie Dornan brought glamour to the Berlin Film Festival last night at the international premiere of Fifty Shades of Grey.
They were joined by the movie's director Sam Taylor-Johnson and the
book's author E.L. James
at Wednesday evening's (11 February) screening of the hugely anticipated erotic film.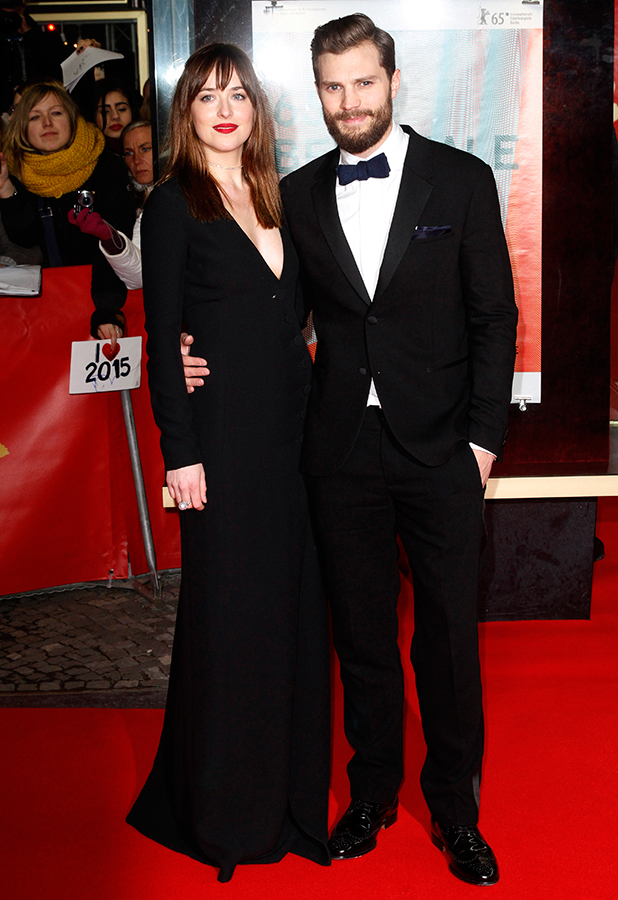 American actress Dakota – who is the daughter of Melanie Griffith – looked breathtaking in a black Dior gown with a plunging neckline, teamed with a statement red put/
Northern Irishman Jamie, meanwhile, looked oh-so-handsome in his tux… though this guy would look gorgeous wearing anything, right?!
Jamie's actress wife Amelia Warner joined him on the red carpet, looking lovely in a lacy red jumpsuit and matching lip. We love this photo of her just gazing at Jamie. If we were married to him we would probably do that A LOT!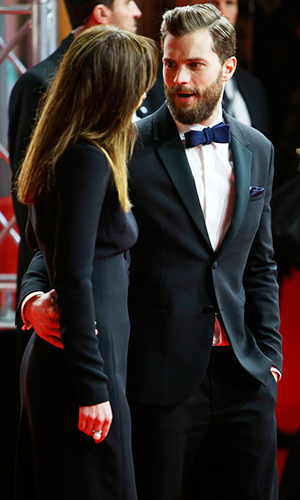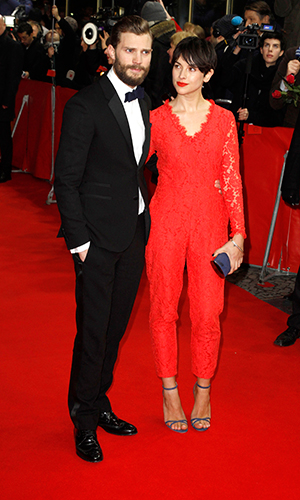 For many movie reviewers, last night was their first chance to see
Fifty Shades
, which has been so shrouded in secrecy that
not even Sam Taylor-Johnson's husband was allowed to see the initial cuts.
We'll all have to wait until it opens on 13 February.
Fifty Shades
is based on the first book in E.L. James' erotic trilogy about the
relationship between dominant businessman Christian Grey (Jamie) and sweet, innocent Ana Steele (Dakota)
: a relationship that begins with bondage-loving Christian asking her to sign a contract agreeing to be his submissive.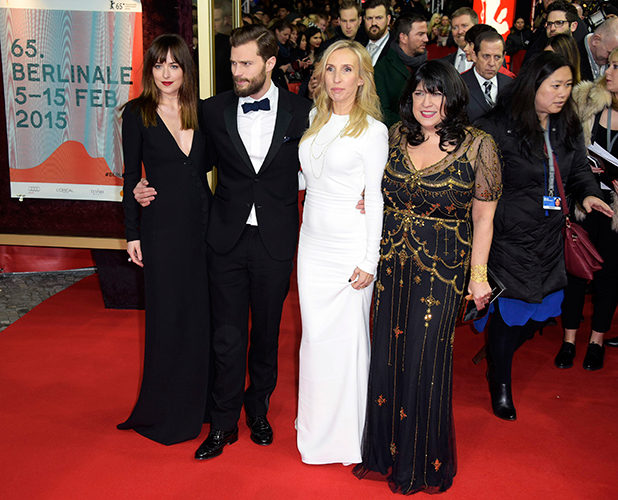 The
movie's been rated 18 in the UK
and R in America (meaning under 17s need an adult with them) but interestingly, over in France, it's been deemed suitable for 12 year olds!
Already, director Sam has signed on to make movies based on the other two books in the series:
Fifty Shades Darker
and
Fifty Shades Freed
.
While the movie hasn't opened to the public yet, it's already breaking records in terms of ticket pre-sales with the Odean cinema chain estimating one ticket is being sold every seven seconds in the UK.
Viewers will notice a few familiar faces among the cast: Marcia Gay Harden plays Christian's mum, while Rita Ora will make her major screen debut as Christian's sister Mia. Actress Jennifer Ehle, known for playing Elizabeth Bennet in BBC's
Pride & Prejudice
, plays Ana's mum.
Fifty Shades of Grey the movie: looking forward to it or not?
YES! I can't wait!!
71.18%
NO WAY. I absolutely won't be watching this
11.08%