David Beckham has said son Brooklyn will celebrate his 16th birthday enjoying separate dinners with his friends and family.
The eldest son of David and Victoria will mark his big day on 4 March… anybody else feeling
super
old right now?!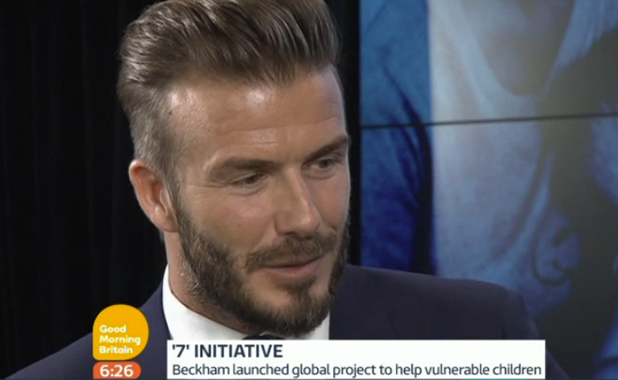 Chatting on ITV's
Good Morning Britain
today, his proud dad said: "I think he wants to go for a dinner with his friends and he'll have a separate dinner with his family because he's at the age now where he doesn't want me to drop him outside the school and things like that – which I definitely do anyway!"
Cheeky Becks went on to say: "Secretly I kiss him on the cheek. He doesn't really want too much affection but I still kiss him."
The doting dad also repeated the story he recently told about
Brooklyn asking to be dropped off around the corner from school,
rather than right in front where everybody could see.
"I wasn't happy about it because I'd got up at seven in the morning to take him to school so I dropped him round the corner, and as he was walking into school I opened the window and shouted 'I love you!' to him. It didn't go down too well but it made him smile a couple of days later."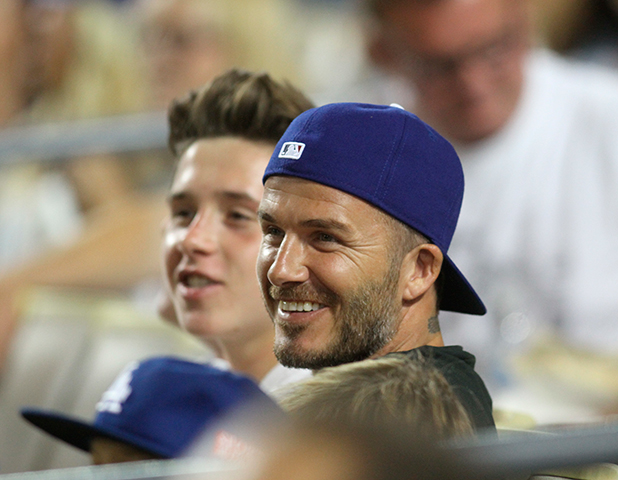 David and Victoria are also parents to sons Romeo, 12, and Cruz, nine, and three-year-old daughter Harper… and it sounds like they have their hands full!
Former football David recounted how recently Cruz had a fall during football training and despite the physio saying he was fine, the little guy still chanced his luck at getting a day off school.
"Without a doubt, my children from time to time do get 'sore throats' in the morning, especially when there is certain things happening at school or their dad is going to play some game. They definitely try to get out of school. My son was playing football yesterday and he hurt his neck and the physio came over to me and she said, 'he's fine' but his first question was "do I have to go to school tomorrow?' It was Cruz. He's the cheeky one."
David will enlist the help of his children with his new charity initiative launched to mark his
ten years as a UNICEF ambassador.
The initiative is called
7: The David Beckham UNICEF Fund
and it aims to protect millions of children across the world from danger.
"They totally understand that and they all want to get involved. We all want to protect our children, we all want to protect children. in general but you can't hide things from children and you have to discuss when there are things happening around the world, they hear them so they want to know what's going on."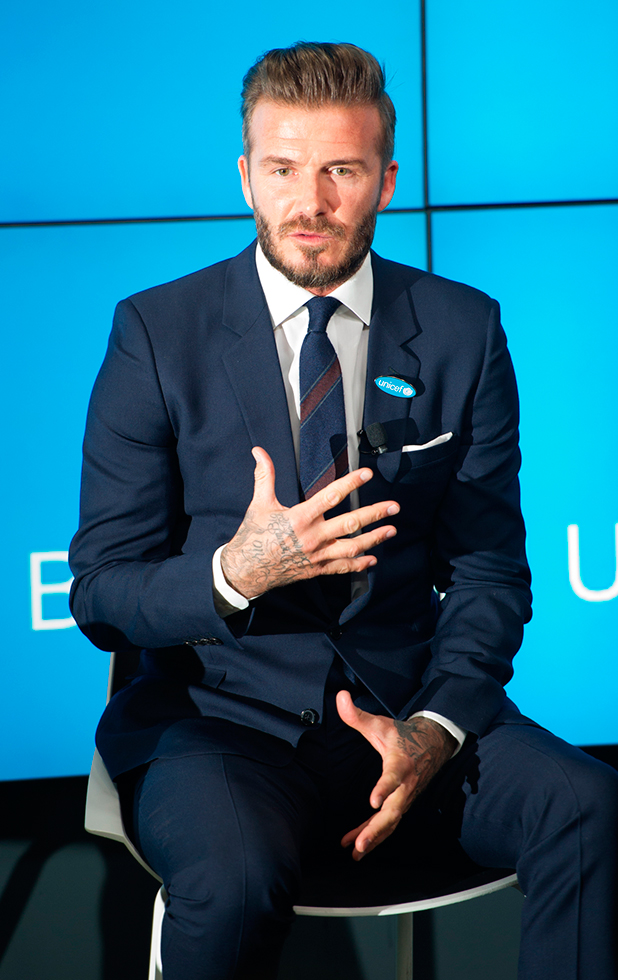 Becks officially launched his initiative yesterday, where he pledged his long-term support to the cause.
"Today, the need to help children has never been greater and since retiring I have more time and I want to do so much more. That's why I am setting up this new fund with UNICEF. 7 represents my ongoing commitment to helping children who need it most around the world. This is me stepping up my support - because I can, because I want to, because the outcome will help change the lives of millions of children," he said.
"Everything I have done, my football career, my family, has led to this point – this is the moment for me to do what I can to help children in every corner of the world. This is something I want my own children to be proud of.
"Over the coming years I am going to work with UNICEF to raise millions and speak out for children all over the world. I am planning numerous fundraising initiatives and I also hope to travel much more - meeting children, UNICEF staff and world leaders to help raise awareness and increase the pace of change. There are some very exciting plans ahead and I am so proud to be part of this."
The initiative is named after David's lucky number on his England and Manchester United football shirts.
Reveal is now on Google Plus! Join us here for the latest pictures, fashion and celebrity news!