The Theory of Everything, Boyhood and The Grand Budapest Hotel were the major winners at this evening's BAFTA Film Awards 2015.
Eddie Redmayne picked up 'Best Actor' for his portrayal of Professor Stephen Hawking in
The Theory Of Everything
, which also scored an 'Adapted Screenplay' trophy and the 'Outstanding British Film of the Year' accolade.
The latter award was presented by David Beckham, who admitted on the red carpet his kids had been championing
Paddington
!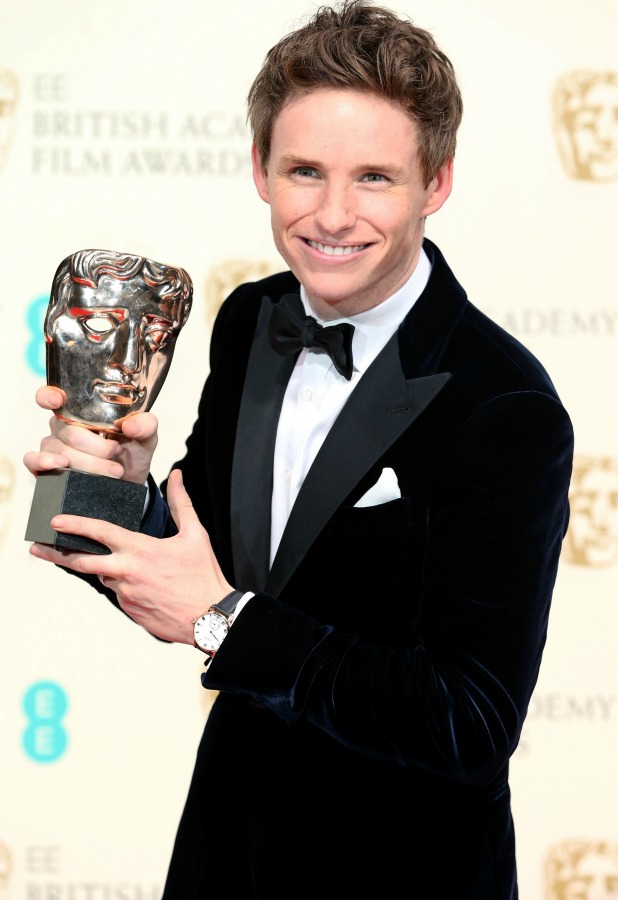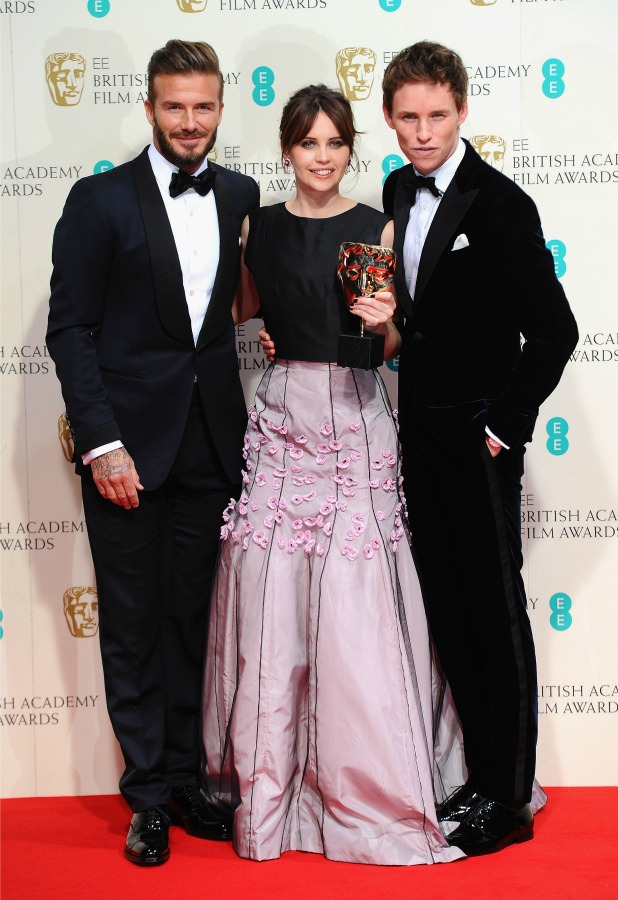 Accepting his award, Eddie recounted how the last time he'd been at the BAFTAs he'd been suffering from severe food poisoning and had "redecorated the corridors" of the Royal Opera House... Oops.
He thanked Professor Hawking and his family for their trust in the film cast and crew to tell their story well, and said he'd been inspired by them every day.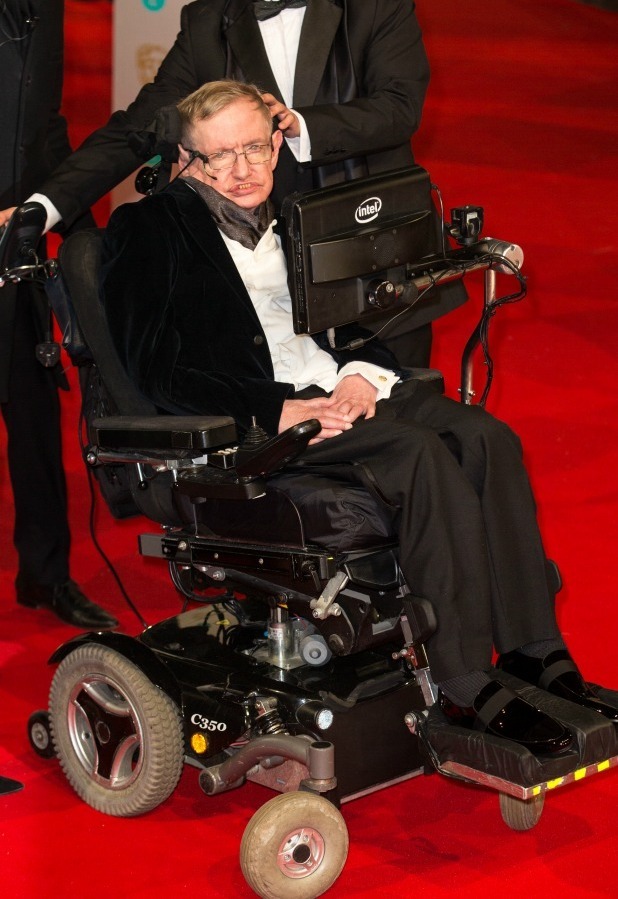 Professor Hawking - who was in the audience - also took to the stage during the night to present the 'Visual Effects' award alongside
The Theory of Everything
actress Felicity Jones.
Boyhood
took home the 'Best Movie' prize and 'Best Director' for Richard Linklater, as well as 'Best Supporting Actress' for Patricia Arquette. The movie about growing up was filmed over the course of twelve years.
The 'Best Film' award was presented by Tom Cruise... or Tom "F**king' Cruise, as Stephen Fry introduced him... He was a surprise presenter as he hadn't walked the red carpet and his presence had been kept very hush hush.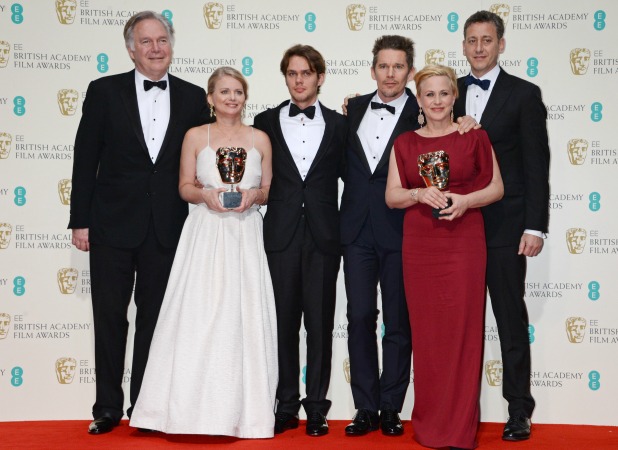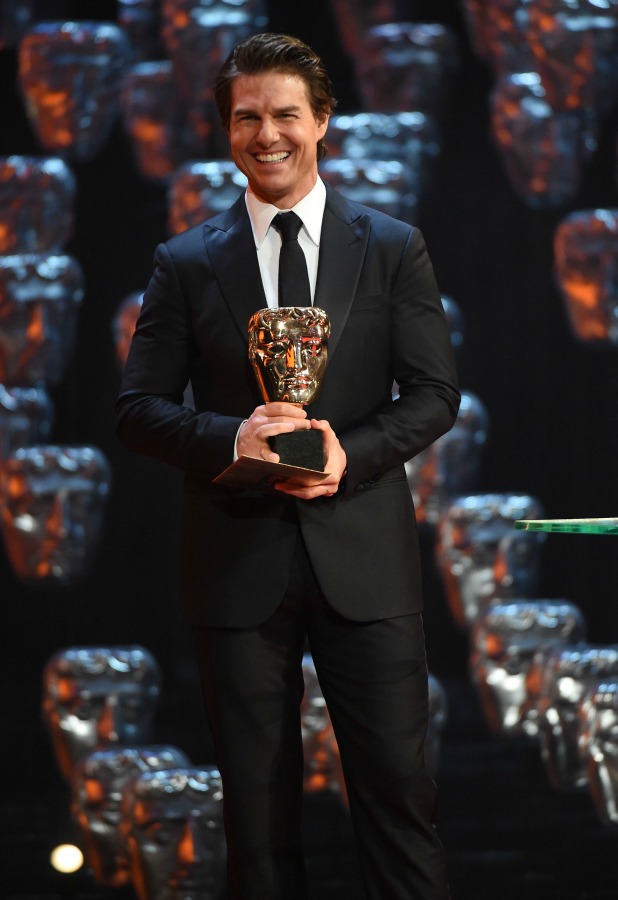 The night's biggest winner in terms of numbers was
The Grand Budapest Hotel
, which pocketed five awards including 'Original Screenplay'.
Other major winners included Julianne Moore as 'Best Actress' for
Still Alice
, a movie documenting a professor's struggle with early onset Alzheimer's. JK Simmons, meanwhile, won 'Best Supporting Actor' for his role as a band instructor in
Whiplash
.
This year's BAFTA Fellowship was awarded to director Mike Leigh.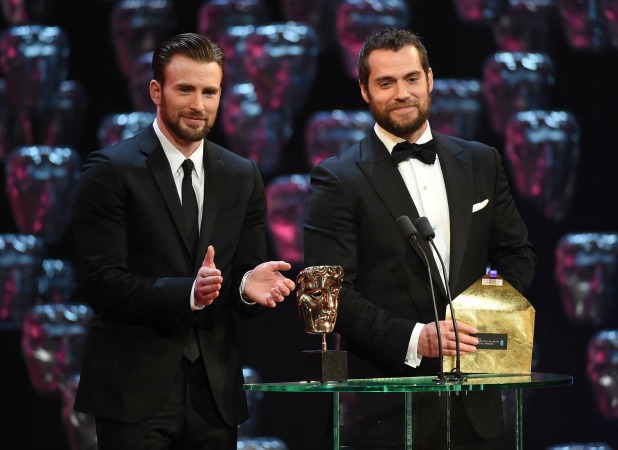 Former
Skins
actor Jack O'Connell, currently starring in Angelina Jolie's WWII drama
Unbroken
, was named this year's 'Rising Star'. He cheekily suggested he should have brought a bag to take home any BAFTA awards floating around...
The Imitation Game
, starring Benedict Cumberbatch and Keira Knightley, won no awards despite being nominated in nine categories.
There was a sombre moment during the night as the stars remembered the life of Sir Richard Attenborough, who passed away in August 2014. A collage of his movie highlights was introduced via video link by Prince William and Robert Downey Jr.
Once again, the ceremony - at London's Royal Opera House in Covent Garden - was presented by Stephen Fry, who kicked off proceedings by getting actors Michael Keaton and Edward Norton to kiss him.
The main winners:
Best Movie
Boyhood
Best Director
Richard Linklater, Boyhood
Best Actor
Eddie Redmayne, The Theory of Everything
Best Actress
Julianne Moore, Still Alice
Best Supporting Actress
Patricia Arquette, Boyhood
Best Supporting Actor
JK Simmons, Whiplash
Rising Star Award
Jack O'Connell
Outstanding British Film
The Theory of Everything
BAFTA Fellowship
Mike Leigh
Best Adapted Screenplay
Anthony McCarten, The Theory of Everything
Best Original Screenplay
Wes Anderson, The Grand Budapest Hotel
Best Film Not In The English Language
Ida
Animated Film
Lego Movie
Sound
Whiplash
Editing
Whiplash
Special Visual Effects
Interstellar
Costume Design
The Grand Budapest Hotel
Make-Up and Hair
The Grand Budapest Hotel
Production Design
The Grand Budapest Hotel
Original Music
The Grand Budapest Hotel
Outstanding British Contribution to Films
BBC Films
Cinematography
Birdman
Best Debut by a British writer, producer or director
Stephen Beresford, David Livingstone, Pride
Red carpet pictures!
Copyright: WENN Mario Mitsis