US actress Mila Kunis wasn't giving anything away when asked if she and fiancé Ashton Kutcher had married in secret.
At the start of the year,
Ashton sparked speculation he and Mila had wed
after posting a photo to Facebook with the words "Happy New Year [love] The Kutchers" carved into the sand.
So far the pair are yet to comment on the
Two And A Half Men
star's photo, and when probed by Ellen DeGeneres on her show yesterday, Mila made sure to keep it that way.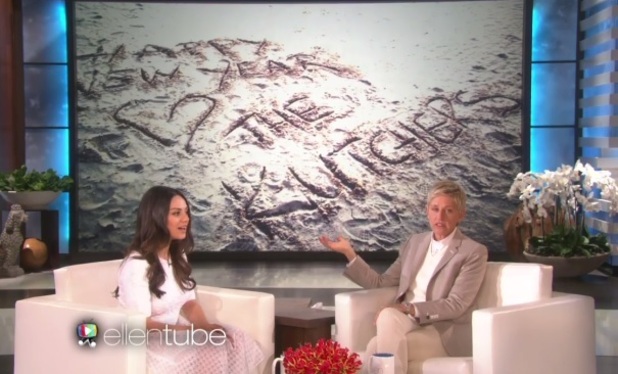 Telling Mila 'The Kutchers' sounds as if she and Ashton had tied the knot, Ellen asked the brunette beauty what exactly the actor had meant by his picture.
Keeping coy, the mum-of-one threw her hands into the air - with a HUGE smile on her face - claiming she didn't know what her other half was getting at.
"I don't know, it could just be a plural," Mila suggested. "My daughter has his last name legally, thus there are multiple Kutchers. He has a brother?"
When Ellen then said to the star "you're so married", Mila didn't confirm or deny anthing, choosing to continue smiling instead.
Come on guys, spill the beans!!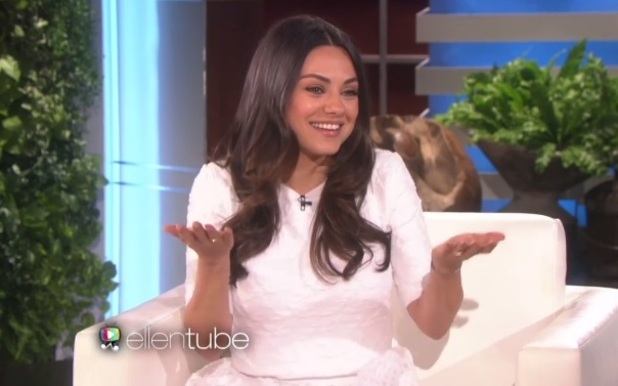 She might not have given anything away when it comes to revealing if she is married or not, but Mila did open up about her four-month-old daughter Wyatt Isabelle.
In October last year,
Mila and Ashton welcomed their daughter and first child together
. Following Wyatt's arrival, Mila decided to take a break from work to look after her newborn, and has previously said
she feels "blessed" to be able to be a stay-at-home mum
.
Speaking about her time at home with Wyatt, the
Friends With Benefits
star said: "I didn't have to go back to work, and I took advantage it. I love that the first three months she and I were up every night and I figured her out, she figured me out.
"She now sleeps in her crib in her own room, so I'll never have that time again. For me, it was a really nice three months."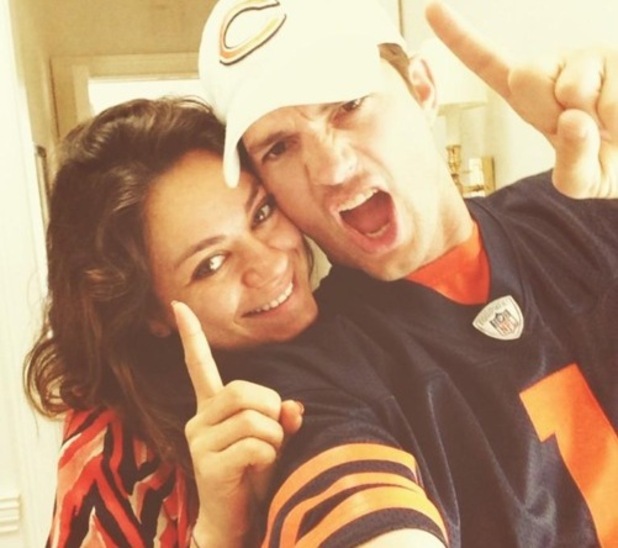 The starlet went onto tell Ellen she was surprised by the unconditional love she felt for her baby girl.
"You think you know love, but the truest meaning of unconditional love is my child," she said. "I thought I loved Ashton, my parents, my dogs, but it's just different. It's no greater or no lesser... when she was born it was just the most incredible thing that had happened."
She added: "[Wyatt's] a really good baby, she was nine-and-a-half pounds when she was born. She was so big she was a hearty little thing, we skipped the newborn stage.
"Newborn diapers and newborn clothes never happened. She's four months and we're on six month clothing... she's a big girl y'all."
In December,
Ashton praised Mila for being a "perfect mum" to their little one
.
Returning the favour yesterday, Mila told Ellen she couldn't have taken to motherhood so well without her beau by her side.
"Ashton is an amazing dad," the 31-year-old said. "I wouldn't have done this by myself. He is 100 percent present."
Awww!
Reveal is now on Google Plus! Join us here for the latest pictures, fashion and celebrity news!