Katie Price has told her Celebrity Big Brother housemates about finding an ex-boyfriend in bed with another woman.
The mother-of-five did not identify the man or when the incident happened, but told Cami Li she caught him red-handed with another woman after getting a tip off from his pal.
After seeing a picture of a girl sitting on the sofa next to her boyfriend at a pal's house, Katie raced around after midnight to exact some revenge.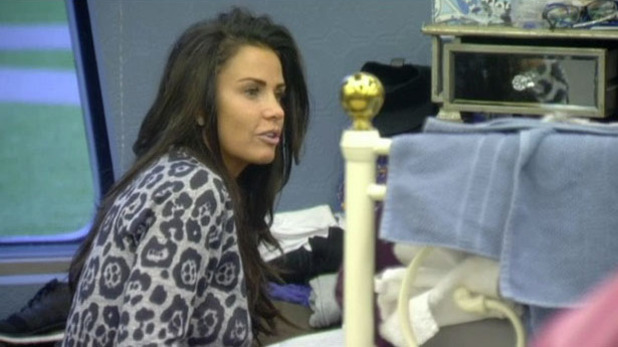 Katie told Cami Li: "His friend answered the door and went, 'Ahhh…' because he knew he was upstairs in bed with another girl. I went, 'Hi, I've just come to collect my make-up.' He went, 'Ahh…' He didn't know what to do. He obviously couldn't warn his mate.
"I knew what bedroom he was in as his friend told me. We all tiptoed outside the room and could hear them having sex. We opened the door, tiptoed in and were standing in the room looking at the bed. I went, 'Hiya!' They were shocked! I said, 'Just to let you know, I forgive and I never forget.'"
Katie went on to say that her boyfriend was pleading with her to forgive him and stay but she held firm.
"He was saying, 'I'm so sorry, please!' I was saying, 'It's fine. Don't worry about it.' I went into the psycho mood. 'Just relax, it's fine. You just won't ever see me again. You will never cuddle me or touch me again. Get off me.'"
Katie said that she experienced a "big breakdown" afterwards and spent time speaking with a therapist. "I was so shocked at what he'd done to me," she said. "He headf**ked me completely. And that was that. F**king men. I've had my fair share…"
Reveal is now on Google Plus! Join us here for the latest pictures, fashion and celebrity news!