Sabrina The Teenage Witch ran for seven seasons and attracted some pretty big guest stars - some household names at the time (hello Britney Spears!) and some soon-to-be megastars (we're looking at you Bryan Cranston!)
Here's 33 famous faces you forgot appeared in Sabrina...
1. Daniel Bedingfield
British singer-songwriter Daniel Bedingfield was at the height of his fame when he played himself in 'The Lyin', The Witch and the Wardrobe' (S7, E11). Working for rock magazine Scorch, Sabrina got the plummy job of interviewing Bedingfield about his new music. She also landed flatmate Morgan with the chance to style him. Disaster! Morgan styled poor old Bedingfield in a hideous neon green feather creation and promptly got fired.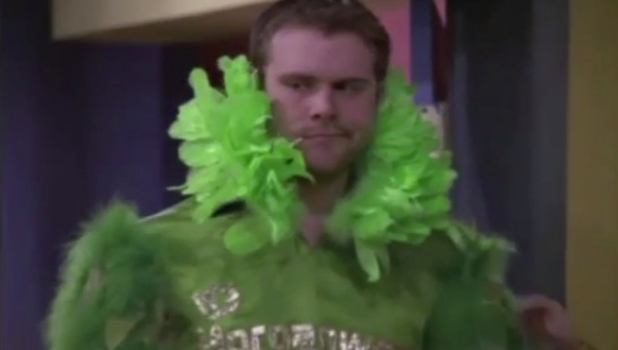 2. Bryan Cranston
Way before we knew him as teacher-turned-drug dealer Walter White in Breaking Bad, actor Bryan Cranston popped up in 'The Troll Bride' (S1, E24). A frustrated Sabrina had called upon the services of a Finder to locate her missing homework. Roland the troll turned up, found her homework and decided to make Sabrina his bride as a reward. Eek! Cranston was the laywer who took his trousers off as he tried to wiggle her out of the marital contract.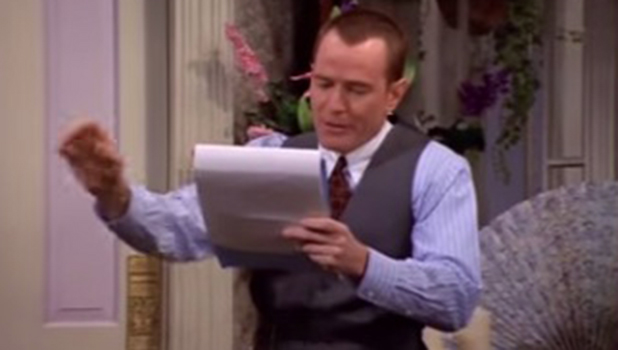 3. Britney Spears
Britney Spears appeared in 'No Place Like Home' (S4, E1) as a crossover between
Sabrina
and
Drive Me Crazy
. When Sabrina decides to move to Paris to live with her dad in the Magic Quarter, she misses Westbridge – and the Britney concert taking place. So her witch dad zaps in Britney to perform for Sabrina in the living room and the two end up sharing advice on how to combat loneliness. And dance skills.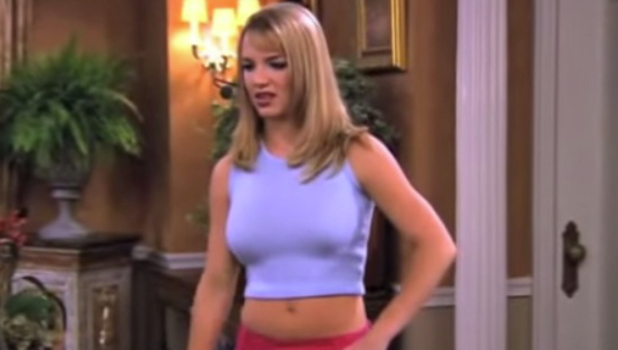 4. Sophia Bush
Before we all knew and loved her as Brooke Davis in
One Tree Hill
, actress Sophia Bush made an appearance as Fate Mackenzie in 'Romance Looming' (S7, E11). She played one of the trio of Fate schoolgirls who made Sabrina worry that her romance with Aaron just wasn't meant to be. Naughty girls. If you remember, they had tapestries in their bedroom in which they wove the path of fate for everybody in the world.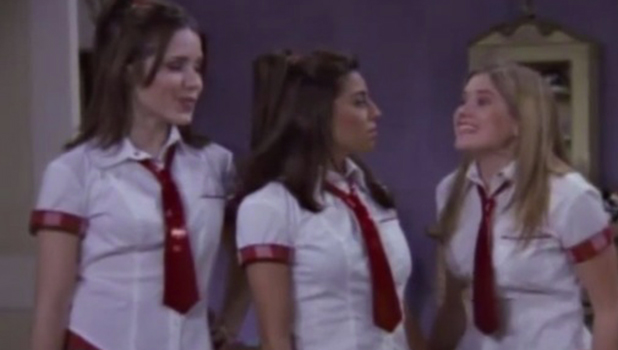 5. Nicole Scherzinger
In the early days of her fame, Nicole Scherzinger appeared on the show with band Eden Crush in the episode 'Finally' (S5 E22). The girls were hired to play at the coffee house where Sabrina worked while she hosted a speed dating event with co-worker Josh. We got a brief scene of Eden Crush singing their debut track 'Get Over Yourself' before heading off into the sunset with Sabrina's geeky roommate Miles.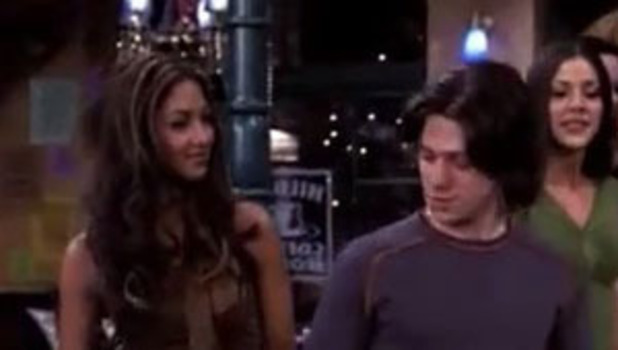 6. Brian Austin Green
Now he's most known for his role in
Beverly Hills, 90210
and being married to Megan Fox, but back in 1996 he played a man created from dough in the episode 'Dream Date' (S1 E6). After Harvey agrees to go to a school dance with Libby, Sabrina's aunts come up with a solution: they'll make Sabrina her own dream date using Man Dough. The result? They overdo the enthusiasm and make Chad Corey Dylan. The most excited man on the planet.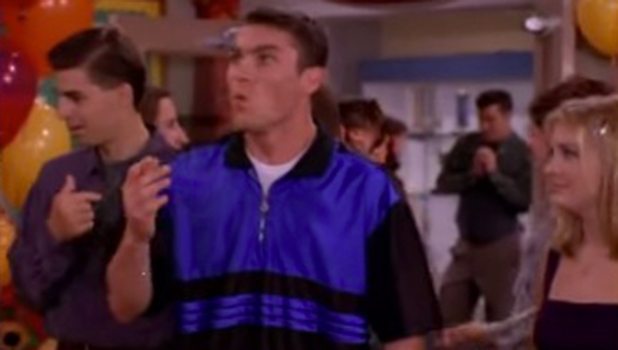 7. Eddie Cibrian
Also appearing in the 'Dream Date' episode (S1 E6) was Eddie Cibrian, in the days before he married LeAnn Rimes. He was created from Man Dough by Aunt Zelda who basically wanted a strong, hunky fireman. She got a milk guzzling rather self-centred date instead. And then Aunt Hilda accidentally tore his arm off.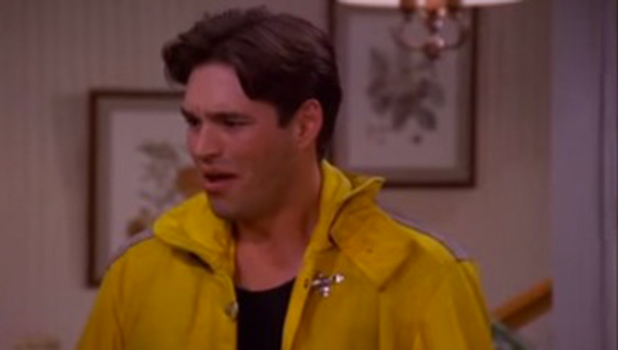 8. RuPaul
The fabulous RuPaul is famous for
RuPaul's Drag Race
now, but back in 1998 he played the witch judge in 'Sabrina's Choice' (S2, E24). When naughty Sabrina plays Aunts Hilda and Zelda off against each other, the witch judge tells her she must choose which one to live with – or end up in an orphanage.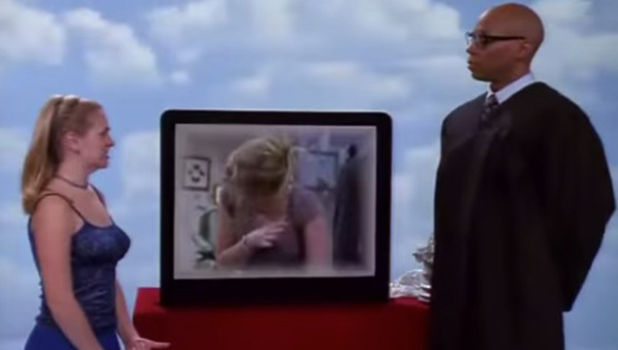 9. Kenan and Kel
Also appearing in 'Sabrina's Choice' are Kenan & Kel as part of a fantasy sequence when Sabrina imagines what it would be like to live with them. Tip: don't leave lottery tickets lying around when Kel is making a sandwich…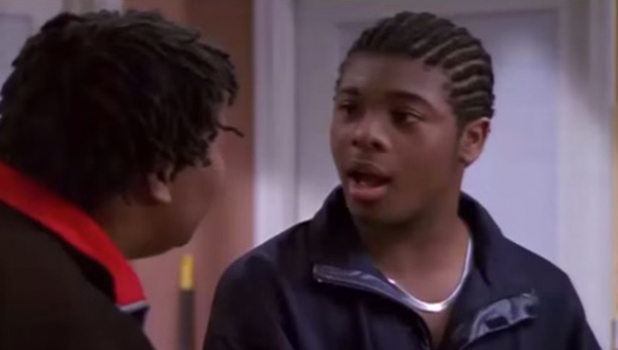 10. N Sync
In 'Sabrina and The Pirates' (S3, E15), Sabrina scores fake IDs for herself and Valerie so they can watch N Sync playing at an over 18s club. Fun, right? Not when the IDs start talking and Sabrina realises her magic is fake! Thankfully she 'fesses up the aunts and all goes back to normal.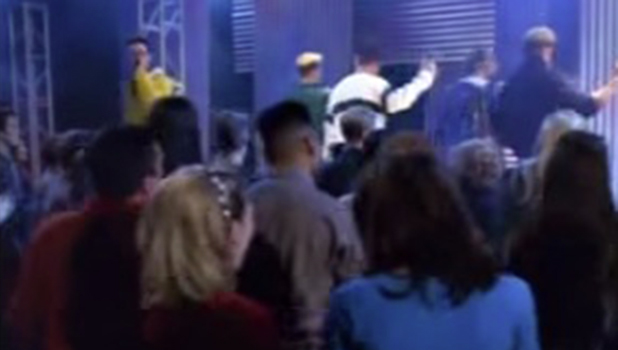 11. Coolio
Coolio played a poster in the episode 'A Girl and Her Cat' (S1, E11). A poster, yep! When Sabrina ditches Salem at The Slicery and he goes missing, she tries to find out where he's gone by asking the poster of Coolio outside the pizzeria. Turns out the poster can talk! He can't score her tickets to a gig though, she'd have to try a billboard for that…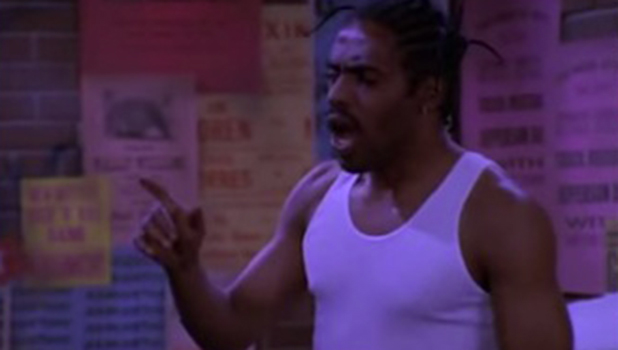 12. Donald Faison
Before the days of
Scrubs
and marrying Jessica Simpson's best friend, actor Donald played half-mortal Dashiel who competed for Sabrina's heart against Harvey. He appeared in three episodes, initially meeting Sabrina when they work at his uncle's rumour mill. (He also randomly popped up in the first series as character Justin!)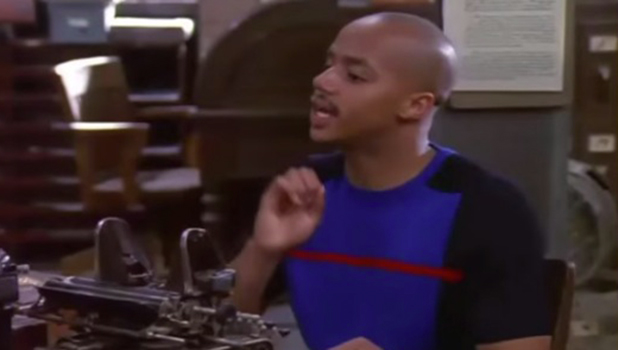 13. Jerry Springer
Jerry! Jerry! Jerry! When Sabrina brings Mr Kraft's wife Lucy back to his life in 'Mrs Kraft' (S3, E14) she soon learns Lucy is a witch and using magic to control Mr Kraft and keep him away from Aunt Zelda. It all culminates in a big showdown on the set of Jerry Springer. Also, presumably a witch!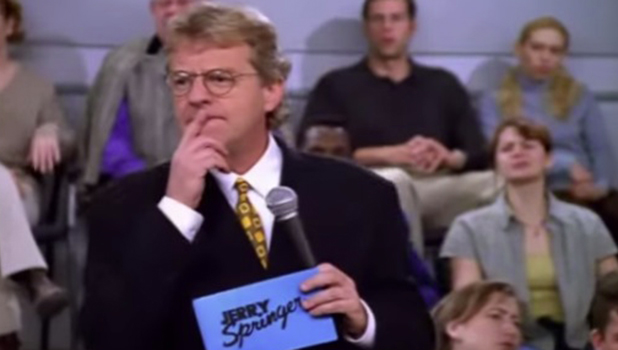 14. Simon Helberg
Now he's in
Big Bang Theory
and a household name, but in 2002 he appeared in episode 'Time After Time' (S6, E15) as the spokesperson for a computer programme that allows people to go back in time and change the past. Sabrina used him when she wanted Aunt Zelda to go back and marry a former love – before realising that was a big mistake.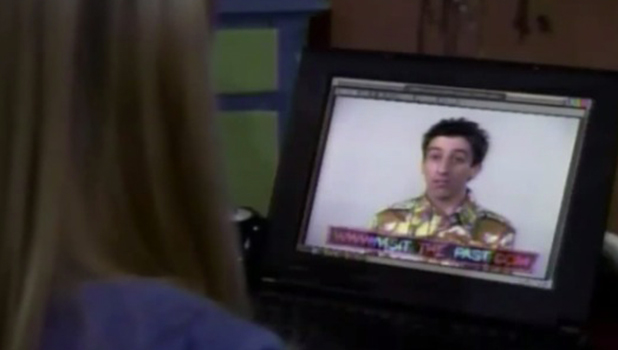 15. Milo Ventimiglia
The
Heroes
star played a footballer in series one episode 'Terrible Things' (S1, E4) when Jenny and Libby both tried to convince him to vote for them in the student president race. So, who did he vote for? Libby. Her promise of more pizza in the cafeteria won him over.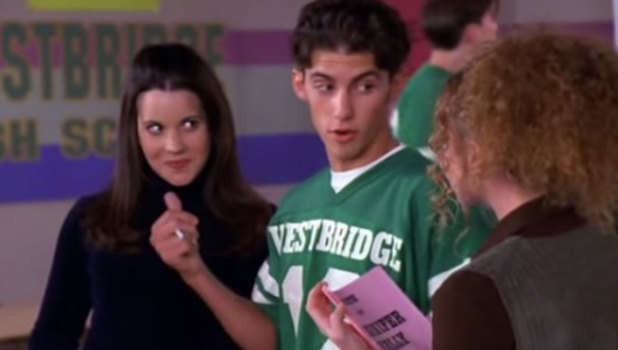 16. Sisqo
Sisqo played a vampire in 'Really Big Season Opener' (S6, E1). Sabrina and Miles are producing a horror movie and hold open auditions… little do they realise that the guy playing a vampire is an ACTUAL vampire!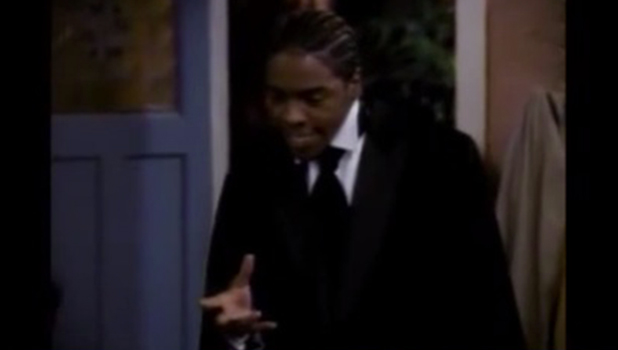 17. Dick Van Dyke
Everybody's favourite chimney sweep embraced his dark side for 'Welcome Back, Duke' (S4, E16) playing a former naughty colleague of Salem who has just finished his time as a cat. He's a bit shaky on the magic, however, and gets himself into trouble before redeeming himself by helping Sabrina with a dance she needs to master for her college application.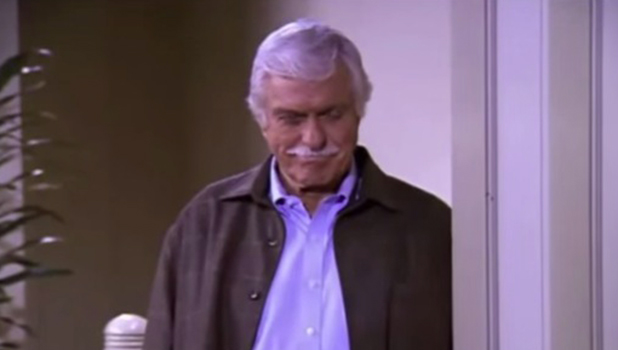 18. James Michael Tyler
Gunther! Friends' coffee shop worker took on a different role in 'My Best Shot' (S5 E11), playing photography magazine writer Ethan. He popped up when Josh quit his job at the coffee shop and tried to become a photographer.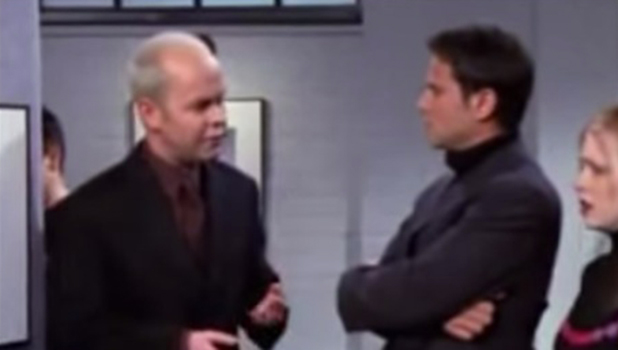 19. Clare Kramer
She played Glory the God in
Buffy The Vampire Slayer
and popped up in
Bring It On
. This time around, she played actress Babette Storm in 'Free Sabrina' (S7 E5). Sabrina catches Babette shoplifting but ends up getting the blame herself.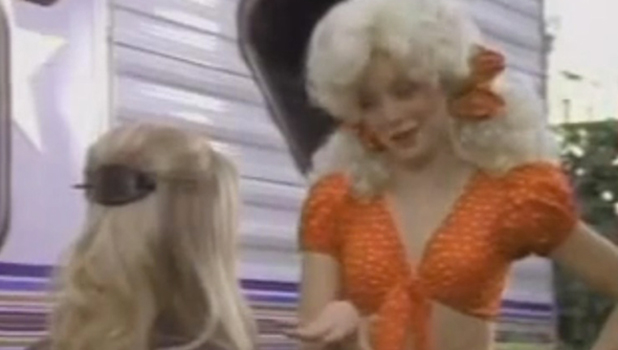 20. Andrew Keegan
We all know him from
10 Things I Hate About You
, but in the first series of
Sabrina
he was struggling magician 'Magic Joel' (S1 E8). He enlists Sabrina as his fabulous assistant… but ends up invisible after she spares his blushes by helping him out a bit during his vanishing act.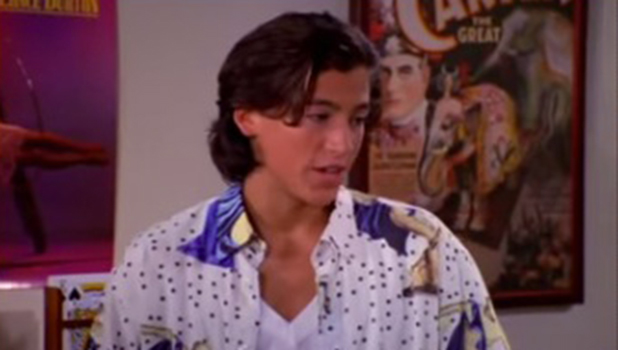 21. Backstreet Boys
We've already had N Sync on the list, now it's time for BSB! They didn't really have a storyline on the show. They just randomly popped up in 'The Band Episode' (S2 E18) as the credits played. They discovered the talent potion Sabrina had brewed to help herself, Valerie and Harvey win a band contest, took it, and began singing.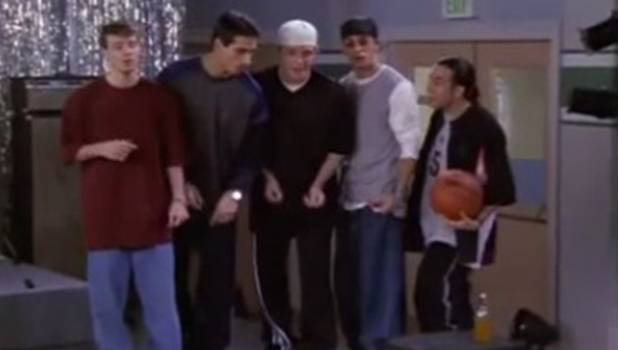 22. Howie Dorough
But a few years later, band member Howie turned up on the show by himself, playing egotistical, rather horrible rock star Strum in 'The Big Head' (S7 E2). Sabrina had to interview him for Scorch magazine and ends up teaching him some humility (and making his big head literally a BIG head.)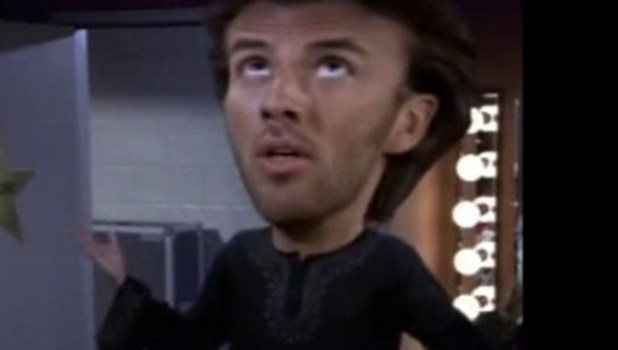 23. Raquel Welsh
The fab Raquel Welsh played Sabrina's Aunt Vesta in 'Third Aunt From The Sun' (S1, E7). Always up for a laugh and wanting fun, she whisks Sabrina off to her Pleasure Dome in The Other Realm where Sabrina has so much fun she isn't sure she wants to come home.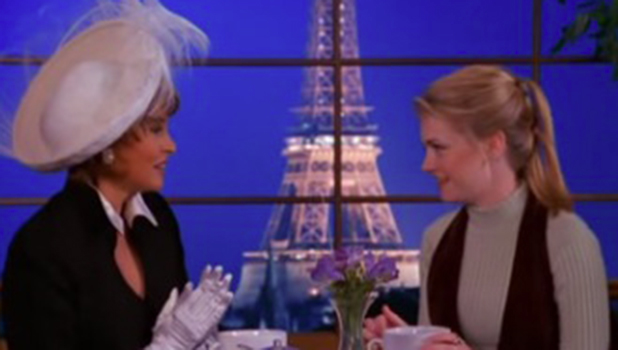 24. Andy Roddick
Tennis star Andy Roddick played himself in 'The Competition' (S6, E17). Josh tells Sabrina that women aren't as good at tennis as men, prompting Sabrina to summon Andy for some one on one lessons. Take THAT Josh!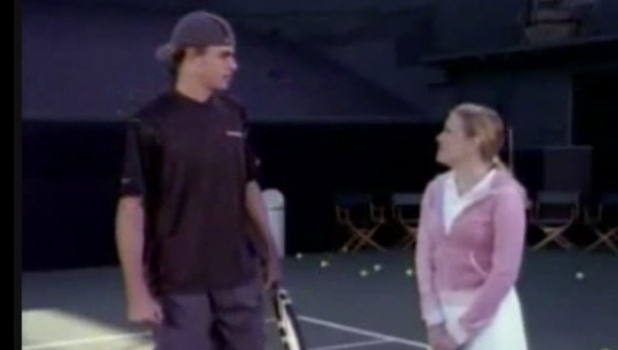 25. Paula Abdul
Singer and former
American Idol
star Paula Abdul played herself in 'Ageing, Not So Gracefully' (S4, E18). Salem was obsessed with Paula and kept leaving crying messages on her answering machine much to her frustration.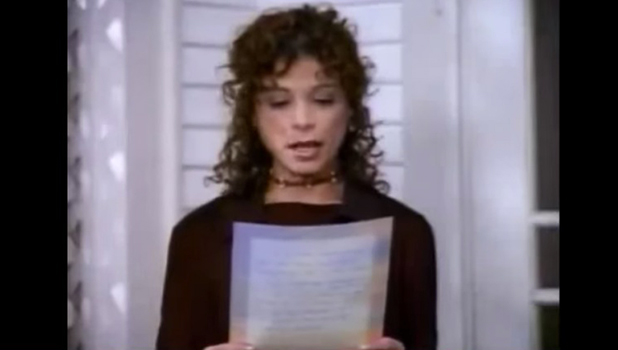 26. Ashanti
Ashanti played herself on 'Call Me Crazy' (S7 E3). Sabrina had just started her job at Scorch magazine and is worried everyone doesn't think she's that great. But when she scores an interview with Ashanti – and her phone number! – after bumping into her at a coffee shop that all changes.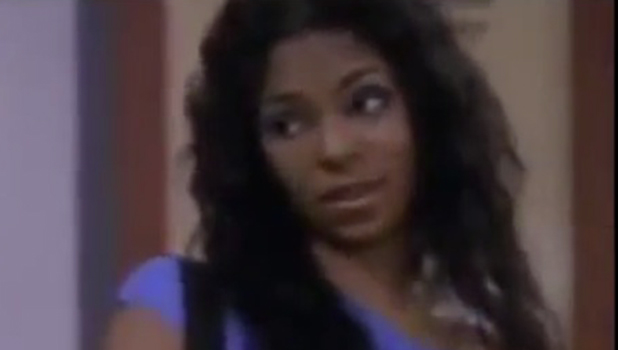 27. Kelly Clarkson
Now, we'd be SUPER impressed if you spotted her! She had a cameo in 'The Whole Ball of Wax' (S6 E20). After Sabrina's mum turns to a ball of wax, she takes her on a tour of her life – including the college where Kelly wanders around in the background as an extra. Blink and you'll miss it!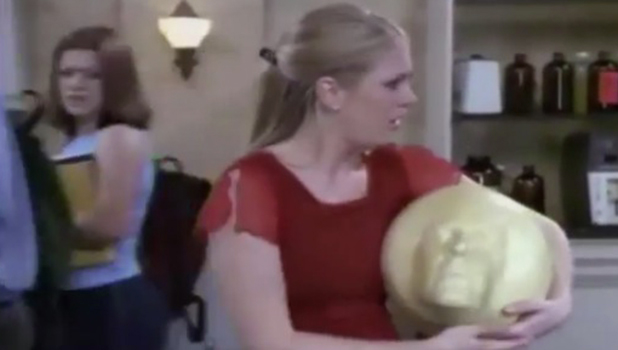 28. Chyna
Former wrestler Chyna played the devious Mary Jo in 'Driving Mr Goodman' (S6 E21). After Sabrina gets into a minor car accident while teaching Miles how to drive, Mary Jo sues her for gross injury. But it turns out Mary Jo is lying and faking her injuries and Sabrina is determined to bring her to justice!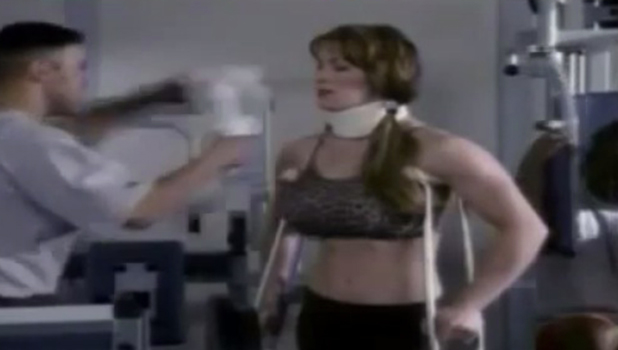 30. Penn and Teller
Magicians Penn and Teller both appear: Penn is probably the more recognisable character as he played Head of the Witches Council Drell. Remember him? Was once engaged to Aunt Hilda, was paranoid about the mole on his face… Sidekick Teller, meanwhile, played a silent witch called Skippy. He met Jenny when she ventured into The Other Realm by accident and wanted to keep her as a pet grasshopper. (We know that sounds strange.)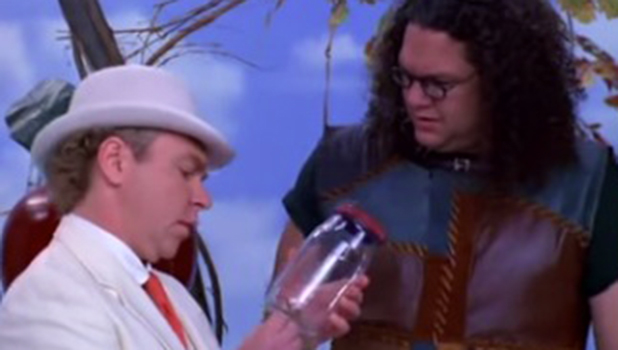 31. Sally Jessy Raphael
Talkshow host Sally Jessy Raphael played herself in 'A Halloween Story' (S1 E5). She had a brief role. When Sabrina's Sally Jessy costume consisted of just a pair of glasses, her aunts decided she hadn't put in enough effort and actually turned her into Sally Jessy!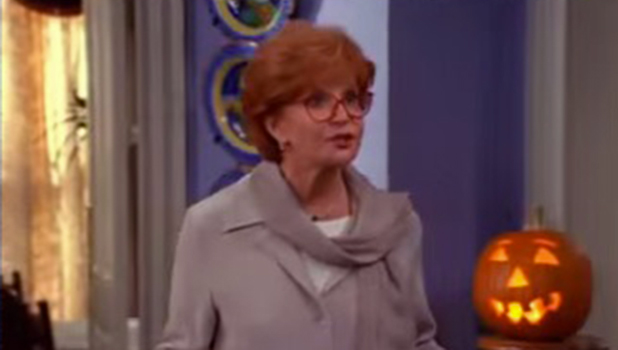 32. Avril Lavigne
Pop princess Avril performed on the episode 'Bada-Ping!' (S7, E8) while Sabrina, Roxie and Morgan were at a nightclub. That;' pretty much all she did! Perform 'Sk8r Boi' and look awesome!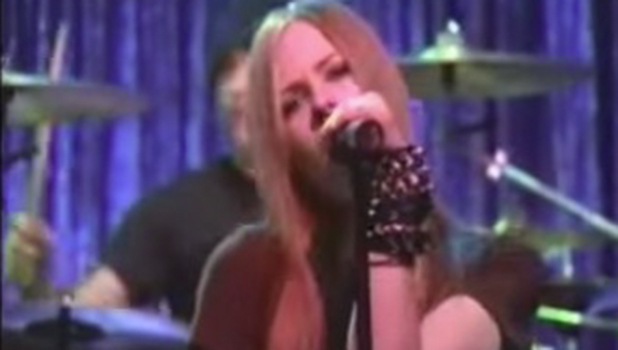 33. Isaac Hanson
One third of the Hanson brothers, it turns out he used to date Sabrina's college roommate Roxie and they're still pretty close. Roxie invites Isaac round for Thanksgiving in 'A Birthday Witch' (S6, E9) but he gets caught up and can't make it. Sabrina and Roxie decide to donate their leftover food to a local shelter… where Isaac turns up to surprise them!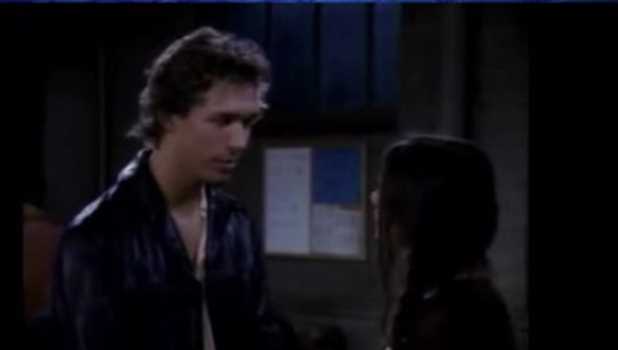 For exclusive competitions and amazing prizes visit Reveal's Facebook page NOW!