Emma Stone was so stunned by her Oscar nomination that she couldn't help swearing in her official statement!
Naughty girl!
The beautiful actress was recognised in the 'Best Supporting Actress' for her role in
Birdman
and, judging by her statement, she really didn't see it coming!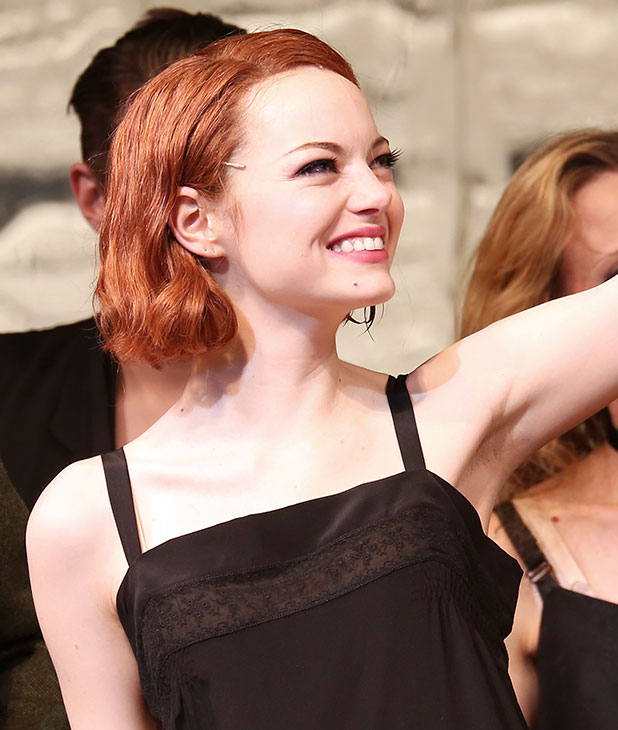 A clearly excited Emma gushed: "Well, this is surreal. I am completely knocked out. Thank you to the Academy for this incredible honour. I am very proud and lucky to be a part of Birdman and can't believe it came to this.
"I am so f**king excited. Are you allowed to say f**k when you're making a statement for the Oscars? I'm just really f**king excited."
Maybe leave out the swear words if you make to the podium, Emma!
The 26-year-old is up against Hollywood heavyweights including Meryl Streep for
Into The Woods
, Keira Knightley for
Imitation Game
, Laura Dern for
Wild
and Patricia Arquette for
Boyhood
.
The ceremony takes place in LA on 22 February.
Best Picture
American Sniper
Foxcatcher
Imitation Game
Birdman
Theory of Everything
Boyhood
Selma
Grand Budapest Hotel
Whiplash
Best Actor
Steve Carell - Foxcatcher
Bradley Cooper - American Sniper
Benedict Cumberbatch - Imitation Game
Michael Keaton - Birdman
Eddie Redmayne - Theory of Everything
Best Actress
Marion Cotillard - Two Days, One Night
Julianne Moore - Still Alice
Reese Witherspoon - Wild
Rosamund Pike - Gone Girl
Felicity Jones - Theory of Everything
Best Supporting Actor
Robert Duvall - The Judge
Ethan Hawke - Boyhood
Edward Norton - Birdman
Mark Ruffalo - Foxcatcher
JK Simmons - Whiplash
Best Supporting Actress
Patricia Arquette - Boyhood
Laura Dern - Wild
Keira Knightley - Imitation Game
Emma Stone
- Birdman
Meryl Streep - Into The Woods
Best Director
Birdman - Alejandro G. Inarritu
Boyhood - Richard Linklater
Foxcatcher - Bennett Miller
Grand Budapest Hotel - Wes Anderson
The Imitation Game - Morten Tyldum
Make-up and Hairstyling
Foxcatcher
Grand Budapest Hotel
Guardians of the Galaxy
Costume Design
Grand Budapest Hotel
Inherent Vice
Into The Woods
Maleficent
Mr Turner
Cineamatography
Birdman
Grand Budapest Hotel
Ida
Mr Turner
Unbroken
Original Screenplay
Birdman
Boyhood
Foxcatcher
Grand Budapest Hotel
Nightcrawler
Adapted Screenplay
American Sniper
Imitation Game
Inherent Vice
The Theory of Everything
Whiplash
Original Score
Grand Budapest Hotel
Imitation Game
Interstellar
Mr Turner
The Theory of Everything
Best Foreign Film
Ida
Leviathan
Tangerines
Timbuktu
Wild Tales
Best Animated Picture
Big Hero 6
The Boxtrolls
How To Train Your Dragon 2
Song of the Sea
The Tale of the Princess Kaguya
Documentary – Short Subject
Crisis Hotline: Veterans Press 1
Joanna
Our Curse
The Reaper
White Earth
Documentary – Feature
Citizenfour
Finding Vivian Maier
Last Days In Vietnam
The Salt of the Earth
Virgunga