Judge Rinder burst onto our TV screens last summer with jazz hands and amusing putdowns - but who is the man behind the wig and gown?
Real name Robert, the star of the show is actually a highly successful practicing barrister who charmed his way into landing the hit daytime programme following a chance meeting with ITV bosses.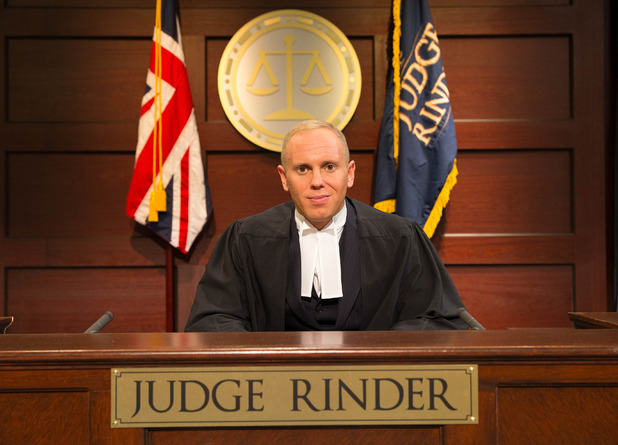 The likeable lawyer immediately won viewers over with his whit and facial expressions and, as a result, the second series of
Judge Rinder
is set to run every day for the next nine weeks.
We were lucky enough to chat to Judge Rinder in between his cases in the courtroom and he was more than willing to spill the beans on what is arguably our new favourite programme!
Hi Judge Rinder! Now, we're here to talk about your show...
Oh, how bland. I was hoping we were going to talk about hair and make-up!
You're a practising barrister. How did the opportunity of Judge Rinder come about?
In my spare time, I like to write TV formats and I'd come up with what I thought was a brilliant idea. I had a meeting with ITV and got chatting to a brilliant woman called Helen Warner, who is head of Daytime TV there. I discovered she enjoys writing very tongue-in-cheek novels and later wrote a review of one of her books. In the middle of a long email to her, I wrote, 'Gosh, isn't the weather terrible, if only I could be a TV judge'. It was just something I slipped in there, but Helen replied and said she worked with a guy who was looking for a TV judge! I went and had a coffee with him last January and, by July, we'd started making the first series of the show!
You're used to standing up in court, but did you find being in front of the cameras nerve-wracking?
I sort of wasn't at first, because I pretended the entire thing wasn't happening! But when I went onto the set and saw how beautiful it was I did think, "Oh gosh, this is all for me". That's when I started becoming a little apprehensive! Also, my head of chambers - who successfully defended Rebekah Brooks in her trial - came to watch me one day and having him sitting at the back of my courtroom made my mouth go dry...
Where do you find the litigants who appear before you?
A mixture of places. A lot of the time people phone in and sometimes they come from stories in the newspapers. The producers and researchers are amazing at finding people with real stories and making the show what it is. People are happy to take part, as their case gets dealt with quickly and justice is always served!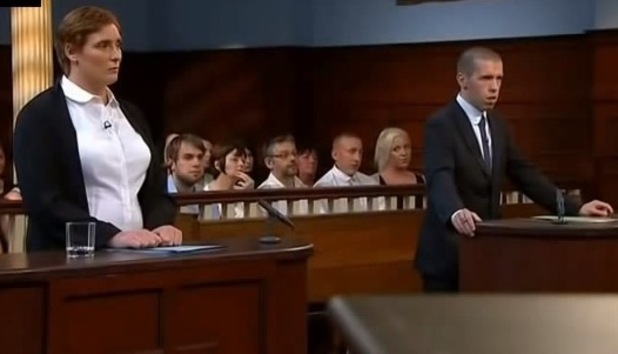 You've been involved in some pretty high profile cases (including the New Year's Eve shootings of Leticia Shakespeare and Charlene Ellis). How do you make petty squabbles entertaining?
To be honest, that's not at the forefront of my mind. The first thing I need to think about is being authentic. I speak to the litigates in exactly the same way I would if they were my ordinary clients. Frankly, people are often authors of their own funny. They start telling lies during their evidence, which I can smell and tell - I'm trained at it. Or they'll start making stuff up or go on for hours speaking irrelevant nonsense. Even the viewers weren't born yesterday!
Are all your quips and putdowns off the cuff?
Completely. The only time I've ever been offended, ever, about anything anyone has ever said about the show, was when somebody suggested my quips are written for me. They are completely spontaneous.
Is it nice to be able to throw in the jazz hands? We presume you've not had much opportunity to do this in the past?
[Laughs] Exactly, yes!
You have a 'three strikes and you're out' rule for when litigants interrupt you. Have you had to use it yet?
Yes! You have to watch this series - someone gets slung out and I think he was quite surprised! It's not a hard and fast rule, as some people interrupt me because they don't necessarily know how to behave or they are
so
anxious to tell me something. But where someone is determined to interrupt me or not treat the court seriously, I'm afraid it's the end of their case.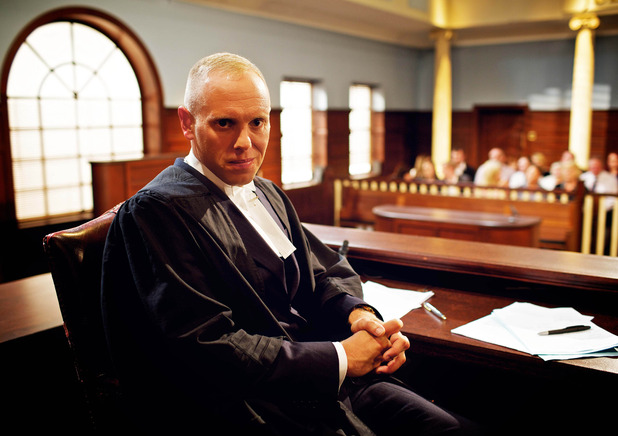 One party is always going to be left unhappy with your ruling. Do you ever get people shouting at you off camera?
Oh God, yes! Last series, we had somebody who wanted to turn my face into a Picasso. He wanted to put my ear on my head. Myself and the show's legal adviser, Paul Renteurs, accidentally stumbled across this rather disgruntled litigate backstage and he started screaming at me, so we tried to hide in a closet. Unfortunately, only I could fit in there, so I just threw Paul out!
Perhaps you need a bouncer?!
We do have one! He's a bit like James Bond.
Do you get fan mail?
Yes, I get nice things actually. Although, I have been sent a couple of novels. They're not about me, I think people just want me to read them. Oh dear...
Do you get recognised in the street?
One of the reasons wigs and gowns are good is that they give you a degree of anonymity. Sometimes, people will spot me though. Generally, people just want to talk about their own legal issues - but I get a lot of people who want to discuss their medical issues. It's quite extraordinary!
Are you willing to pose for selfies with fans?
Well, I mean, you know, it all helps the cause!
Are you a fan of Judge Judy?
Yes, I think she's brilliant. Her legal judgements are absolutely bang on. I do think our shows are different though. She has a shorter timeframe, so will go straight to the issue immediately and make a ruling. It's very much her leading the narrative. In
Judge Rinder
, the stories are given more oxygen. I do hope I get to meet her one day!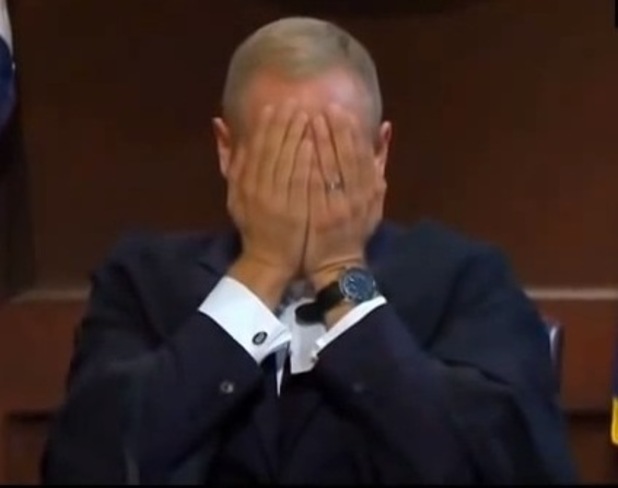 Before we had to wave our jazz hands goodbye to Judge Rinder, we thought we'd get to know him a little better with these quickfire questions....
Growing up I wanted to be...
doing a job where I'd be on my feet arguing! You'd have to ask my parents if I was an argumentative child though...
I get angry when...
people are cruel to others and to animals.
My favourite TV show is...
House Of Cards
. I love that. And
Homelands
! I used to love reality TV, but I just don't have time to watch it anymore.
My last meal would be...
a very traditional Eastern European meal of chicken soup and salt beef tongue. I want to a show about this, as it's actually very fascinating. I used to deal with a lot of serious human rights cases. In America, people on death row are given their right to a last meal of their choice and, very tragically, they usually choose McDonald's.
One possession I would save in a fire is...
my art. Both art I've collected and art that my family have done for me.
Judge Rinder, 2pm, ITV1, weekdays
Are you a fan of Judge Rinder? Tell us below, as the best comment from across the website each week wins £50!