Amy Adams has demanded One Direction kiss her before performing on Saturday Night Live… oh, and managed to offend Niall Horan!
In the latest spoof promo for Amy's edition of
SNL
, with 1D as musical guests, she is joined by the Irish-British boyband under the mistletoe.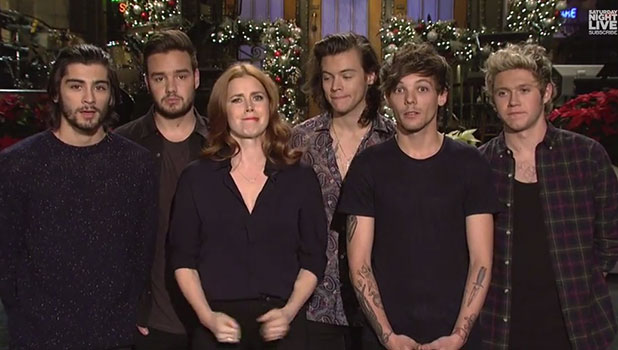 Do you hear that, Amy? Irish-British! Because it seems Amy called the group a British babe machine and offended poor old Mullingar-born Niall Horan…
Perhaps that's why the boys didn't look so keen to kiss her under the mistletoe?!
In a sketch, actress Amy is seen wondering who put mistletoe above the group. "You did," deadpans Harry. "You said we had to kiss you."
Another of the short sketches shows Amy stretched out like a glamazon as the boys hold her up in the air. Apart from Niall, who is literally touching her foot with his finger. Leaving the lifting to the other boys, eh, Niall?! Perhaps he's still offended by the whole British babe machine thing…
This is the second promo Amy's released for her
SNL
episode. In the first one, we saw her having a
MEGA fangirl freak over the thought of meeting One Direction.
Thankfully, as we see in this second promo, she managed to keep her cool…