Pregnant Kate Middleton swapped her usual glamorous getups for something a little more comfy last night during a surprise visit to a Beaver Scouts pack in London.
Kate, who is expecting her second baby in April, was pictured arriving at the group's hut in Poplar and was dressed in a pair of black skinny trousers teamed with a Scouts' zip-up hoodie.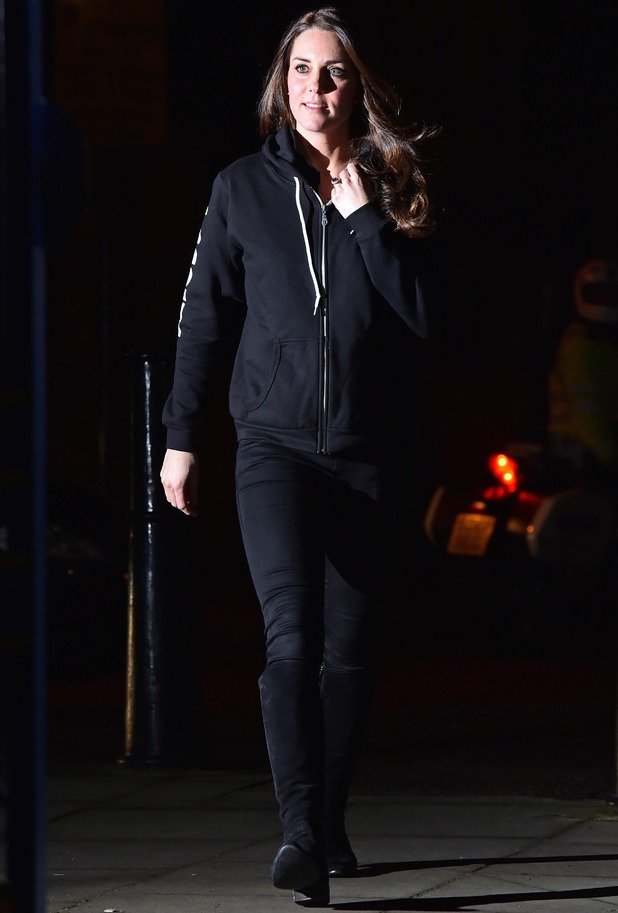 Rather than going the whole hog and completing her look with trainers, the Duchess of Cambridge was rocking a rather stylish pair of flat knee-high boots and had her hair loose in her famous blowdry.
Kate's visit to meet the 23rd Poplar Beaver Scouts was a surprise one and she got stuck in with helping the children learn about living with disabilities for the Scout Association's 'Better Prepared' campaign.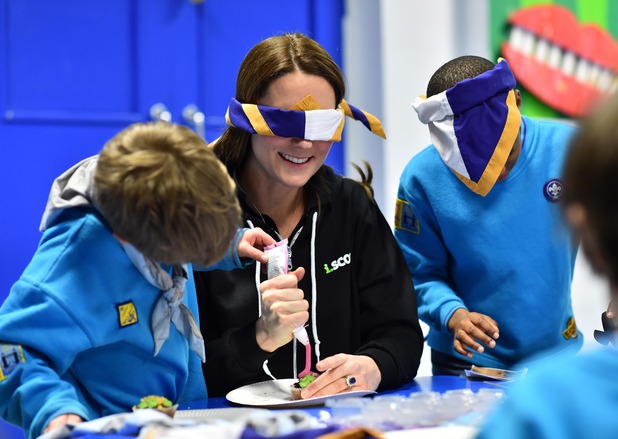 In a serious of snaps taken inside the venue, Kate can be seen wearing a blindfold - made out of a Beaver neckerchief - and attempting to cut up a plate of food while sporting a boxing glove on one hand.
The Royal, who has previously volunteered with the Scout Association, appeared to be having a great time helping the children and presented them all with a new badge before the meeting finished.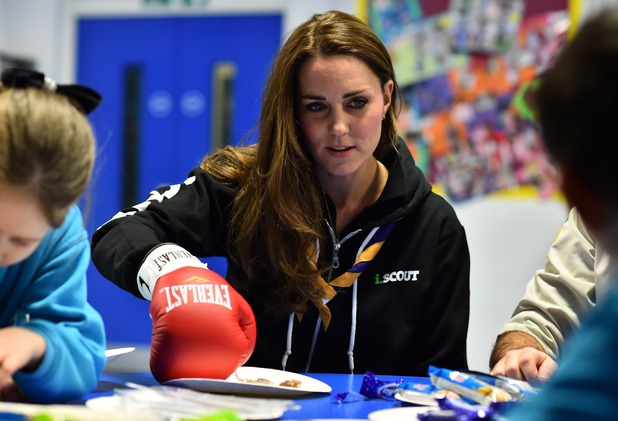 Last week,
Kate accompanied her husband Prince William on a brief visit to New York
.
While there,
the Duke and Duchess attended a basketball match in Brooklyn
and
were pictured in the stands with Beyoncé and husband Jay Z
.
In April, the couple are due to welcome their second child together having
announced that Kate was pregnant back in September
. Although she
initially suffered from hyperemesis gravidarum - severe morning sickness - Kate
is now looking in good health.
Kate and William are already parents to son George, born in July 2013.
Celebrities congratulate William and Kate on their second pregnancy:
Copyright: WENN.com