Angelina Jolie was pictured at a star-studded breakfast in Hollywood just hours after a leading producer allegedly branded her a "spoiled brat" in a leaked email.
It was a case of 'the show must go on' for Ange, as she put the leaked email gossip to one side on Wednesday (10 December) to show her support at a Women In Entertainment event in LA.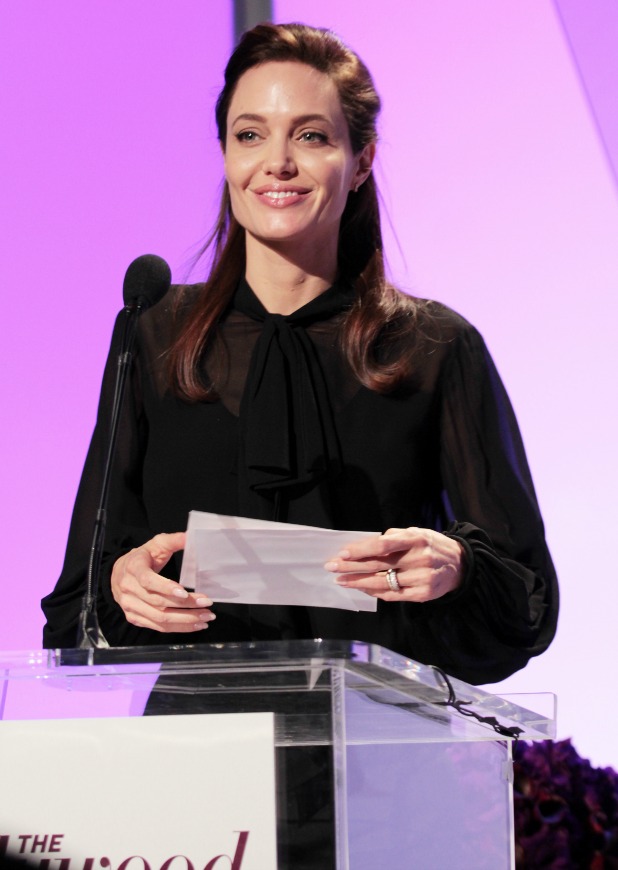 Angelina took to the stage with a smile as she spoke about The Hollywood Reporter's Mentorship Programme, which offers inner city girls the chance to work alongside entertainment figures.
Her appearance at the event came amid claims the recent hacking of Sony Pictures had unearthed emails in which a Hollywood producer described Angelina as a "minimally talented spoiled brat".
According to the leaked emails - which Sony has not confirmed as genuine - top producer Scott Rudin voiced his thoughts on Angelina during an email exchange with Amy Pascal, the co-chairman of Sony Pictures.
The problem allegedly stemmed from the fact filmmaker David Fincher had been attached to direct the Steve Jobs biopic but Angelina wanted him to direct
Cleopatra
.
It appears Rudin did not approve.
In one email allegedly sent by Rudin, he is quoted as saying: "I'm not destroying my career over a minimally talented spoiled brat who thought nothing of shoving this off her plate for eighteen months so she could go direct a movie. I have no desire to be making a movie with her, or anybody, that she runs and that we don't."
Another email is alleged to read: "There is no movie of Cleopatra to be made (and how that is a bad thing given the insanity and rampaging spoiled ego of this woman and the cost of the movie is beyond me).
"I have zero appetite for the indulgence of spoiled brats and I will tell her this myself if you don't."
Neither Rudin nor Pascal have commented.