Jennifer Aniston has described her Horrible Bosses 2 sex scene that was axed from the movie as "terrifying" to film.
The former
Friends
star shot a sequence alongside co-star Charlie Day for the movie sequel but it ended up on the cutting room floor.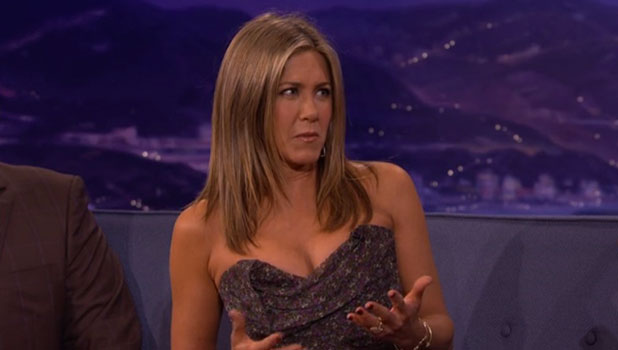 Chatting to Conan O'Brien about the nature of the scene, she explained: "It was kind of not mutual. I'm not going to say it..."
Jen got a bit tongue tied as she tried to explain what had happened: "Because it was a … Charlie Day's character is in a coma and I exploit him whilst he was in a coma. So it was a sex scene that was sort of… yeah, they removed it.
"I bet it will be in those DVD extra or whatever they do."
Jennifer, 45, went on to say it was "terrifying" to film because she was pretty much acting alone.
"Usually you have someone there to support you but he's just laying there in a coma! Usually you have a partner with you to be like, 'God this is hard, huh?' and like, 'Yeah, this hard, this is weird!'"
Jennifer was also quizzed about past rumours that she'd shaved her head – but admitted she hadn't ever seen the fake picture in question.
"Is it real?" she asked of the picture, before laughing: "No, it's not. I've never shaved my head!"
Jen added: "Not in my life would I do that. If the role required… well, would you?!"
UK viewers can watch Jennifer Aniston's interview on Conan at 11pm on Monday 8th December, on truTV (freeview channel 68) - the home of larger than life characters in real situations.