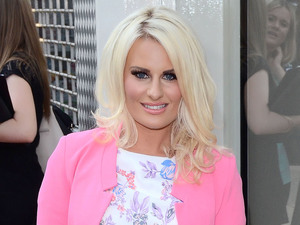 The Only Way Is Essex's Danielle Armstrong exclusively shares her views on the latest episode of I'm A Celebrity... Get Me Out Of Here!
Episode 14.
Morning
We open with the camp in shock at Jimmy's departure the previous night - and now he's gone, there's no one to give them a wakeup call! Bet they enjoyed a quiet lie in!
A lot of the celebs were saying how much they will miss Jimmy.
I think Foggy will miss Jimmy the most but I do think some of Foggy's tears were due to the fact he himself was not voted off first. He has been out of the limelight for sometime and I think he was really touched that some of his old biker fans remembered him.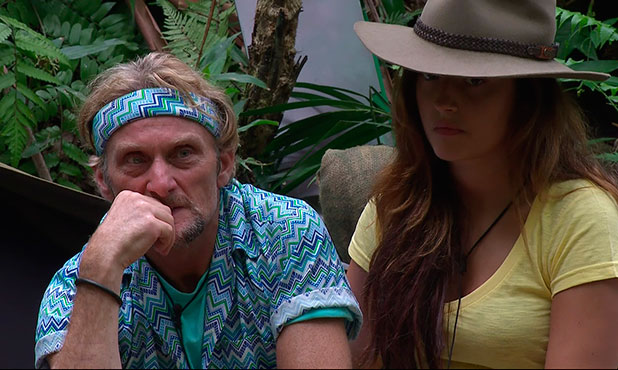 Bushtucker Trial
Michael and Vicki nominated themselves for the latest Bushtucker Trial, which was very brave, but not without Foggy having some concerns about whether they could actually deliver some food! It turns out he need not have worried!
Both
Michael and Vicki were strapped to a wheel and rotated into a bath full of water
containing crabs, eels and God knows what else. Then, with the wheel spinning, Vicki had to grab a star from the bath and pass it to Michael, who then had to throw the star into a basket. Seemed more like a medieval torture than a trial to me!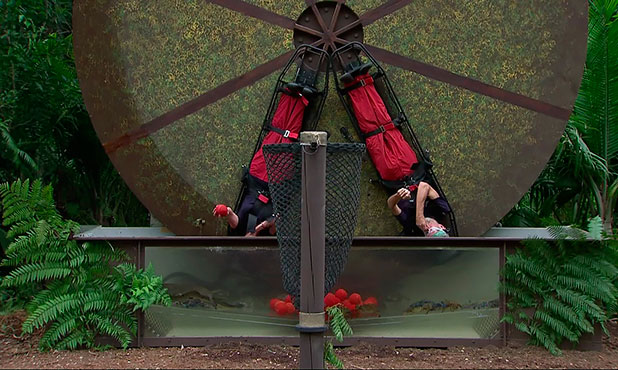 They were so good together, giving it a great go. I had to laugh as it was more like watching an episode of
Downton Abbey
than a Bushtucker Trial! They were so polite and wonderful together, all very "darling, darling", no swear word, tears or dramas, with Michael proclaiming, "we need to dress for dinner" when they managed to get seven stars!
It was a bit different with the Dingo Dollar Challenge later on...
This one was down to Kendra and Jake. It took them some time to work out what the challenge actually was, never mind complete it!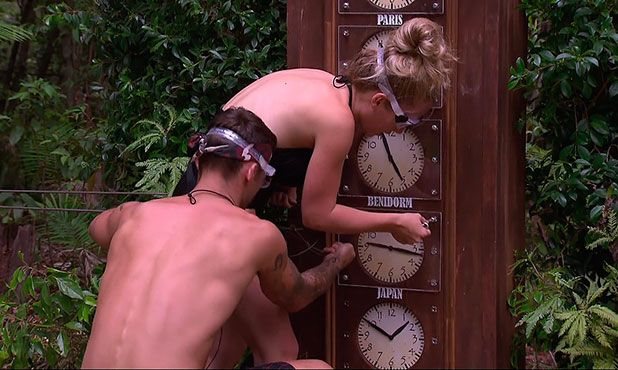 They eventually worked out they had six clocks in front of them displaying different country timezones, and six other clocks in a swamp that was filled with horrible smelly gunge. They had to retrieve the clocks from the swamp that had the right time shown, then change the clocks that were wrong.
Anyway I think that's what they did, it was all a bit confusing for me!
All I do know is they had to unscrew the clocks and Kendra made loads of comments about how good she was at screwing. Normal stuff for Kendra! And Jake was a lapping it up! He is loving his time in camp, isn't he?!
Amid all that, they somehow they managed to complete the task and then the main camp had to answer a final question that would determine whether they got the prize or not.
Unfortunately for them, the camp got the answer wrong and they didn't get their treat, which was digestive biscuits. But, as Jake said, what good would biscuits be without a nice cup of tea? I know what he means. I do love a cuppa!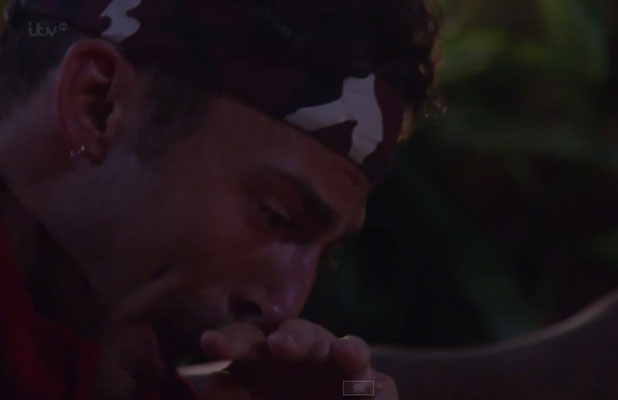 Letters from Home
All the campmates had to complete a memory test to get their letters from home. Each person had to memorise eight words that briefly flashed in front of them and, if they got them right, they won a letter for another camp member.
Everyone got their letters except for three: Vicki, Kendra and Nadia. Michael lost for Vicki, Mel lost for Kendra and, yes, Kendra lost for Nadia. Although upset, I don't think Nadia needed Kendra to keep apologising, especially when Kendra said she could now remember the words!
So, the camp had the letters they'd won read out and it was all very emotional.
It was funny listening to Edwina reading out Tinchy's letter from home. She put so much effort into it, like she was reading him a bedtime story! Edwina's letter from her hubby was really touching, but
Jake's news he was to be an uncle had us all crying
! He found out his brother's wife is pregnant!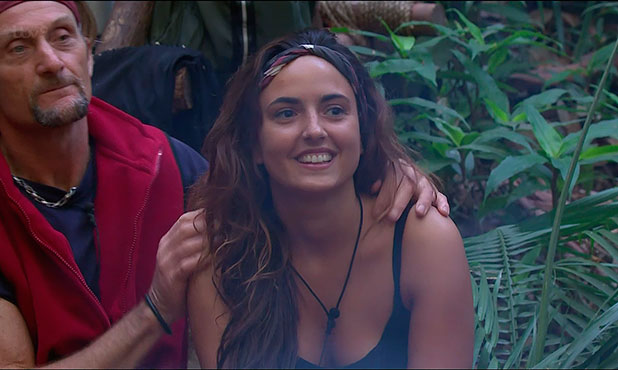 Meal
Mel didn't respond well to advice on how to cook octopus for the camp meal, but then got more upset at the comments when they ate it.
I think the best one was from Edwina, who declared it was "a bit like eating flavoured gristle". That went down like a lead balloon with Mel! I'm expecting more cooking dramas ahead!
Second elimination
This time the whole gang were up for the vote and it was
Nadia who was eliminated
. It is a shame to see her go but someone has to leave. Nadia had done well and I'm sure she has made some great new friends - in particular Jake. I can see some romance there in the future (
even if she's denied it!
)
Reveal is now on Google Plus! Join us here for the latest pictures, fashion and celebrity news!