Katie Price has revealed she hasn't been to the gym in years and instead relies on regular horse riding to maintain her figure.
The former glamour model spoke about her post-baby body and fitness regime during her weekly slot on
Australia's Morning Show
earlier today, insisting she has never stressed about losing weight following a pregnancy.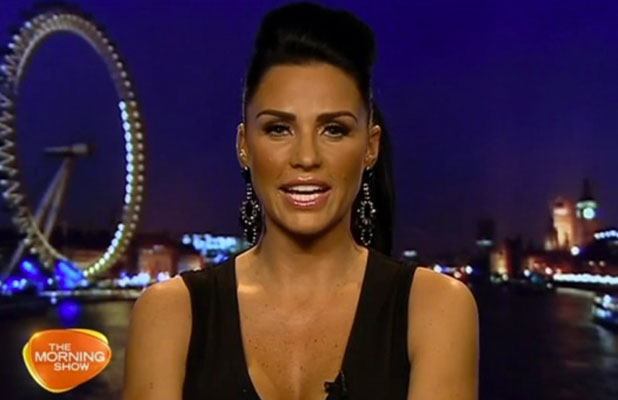 Katie said: "I don't think there should be any pressure whatsoever after you've had a baby to bounce back... There's a lot of things people probably do to look good after having a baby but there shouldn't be any pressure.
"I don't know what some of these Americans do, or what some people in England do. I think you either ping back or you don't and it depends on your genes."
Katie, who is a mum to five children, including
baby Bunny, born in August,
said she hasn't touched a gym in years, but wants to change that.
"I normally ride my horses but I'm definitely going to start at the gym. I need a personal trainer when I go as I can't train on my own, I need someone to push me. I know that hour is going to absolutely kill me but I don't know anyone who leaves the gym regretting it. You always feel good after a workout. I can't wait to start - I just have to find time!"
The 36-year-old said although she was "lucky" to snap back into shape after giving birth to Bunny, despite not visiting the gym, she was never focused on losing her baby weight.
"I always say when I'm pregnant, 'That's it. As soon as I've had the baby, I'm gonna eat healthy, get fit and next time I'll have abs!' Does it happen? No! As soon as I've had the baby, I enjoy time with the baby and I want to eat rubbish!"
Her advice to pregnant women and new mums was to ignore any pressure to lose their baby weight.
"Eat healthy and don't stress about losing that weight," she said. "Enjoy your moments with the baby because they do grow! You have to let your body settle, I say, it won't happen overnight. What will be will be... Everyone's body is different so don't stress about it."
Katie is the UK contributor to The Morning Show.
Katie's craziest costumes in pictures!
Copyright: WENN