Kim Kardashian West has many titles under her belt – reality star, boutique owner, clothes and perfume designer – but perhaps her most well known trait is her love of flaunting her curves, so it's no wonder she's the cover star for ELLE UK's new Confidence issue.
The 34-year-old looks stunning in a gorgeous photoshoot for the iconic magazine, where she opens up about her leaked nude pictures, pregnancy and how she learned to love her body.
And love it she does!
Kim recently posed absolutely stark naked
, showing off her famous figure, and is never afraid to flashing the flesh on the red carpet.
But that doesn't mean she didn't feel "violated" at being a victim of the mass
celebrity hacking scandal lately that saw dozens of stars' intimate pictures end up online
.
Recounting the incident, Kim says: "I feel violated because these are private pictures. I didn't choose for them to be out there.
"But I'm also realistic. I'm on covers of magazines practically naked, so I can't go crazy about it. The only choice I can make is to not let it shake me up. I'm not having that choice taken away from me."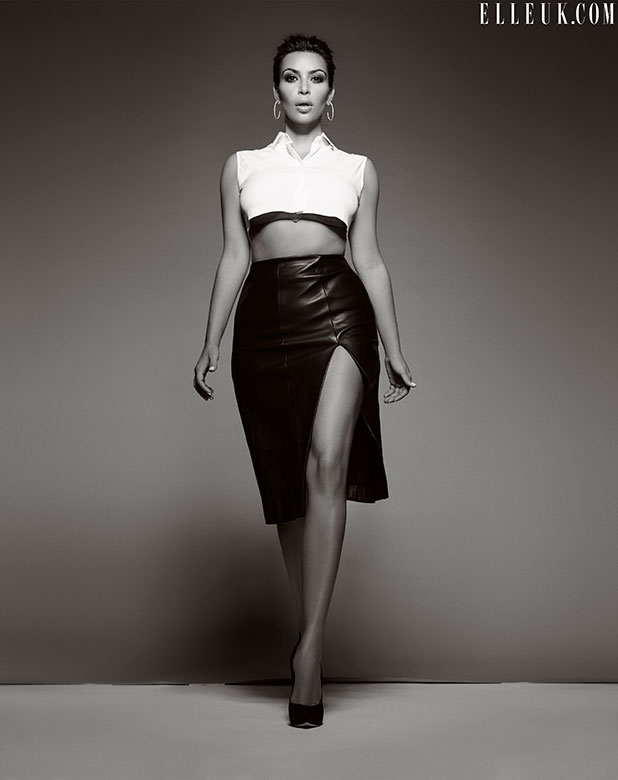 And Kim admits that although she's a role model for curvy women everywhere, she hasn't always loved her own body.
"It's taken me a long time to be happy with my body and for my confidence to grow to what it is today," she recalls.
"I grew up when the body to have was the tall, slim, supermodel one, like Cindy Crawford's. No one looked like me.
"It's good to break the mould and recreate one. I'm an Armenian girl, I have shape, and it turned out people liked that. That makes me feel good about myself and about other women for being so supportive. I am a confident woman, but I didn't just arrive confident – it has built over the years and that is a big part of who I am now."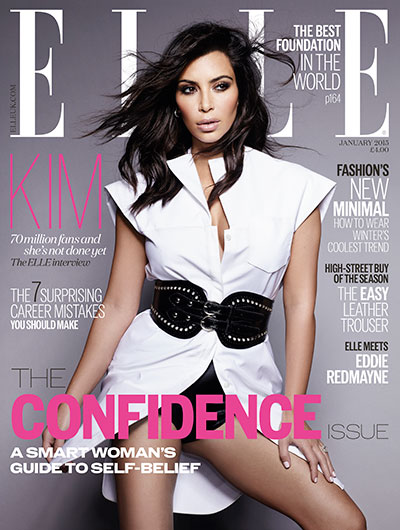 Kim confesses that back when she was 13 she was "unhappy" with her figure. "I developed really early. Every night I would sit in the bath and cry, I prayed my boobs would stop growing," she says.
But a letter from her father made her realise the important thing was what's inside.
Since then, she's gone on to embrace her curves and become a champion for body confidence around the world, something she no doubt hopes to pass on to daughter North, one, in the future.
And speaking of North...
Kim admits she and Kanye are eager for more children
.
"A few years ago I was told I could never get pregnant. Three different doctors told me the same thing, which is why I wanted to have my eggs frozen. I was just about to do that when I found out I was pregnant with North," she says.
"I want a boy and another girl; I want it to start happening straight away. I loved being part of a huge family – and I want that for North. We'd do IVF if nothing happens, but we both want to keep trying naturally."
Kim's full interview appears in the January issue of ELLE UK, on sale 4 December. Also available as a digital edition and to purchase as a single edition here. To view an exclusive behind-the-scenes video of Kim's ELLE UK shoot click here.