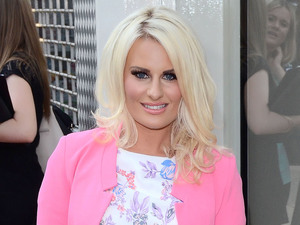 The Only Way Is Essex's Danielle Armstrong exclusively shares her views on the latest episode of I'm A Celebrity... Get Me Out Of Here!
Episode 13.
Morning
Well, last night was the first vote off this series and there was a bit of tension in the air. When the Wombats got the news they were up for elimination, Jimmy's face was a picture... perhaps he knew something we didn't?!
I did feel sorry for them as they hadn't had anything proper to eat for three days and now one of them would be leaving the jungle.
Mel appeared to be taking it really badly but I think this was more down to starvation. She is looking rather skinny or, as Edwina put it, "you could hang a washing line on her cheekbones!" Bit harsh, but you get the idea.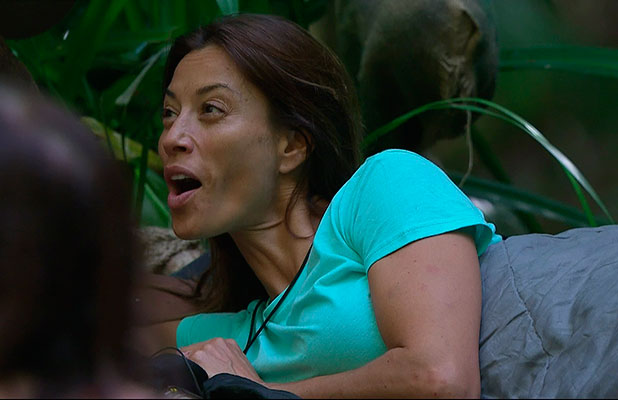 The Wombats were then told that all four of them - Mel, Jimmy, Foggy and Tinchy - had to face the next Bushtucker Trial challenge while the Galahs remained in camp! I suppose Kendra got it right when she said, "it must suck to be a Wombat." I was thinking exactly the same!
Bushtucker trial
In this task, the Wombats basically had to down ten awful drinks to win ten stars. And they were awful! Drinks included blended pig's anus, mealworms, all the usual stuff, ha ha! The Wombats were all seated around a table and played spin the bottle, and whoever the bottle fell on had to go first.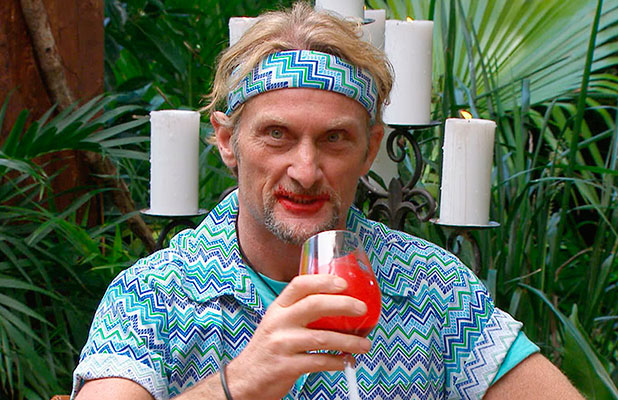 First to go was Foggy who had to drink a glass of Deer's Blood. He looked like Dracula by the time he'd finished! Then it was Mel's turn. Do you know, I think she was just so hungry she would have drunk anything. Her taste buds must be all over the place as she said her glass of liquified creepy crawlies tasted like a veggie smoothie. Poor girl!
Again, when it was Tinchy's turn, he just did the task. No fuss, no bother, just did it! Gotta love him for this! And Jimmy, well, okay, he did finish his drink, but not without his usual drama! Well, at least now he's been eliminated he won't have any more to do!
Each Wombat had to finish a couple of drinks... and we heard Mel saying she preferred the taste of a penis drink to that of a testicles one. Umm... whatever!!
Back in the camp
Over in camp, while the trial was going on with the Wombats, the lucky Galahs were being treated to a full English breakfast: bacon, sausage, eggs, tomatoes and bread! They did make a pact not to tell the Wombats about their feast so as not to further depress them however, as always, Kendra couldn't keep quiet and told them as soon as they got back! I admit though, this is so something I would do...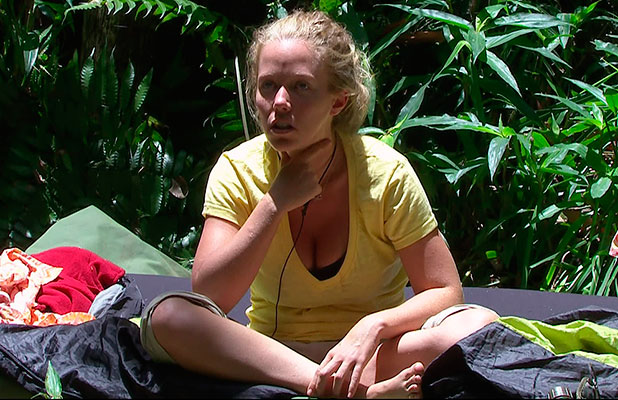 Edwina /Kendra
Later on, Edwina sat on the settee talking to herself (as well as the whole nation, obviously! She's not silly!) about the group, and she made some real digs at Kendra, calling her a dork and irritating! I admit, the word "like" is something I use far too much in my own vocab, but I think Edwina's imitation of Kendra was spot on!
Edwina seems to enjoy the company of the men, especially Jake, Foggy and Jimmy. Did she really offer to give Jimmy a groin massage? I think that would be taking it a bit too far with the light-hearted flirting! I wonder what her hubby is thinking?! #MajorFlirt
Dingo challenge
Over to the posh older ones! In this bonus task, Michael had to dress up as a bird and walk on a tightrope. While doing this, he had to press a button on a bird box, listen to a bird call, then impersonate the call to Vicki, who then had to squeeze a load of fluffy toy birds and match the noises to Michael's bird impressions. Does that make sense?!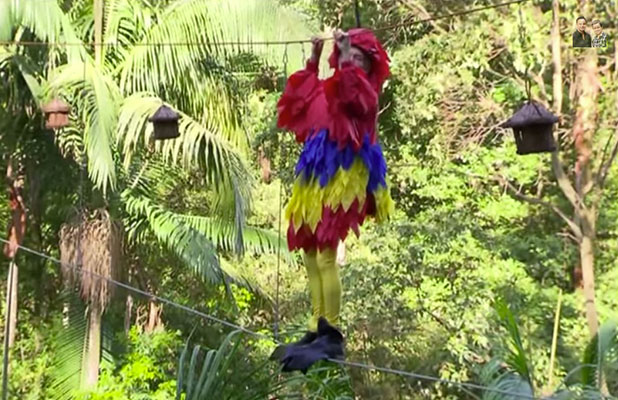 Anyway they completed the task - but not without a little bird banter between them both! I think they are becoming good friends in the jungle!
Their prize for completing the challenge was cheese and crackers for camp.
Jimmy's farewell
I was really shocked to find that Jimmy had been voted out first! I do think the way he acted the other night with Jake went against him as some people branded him a bully, and no one likes that. Some viewers thought his banter went too far, although Jimmy did insist this morning that it was all "tongue in cheek" and not intended to offend Jake.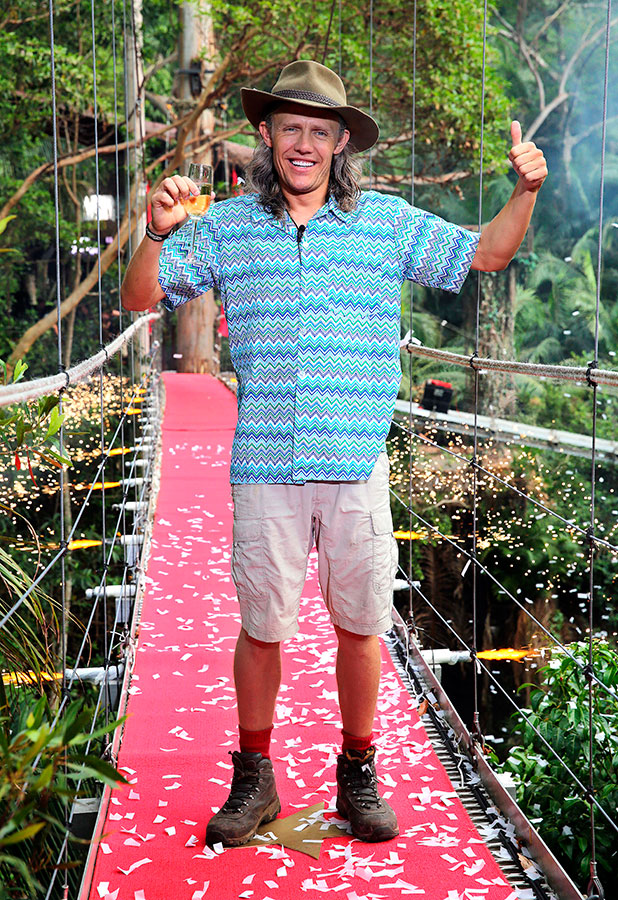 Poor old Foggy looked like he'd lost his best friend. There were real tears... How will he cope without Jimmy?!
I'm A Celebrity: should Jimmy have been eliminated?
YES! Public got it totally right.
22.61%
NO! Others should have gone before him.
77.39%
Reveal is now on Google Plus! Join us here for the latest pictures, fashion and celebrity news!