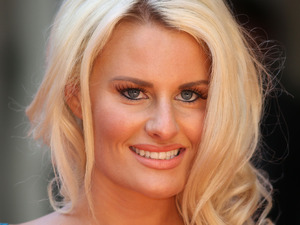 The Only Way Is Essex's Danielle Armstrong exclusively shares her views on the latest episode of I'm A Celebrity...Get Me Out Of Here!
Episode nine.
Morning
After another night missed (football again!) we sat down last night to see how the campmates had been getting on the last few days - especially
Kendra and Edwina, who had a huge row
on the last episode.
Well, it appeared at the beginning things were not going so well between them, until Jimmy and Jake - aka the "camp comics" - started cheering everyone up with some jungle athletics and impersonations! It even led to Edwina offering Kendra a piece of fruit and wishing her well on her challenge. Aaaah!
Bush Tucker Trial
Now, I know I have had a bit of a go at
Kendra in the past, but at least she did have a go at the Bush Tucker Trial
this time. The trial tasked Kendra with putting her head into boxes and having to use her tongue to unscrew stars. Of course, the boxes were full of the usual creepy crawlies!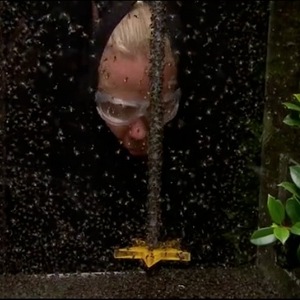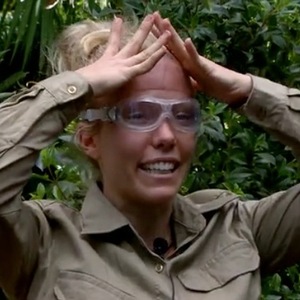 I loved the way she still managed to have a little flirt with Ant and Dec, telling them licking was her speciality! And I loved how she told the camp that morally she got five stars when in fact she only managed one!!
The camp tried to be supportive of her but they really are so hungry, and I worry about how much weight some of them have lost now. My
TOWIE
mate Arg should definitely try this next year!!
Shed of Dread
Even Ant and Dec said this task was complicated... It started when Jimmy and Foggy were taken away from camp by helicopter and locked in a dark, cold shed full of snakes and insects for three hours. It could have been twelve hours but the other campmates gave up their luxuries to get their sentence reduced.
(I never thought a pencil liner was a luxury but, hey, I'm not in the jungle!)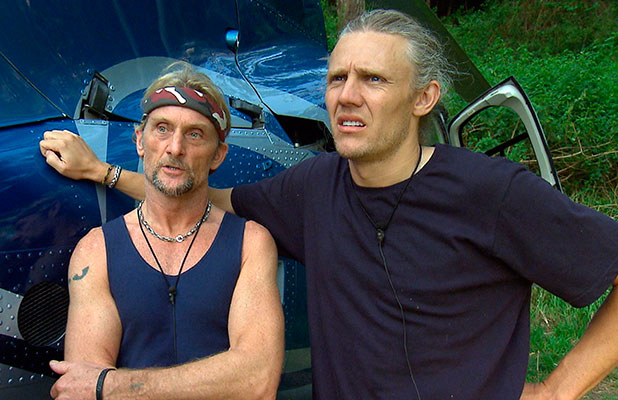 In the three hours, Jimmy and Foggy had to search for stars among all the creepy crawlies in the dark and, in fact, found all twelve! No thanks to Jimmy who again showed everyone what a complete wimp he is!! So, they found the twelve stars meaning lots of food but for the camp to get them that food, there was a lot more to do!!
First,
Nadia and Tinchy were sent into the jungle to find Jimmy and Foggy
. They had to track for miles and uncover clues that were held in padlocked cases. To get the combinations on the cases to open, the rest of the camp had to do various tasks.
(Are you still with me?!)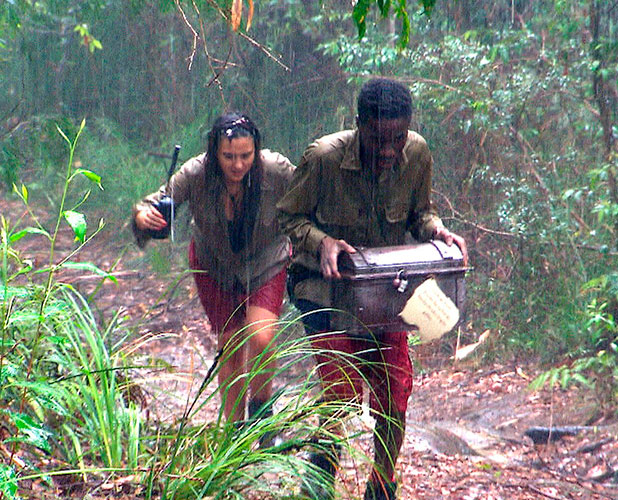 One of the tasks was to do some maths adding up the ages of the celebs and then multiplying them. They really struggled at first, especially with Kendra shouting out loads of numbers while the rest of the camp were trying to concentrate! She got right told off!! Good job I was not there as maths is not my strongest point and I felt sorry for Kendra as she was only trying to help.
In the end, the challenge had to be cancelled due to bad weather, but producers gave the camp all the stars in any case!! That's when Jimmy came into his own and, with some help, cooked them all the best meal of the experience, some sort of lobster.
So, at least the camp went to bed last night happy!!! And that's just as well as poor Kendra got nominated
again
for the next Bush Tucker Trial!!!
I'm A Celebrity airs nightly on ITV
Reveal is now on Google Plus! Join us here for the latest pictures, fashion and celebrity news!