Ariana Grande has responded to Bette Midler's criticism of her, saying she's still a fan of the legendary singer no matter what her opinion.
Bette made headlines this week when she spoke about the
sexualisation of pop music with The Telegraph
, saying she thought Ariana's sexy dance moves looked "ridiculous" and she was "silly beyond belief."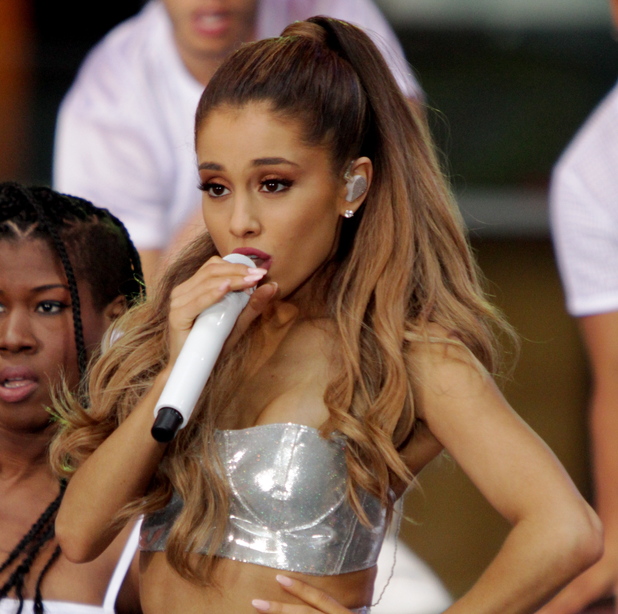 And now Ariana has responded... though not in the way you might think.
Posting a photo of Bette in a sparkling bikini, the 21-year-old said she didn't quite understand Bette's remarks but would remain a fan no matter what.
"Bette was always a feminist who stood for women being able to do whatever the F they wanted without judgment!" said Ariana. "Not sure where that Bette went but I want that sexy mermaid back!!! Always a fan no matter what my love."
She also referenced one of Bette's movie, tweeting: "And I will still quote first wives club every single day of my life lmao."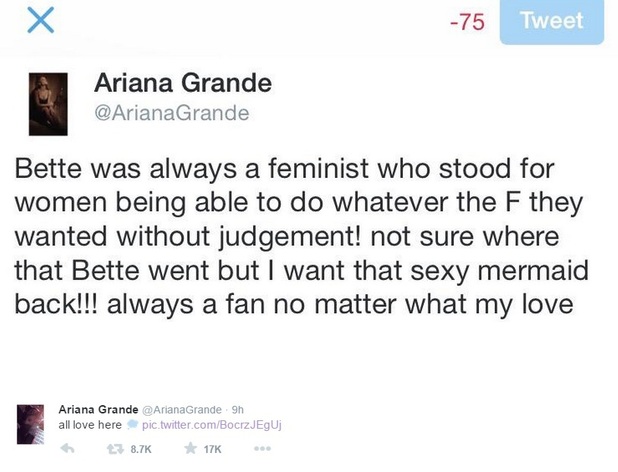 Bette's comments about Ariana were published in a new interview with The Telegraph.
"It's always surprising to see someone like
Ariana Grande
with that silly high voice, a very wholesome voice, slithering around on a couch, looking so ridiculous. I mean, it's silly beyond belief and I don't know who's telling her to do it.
"I wish they'd stop. But it's not my business, I'm not her mother. Or her manager. Maybe they tell them that's what you've got to do. Sex sells. Sex has always sold."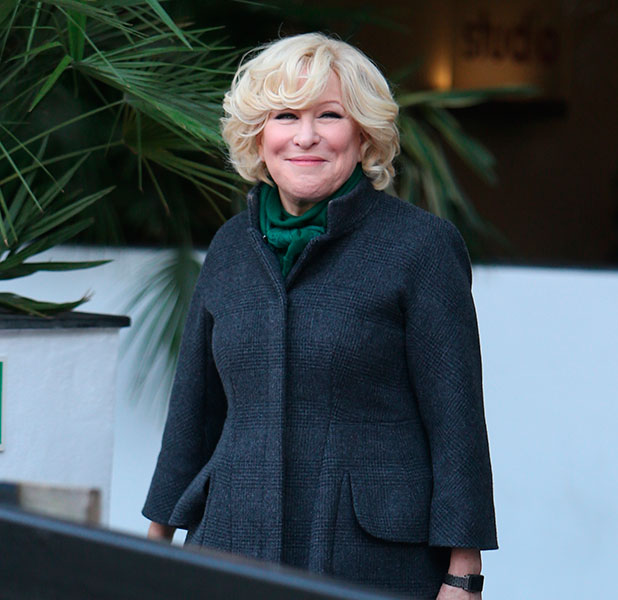 Bette's advice for younger singers was: "Trust your talent. You don't have to make a wh*re out of yourself to get ahead. You really don't."
However, the singer later appeared to back down from her comments on Twitter.
Bette tweeted last night: "About my screed on @ArianaGrande , all I can say is, "Spoken like a reformed old wh*re! She does have a beautiful voice, on a couch or off."
Reveal is now on Google Plus! Join us here for the latest pictures, fashion and celebrity news!