Reveal gives you an insider's view on this year's MTV European Music Awards held in Glasgow.
With a ticket with our name on, not too long ago,
Reveal
headed up North and ventured to Scotland's coolest city Glasgow (ok we might be a little biased...) for this year's EMAs.
But, what's it really like to go to one of MTV's biggest nights in music?
Here we spill the beans...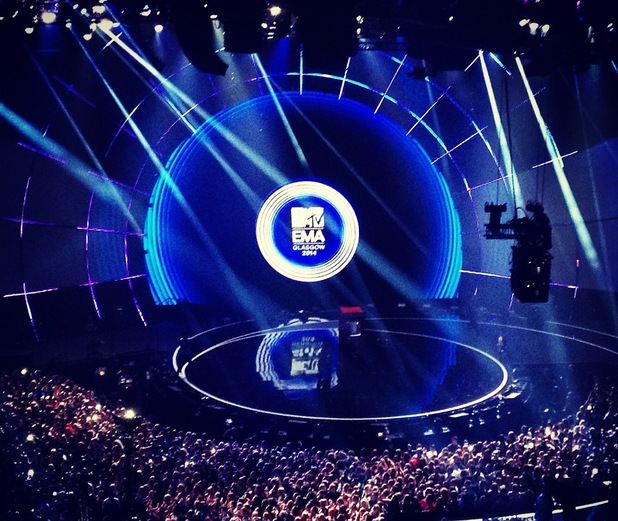 After throwing every outfit we could find into a suitcase - and praying one would suit on the night - we headed off to the airport, looking forward to our star-studded evening out and weekend break in the city.
Less than an hour in the air, it wasn't long before we arrived in Glasgow and set about exploring.
From shopping up a storm on the 'Style Mile' (a 1,500 shop dream) to dining out in some of the city's finest eateries - our personal fave
Alston Bar & Beef
, for the best steak and gin in Glasgow FYI - we aptly decided to delve into the city's music background.
Home to some of the most iconic music venues,
King Tut's Wah Wah Hut
- the smallest, but coolest venue you'll ever come across - has had some of the biggest names in the biz perform on its stage. And, back in 1993, Oasis were even signed there... no biggie.
After our little slice of Glaswegian culture, EMA day had finally arrived.
Despite the dramas of getting red carpet ready we were on our way to join MTV for this year's award show held at the SSE Hydro - a huge arena shaped like a spaceship that lights up Glasgow city.
As we took our seats inside, the countdown to show time had already began and we just knew we were in for treat.
But, what did we learn from our night with MTV?
1. Nicki Minaj is definitely the 'hostess with the mostess'
Sure, she loves to throw in an expletive once in a while, but the 'Anaconda' singer was on top form throughout the night.
From her slightly impressive British accent, to being photobombed by a T-Rex and starting a 13,000 strong sing-a-long to '500 miles', Nicki kept the crowd thoroughly entertained and even treated us to a booty-shaking performance of her new track.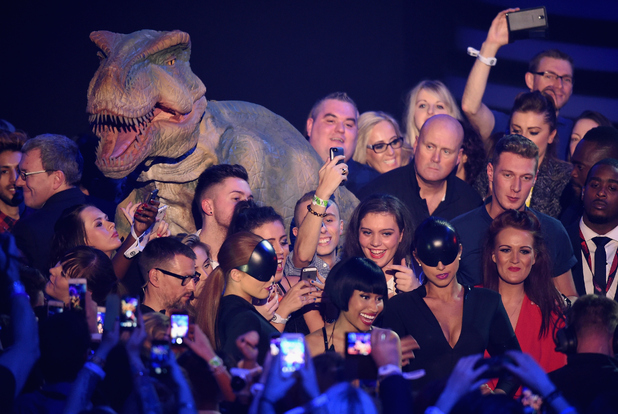 2. Nicki Minaj's wardrobe is just as wild as she is.
Wow, just wow. Everyone knows an awards host needs several killer outfits, but Nicki raised the bar with wigs and even fancy dress.
Here are just a few of her show-stoppers: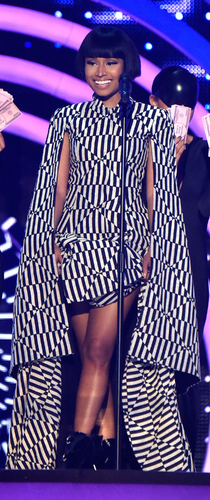 3. Ed Sheeran possesses a very dangerous power.
The ability to make anyone and everyone fall in love with him.
All that boy has to do is strum on his guitar and sing a few lines and he has us all completely hooked. His performance of 'Thinking Out Loud' was incredible, as always, and seeing the entire Hydro holding up the light from their mobile phones was actually quite pretty.
Possibly the performance of the night.
4. The MTV EMAs are a big, big deal.
Well. Alicia Keys certainly thinks so! The mummy-to-be looked like she was ready to pop, but that didn't stop her flying all the way across the pond to take to the stage in Glasgow.
Treating us to a dazzling performance of 'We Are Here', the singer clearly didn't want to miss out on the chance to be there and she melted our hearts as she finished by cradling her bump and looking up to the sky.
So. Cute.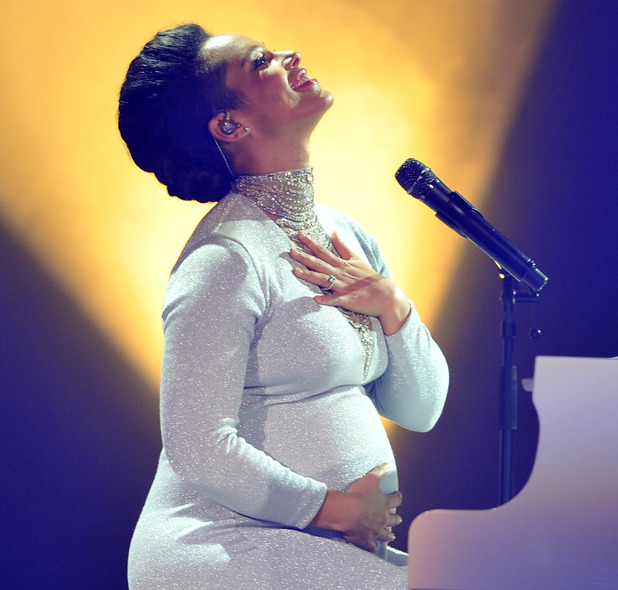 5. Direction'ers are CRAZY.
One Directon scored a hatrick on the night with their three gongs, but by the deafening screams in the arena you'd never have guessed the boys weren't actually there.
Don't worry boys, your fans clearly have your backs!
Accepting their accolades by video link, it was hard to hear 1D's speech as the audience were quick to notice Zayn Malik was missing.
Cue the 'Where's Zayn?' whispers for the next 15 minutes...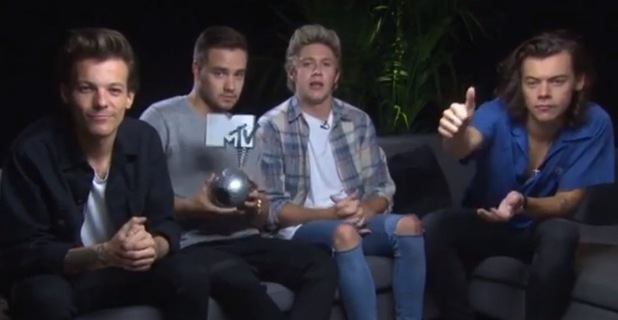 6. Celeb-spotting in a packed out arena is HARD.
Being at the EMAs, you know you're sitting in the very same room as a whole list of celebs, but trying to hunt them down is virtually impossible. In a jam packed arena, sadly we missed out on all the 'What are they wearing? Who are they with?' fun.
Our best celeb spot on the night....
Ex On The Beach's
Ashley Cain. And, even he disappeared before we got to blink.
7. Katy Perry appreciates a good bum.
Even though the pop princess couldn't be in Glasgow for the EMAs, she still had us all talking.
After winning the award for Best Video, Katy sent a video message to Nicki Minaj to apologise for her absence and in return, she shared a photo of herself taking a nap on Nicki's famous derriere...
As you do.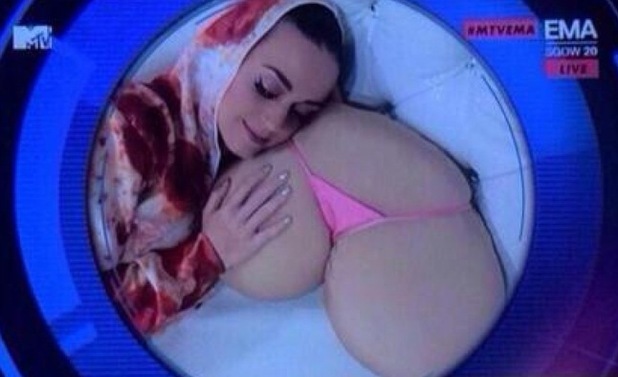 8. MTV's EMAs are LIVE.
Sat in the huge arena and watching superstars perform in front of you, you forget you are actually at a LIVE awards show. You'll be partying up a storm and then suddenly... everything goes off. When the TV has a break, you too have a break - like an interval, but far more than you'd like.
Then right before the show comes back to life, a warm up guy pops on stage to get the crowd pumped up again. Bizarre.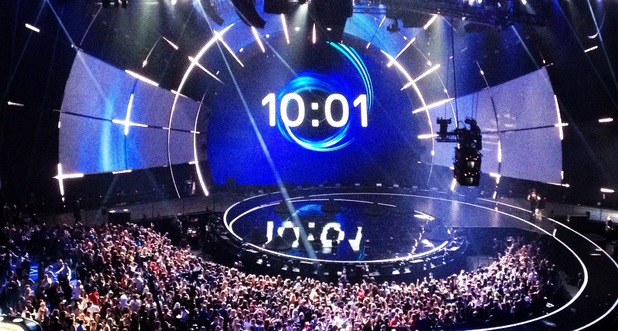 9. MTV do not do anything by halves.
Despite the annoyance of multiple intervals, MTV needed them to support the show's production.
With each performer came a different staging and different effects. From Ariana Grande's flying entrance, to Nicki's laser beam show for 'Anaconda', nothing had you prepared for the firework explosion that came with Ozzy Osbourne's tribute.
Slash, Myles Kennedy & The Conspirators and Biffy Clyro's frontman closed the show with a performance dedicated to the Prince of Darkness. While they were rocking out on stage, an Ozzy mural lit up in the background as fire, lasers, fireworks and all sorts went completely crazy for the entire song.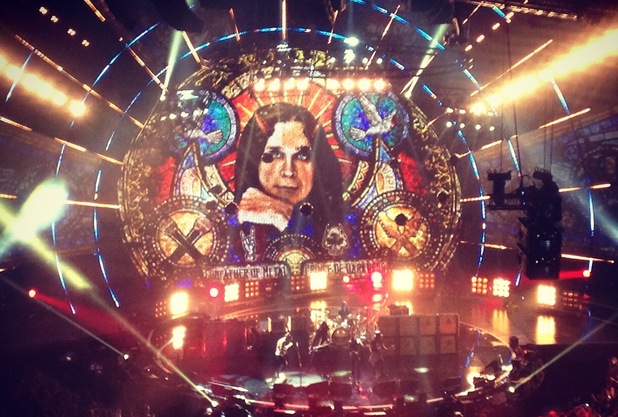 Pretty cool, huh?
We definitely won't forget that one in a hurry!!
To see the full list of
winners from the MTV EMAs 2014 click here
.
Reveal
visited Scotland with People Make Glasgow and Visit Scotland.
To find out more about Glasgow's music scene visit www.peoplemakeglasgow.com/musicmustdosFor further information, inspiration and tips on holidays in Scotland visit www.visitscotland.com
Reveal is now on Google Plus! Join us here for the latest pictures, fashion and celebrity news!