Kim Kardashian West shocked the world with THAT naked bottom photo yesterday, but now things have gone one stage further and she's been pictured completely starkers!
Keeping Up With The Kardashians
star
Kim flashed her famous derriere for the cover of Paper's winter 2014 issue
and the magazine has now revealed another picture from the shoot.
And this one is even saucier!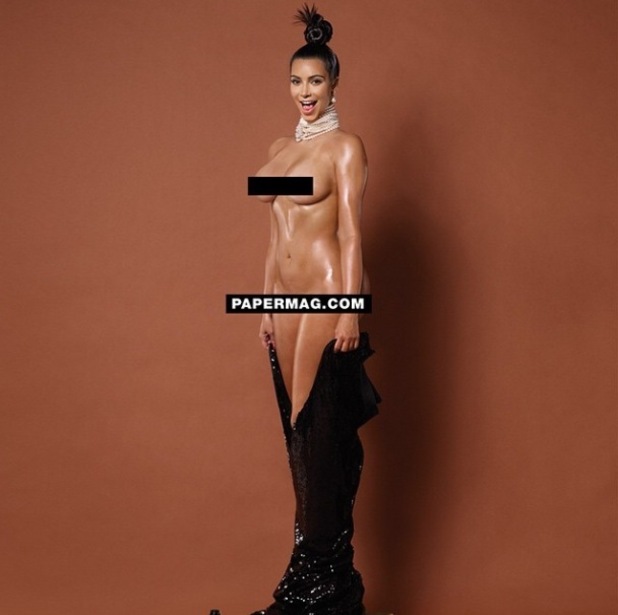 Taken from inside the mag, the photo shows mum-of-one Kim standing front-on with her black evening gown around her knees. She is completely nude, but thankfully her boobs and lady region have been censored!
Kim looks seriously happy with herself in the snap and, commenting on it, Paper Instagrammed: "We know you came for the article. @kimkardashian shot by #jeanpaulgoude for our #breaktheinternet issue."
We're pretty surprised to see that Kim has gone the whole hog and removed all her clothing, as she has been opposed to naked photo shoots in the past.
In August 2010, Kim spoke out and admitted that she regretting taking part in a nude shoot for Playboy magazine three years earlier, telling Harpers Bazaar: "I'm sorry I did Playboy. I was uncomfortable,
"'Go for it', my mother said, 'They might never ask you again. Our show isn't on the air yet. No-one knows who you are. Do it and you'll have these beautiful pictures to look at when you're my age'."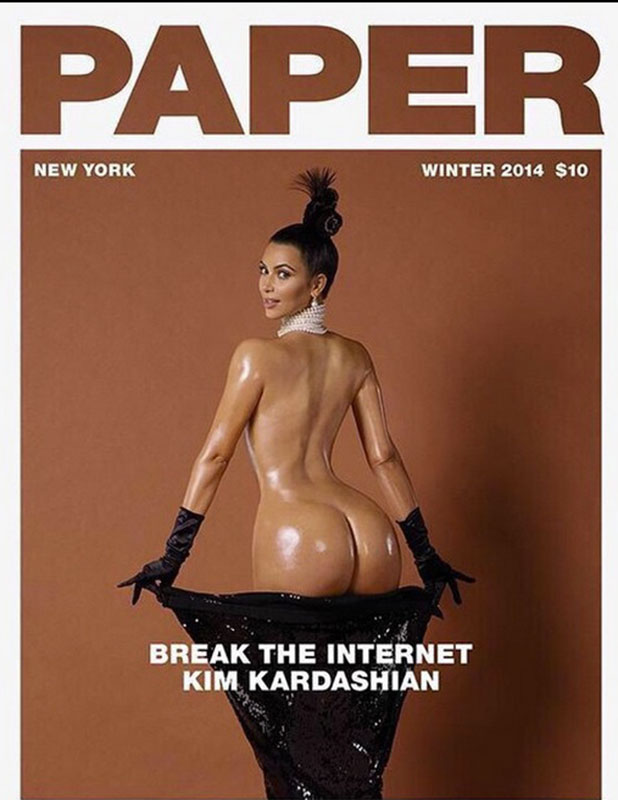 However, the star later backtracked and insisted she
didn't
regret it after all. She told Allure: "It's nothing that I regret - being on the cover of Playboy is very iconic."
One year later, Kim was seen breaking down during an episode of
Kourtney & Kim Take New York
, as she wrapped another naked shoot. For this one, she had been covered in silver body paint.
"I'm more naked here than I was in my Playboy," she cried to Kourtney.
Well, it certainly seems Kim has got over any issues she might have had back then!
Meanwhile, following the widespread press coverage of her bottom,
Kim was back to mother duties yesterday as she took daughter North to Kourtney's baby shower
in Los Angeles.
What do you think of Kim's naked shoot? Answer in our poll!
Go, Kim! If you've got it, flaunt it!
35.85%
It's too much - put it away, Kim!
64.15%