TOWIE stars Jessica Wright and Ricky Rayment became embroiled in a heated Twitter battle last night following the series finale of the ITVBe show.
Fans watched last night as the former couple came face-fo-face once again to return house keys and say goodbye.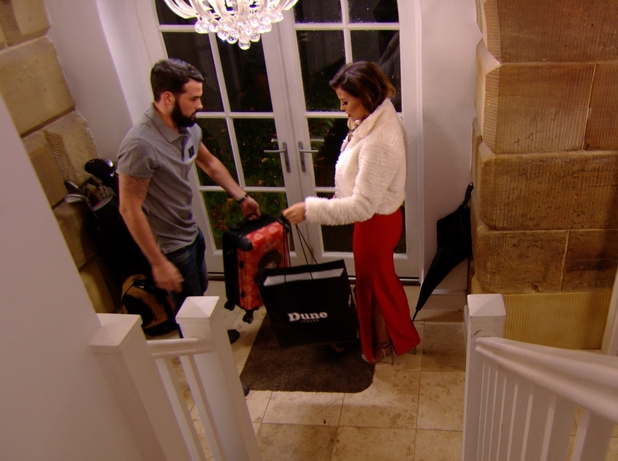 But rather than it being a positive end to their relationship, it seemed to turn sour when Jessica warned Ricky to be careful of his friend Mario Falcone, accusing him of hitting on her a year ago behind Ricky's back.
(
Mario has denied this
.)
After the episode aired, one user suggested on Twitter that if the Mario encounter had really happened, then Jessica would have told Ricky at the time, sparking a back-and-forth between Jessica and Ricky on the social media network.
Jessica replied to the user: "No, because funnily enough I didn't wanna cause a row between the 2 of them whilst I was his girlfriend. Things change & truth comes out."
When pushed on the point, she replied: "Maybe he knew already but was too embarrassed to confront 'his friend'.... Instead he'd rather stay up his ass? Coward."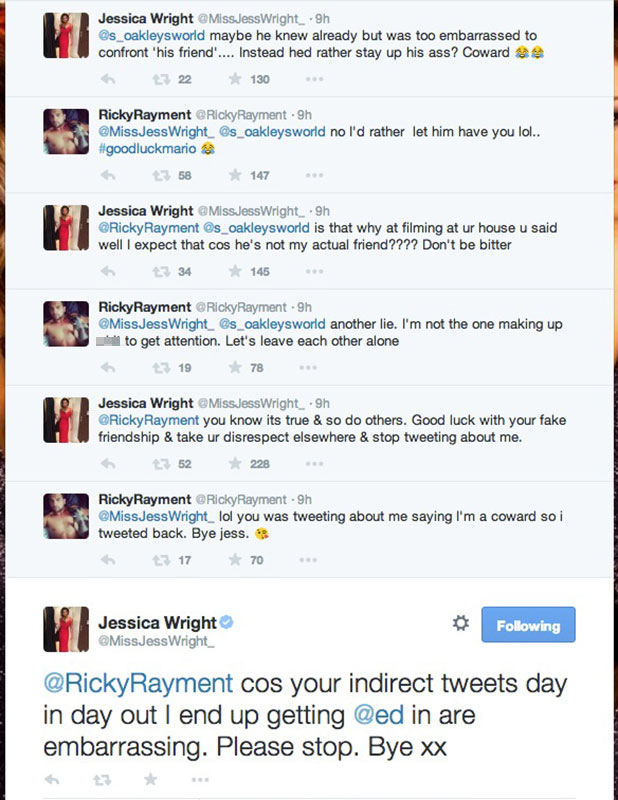 At this point, Ricky - who is in Florida - waded in, saying: "No I'd rather let him have you lol.. #goodluckmario."
Jess replied: "Is that why at filming at ur house u said well I expect that cos he's not my actual friend???? Don't be bitter (sic)."
Ricky's response? "Another lie. I'm not the one making up s**t to get attention. Let's leave each other alone."
Jessica hit back with: "You know its true & so do others. Good luck with your fake friendship & take ur disrespect elsewhere & stop tweeting about me."
Ricky then replied: "lol you was tweeting about me saying I'm a coward so i tweeted back. Bye jess."
Jess: "Cos your indirect tweets day in day out I end up getting @ed in are embarrassing. Please stop. Bye xx."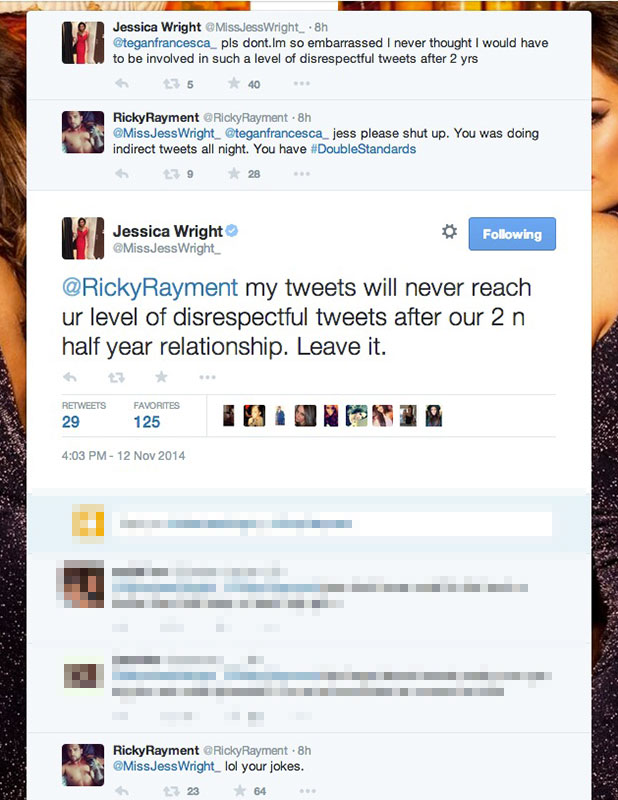 Ricky: "Day in day out? LOL here we go again making stuff up. So you #DoubleStandards..."
Jess: "My tweets will never reach ur level of disrespectful tweets after our 2 n half year relationship. Leave it."
Ricky: "Lol, your jokes."
You get the idea... It seems like emotions were running high last night between the former golden couple of Essex. Although, it appears the former couple ended their Twitter battle with a similar feeling.
Jessica told fans: "Sometimes we lose our cool. We're all human. Moment over. Very sad it had to reach this level. Good night world."
Ricky retweeted that suggesting he felt the same.
TOWIE
ended its current run on ITVBe last night but will return to our screens for a Christmas special.
Reveal is now on Google Plus! Join us here for the latest pictures, fashion and celebrity news!