Stereo Kicks have already made a big impact on The X Factor this year due to the fact the band has eight members. Actually, make that eight very excited members!
The group, who are being mentored by Louis Walsh, can't believe they have made it through to the live finals and are so buoyed up they can barely sleep at night.
We caught up with Stereo Kicks for a quick chat...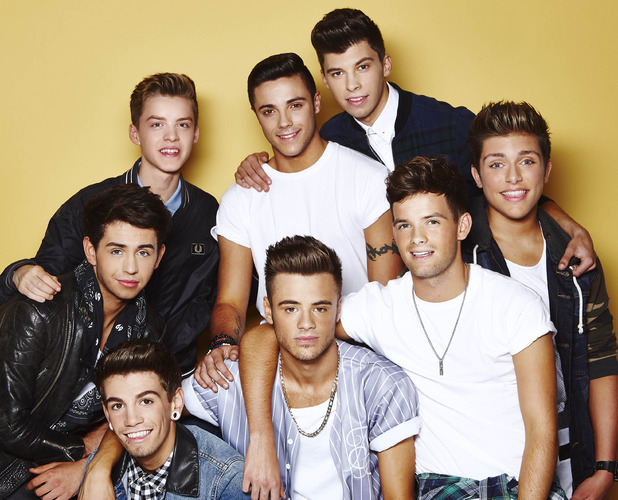 How are things at the house with so many of you?
Reece:
Tiring! Jake [Sims] doesn't stay in the house because he's too young and the two boys from Only The Young were sharing a room with us too. But Mikey left on the first night. He dragged his mattress into the other room!
Any idea why this might have been....?Reece:
We never want to go to sleep, we're nonstop excited. We've got constant adrenaline.
How are you coping with the female attention?
James:
Well, Tom has a girlfriend (of three years) but the rest of us are enjoying it!
Tom:
She's fine though, I went to bootcamp as a finalist last year and we had a taste of what it was like. It was difficult and it was only natural she felt jealous.
James:
A girl tweeted me and asked me if she could send me a pair of her knickers. I was quite scared. I just deleted it.
What are the judges like?
James:
Louis is our mentor and he's a really lovely, down-to-earth guy. We're completely in awe of Simon and it's only natural we feel nervous in front of Cheryl! Especially Jake, he's quite worryingly desperate in front of Cheryl.
Is there any romance between Betsy Blue from Only The Young and Jake?
Jake:
Apparently
there is. Would I like there to be a thing? She's a lovely girl and she's beautiful, but we're just focusing on our music at the moment.
Casey:
So for the record, Jake fancies Betsy.
Jake:
Coming from Casey's mouth!
How do you feel being compared to One Direction?
Reece:
It's humbling but I don't think you can compare us. We come from the same place, but I like to think you can't compare us to anyone, we bring something new to music. Casey thinks he's the Harry Styles of the group, but he's awful with ladies - we're still waiting for him to succeed!
Watch Stereo Kicks' first live performance here: