Ariana Grande left sunny Los Angeles yesterday in a crop top but arrived in chilly London today clad in a warm overcoat and tights.
Sensible!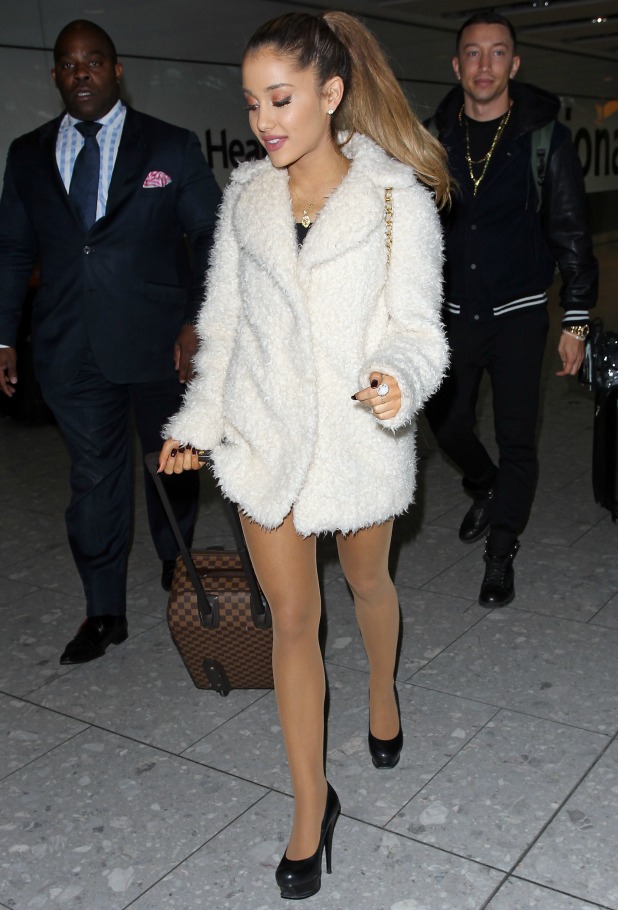 The 'Bang Bang' singer attracted a crowd at Heathrow Airport this morning when she jetted into the capital, looking very cute in her fluffy coat and skyscraper heels.
And look! A superstar who wheels her own suitcase!
Ariana tweeted on arrival: "So so glad to be back in london. lovely to see y'all again, it's been too long. love u, can't wait to see more of u (sic)."
The 21-year-old's arrival in London comes after amid huge furore over a photo apparently showing her kissing musician
Big Sean
while riding a rollercoaster at a theme park.
Nickelodeon actress
Ariana and Big Sean had always remained coy on romance rumours
... but is the cat now out of the bag?!
When asked by Ryan Seacrest about the dating speculation in August, a coy Ariana replied: "I mean, I guess, curiosity man, it'll kill you. I don't know what to say, Ryan. Why are you doing this me? I'll tell you. I'll tell you when we're not on the air. I trust you. I've known you a long time. I don't know about these millions of people listening in right now."