Tricked magician Ben Hanlin, 28, has been using his illusions to wow celebrities in his ITV2 series. From Kim Kardashian West to Joey Essex, he gives us the lowdown on some of our favourite stars...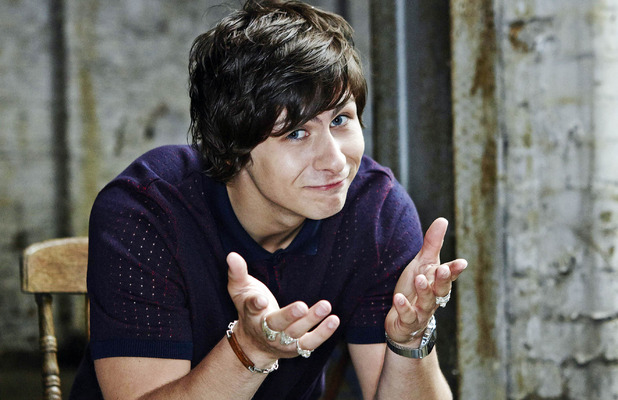 In the new series of Tricked, you perform for Kim Kardashian. How did that come about?
Kim was hosting a private yacht party in Cannes, her people had seen me on TV so they booked me. I've met a lot of big name celebrities since starting
Tricked
, but I've never seen the kind of buzz in a room that Kim holds, it's amazing.
How did everyone react to her?
They swarmed her from the moment she arrived. Everybody wanted to be around her, and I'm not talking fans - these are big-time execs and producers, just wanting to get photos. She spends her entire life posing for pictures.
So what's she like?
Well, she's not bad on the eye! She's quite quiet but she's being pulled in different directions every minute of the day, so I think she takes whatever is thrown at her. She was like, 'Yes, whatever, show me some tricks' so I started swallowing needles and getting her to check my mouth. But she's chilled out, cool and really fun. Who knows, maybe I'll be re-booked for North West's christening!
Who else is in the series?
Joey Essex. We make him think I'd built a real time machine. I asked my team, 'Who would actually believe this?' and at the top of the list was Joey. And he did! We've also got The Vamps and Kerry Katona - we made Kerry think I'd ruined her engagement ring.
How did she react?
Her husband George Kay is massive and she was going wild, saying, 'He's going to batter you. He's going to kill ya!' When I made the ring come back, I told her, 'My name's
Ben Hanlin
, I'm a magician, and you've been tricked'. We were in a restaurant, she grabbed a tea towel and she kept whacking me, shouting, 'You b*stard!' I've never had a reaction like that. I told her we were being filmed and she said, 'I don't care! I thought you'd ruined my ring.'
Peter Andre also gets tricked doesn't he?
I made Peter think I'd ruined a bride's wedding cake, and I asked him to help me by lying to the bride. He helped cover it up for a bit, and then he got a bit nervous and was like, 'You can't lie to her'. Because he's such a nice guy, his nervous reaction was so funny.
And your wife is a solicitor…?
She's got a proper, serious job! I'll come home and say, 'I'm really stressed - we're trying to work out how I can fall into a woodchipper and come out as minced meat'. She's like, 'Ben! You don't know real stress!'
You're also involved in Persil's campaign?
Yes, I went to a school and magically produced things to get the kids dirty for an online advert. At the end of the day, all the parents are annoyed at their filthy kids! Then I get the kids to perform one last trick, and they're all clean again. The idea is, if you don't have a magician and your children are covered in stains, you can use Persil Small and Mighty.
Watch Ben's advert for Persil Small and Mighty below:
Ben Hanlin and Persil both believe that Dirt is Good and celebrated by creating some messy magic at a school in Staines. If you don't have a magician at home, try a little dose of Persil small & mighty for the toughest stains. Check out the film online http://tinyurl.com/PersilStainMagic at Persil.co.uk or #persilstainmagic.